Love isn't something you see with your eyes.
I first wrote that sentence almost exactly five years ago. It was part of the cover letter I sent to literary agents, hoping one of them would agree to represent a book I'd written -- a memoir called Homer's Odyssey about my blind cat, Homer. Homer was then 11 years old, a healthy five-pound dynamo of a cat -- friendly, courageous and fiercely loyal. Of all the things I'd learned from him since he'd first entered my life as an abandoned three-week-old kitten, fresh from the surgery that would save his life but forever rob him of his vision, this one, simple idea seemed to say everything.
From Homer I'd learned that even the most "imperfect" of creatures is capable of loving with a deep and perfect love. All they need is someone to give them a chance.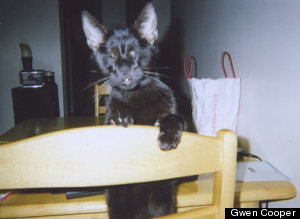 Now Homer is gone. He died a week ago today, in his own home, in his own bed, held in my arms. Homer was always a courageous fighter and a passionate lover. He even risked his own life to save mine, one terrifying Miami night, when he flung himself at a man who'd broken into my apartment while I slept, chasing the intruder out of my bedroom and all the way out the front door as I fumbled with the phone to call 911. As affectionate and delighted to meet new people as he'd always been, Homer -- lacking vision and therefore highly attuned to the varying sounds of my voice -- knew something was horribly wrong the moment he heard my gasp of terror. He didn't hesitate in that moment to fight -- as he always had, as he always would -- for the things and the human he loved.
But, in the end and after a prolonged illness, Homer was too tired to fight anymore. And I had to love him enough to let him go to sleep.
After being rejected by more than a dozen publishers, Homer's Odyssey was finally published in August 2009. It became a New York Times Bestseller in both hardcover and paperback and then, eventually, an international bestseller as well -- published in 15 languages in some two-dozen countries and territories around the world. Homer amassed a Facebook and Twitter following large and enthusiastic enough to raise tens of thousands of dollars on behalf of other animals in need -- animals affected by the Egyptian revolution, the Japanese tsunami, natural disasters here in the U.S. and, most significantly, on behalf of Blind Cat Rescue and Sanctuary in North Carolina, one of only two shelters nationwide specifically devoted to rescuing blind cats.
Alana Miller, Executive Director of Blind Cat Sanctuary, sent me an email upon learning of Homer's death. "Homer and Homer's Odyssey have made a tremendous difference in the lives of blind cats," she wrote. "Because of Homer and his story, many shelters no longer euthanize blind cats immediately upon intake, and we're seeing far higher adoption rates of blind cats. Please know that he's helped save countless lives." Homer was just one cat. One tiny, big-hearted, irrepressible, brave and loyal little cat. Who could possibly have foreseen that he would come to mean so much to so many? Those of us who work in animal rescue believe that every animal matters. We believe that every life -- no matter how small, or how steep the odds are against it -- can make a difference. Every animal who's given the chance to love and be loved can make someone else's life better; can fill up empty places in our hearts we didn't even know were there until they were full.
And, once in a great while, one tiny creature can have a spirit so big that it spills over and makes the whole world just a little bit better, and happier, and more inspired, than it was before. Even in the darkest places are small lights that can grow and grow until they warm us all.
Homer was one such light. I've always donated 10 percent of my royalties from Homer's Odyssey to organizations that serve abused, abandoned and disabled animals. To keep Homer's legacy alive, I'm establishing the Homer's Heroes Fund, which each year will donate a portion of the royalties from all my books to a shelter or rescue group doing outstanding work on behalf of "special needs" animals.
My most recent book, Love Saves the Day -- a novel narrated from the perspective of an opinionated tabby named Prudence (the best way to describe it is probably as The Art of Racing in the Rain for cat lovers) will come out in paperback October 22. In Homer's name, I will be donating to Blind Cat Rescue 100 percent of my royalties on all copies of the paperback, preordered or sold between now and October 27.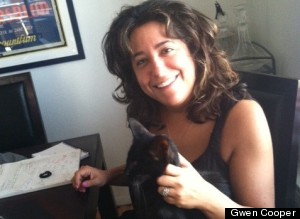 It's been hard to come to terms with my grief in the week since I lost Homer. I still don't quite know how to be or move or sit in my home without Homer in it -- without him following me down the hall, or curled up in my lap, or resting on my left knee as I sit at my computer to write. It feels as if I've lost some essential part of my body -- some part of me that isn't there anymore, but where I still feel what doctors call "phantom pain," because my mind keeps trying to send nerve impulses there, refusing to accept that that part of me is gone.
But even as I mourn Homer's death, I celebrate his life. Who could have foreseen 16 years ago, when I first adopted him as the tiny kitten nobody else wanted because he was blind, all the lives he would touch, all the people who would love him, how much of a difference his life would make?
Homer was the world's cat. In just the few days since I let his fans know of his passing, I've gotten thousands of emails and cards from across the globe -- Japan, India, the Netherlands, Italy, France, Poland, Brazil, Russia and South Africa, as well as the U.S. I've heard from retired Marines, from soldiers serving overseas, from men and women of the clergy who've used Homer's story in sermons and homilies, homemakers, cancer survivors, shelter volunteers, ten-year-old children who've written about Homer for school reports. I've gotten letters from people who read Homer's Odyssey to their elderly parents in nursing homes and from people who are blind themselves and appreciate a story that lets others know that just because someone is blind, that doesn't mean they're not "normal."
Perhaps Homer's life is best summed up by the blind Greek poet I named him for in this passage from The Odyssey, written over two thousand years ago: No one has yet been so fortunate as you have been, nor ever will be, for you have been adored by us all.
But, first and always, Homer was my cat, my little boy, my "Homer Bear." I may have been his eyes in this life, but he was my whole heart.
Vaya con dios, my love. My great love. The world was a better place for your having been in it, and a sadder one with you gone.