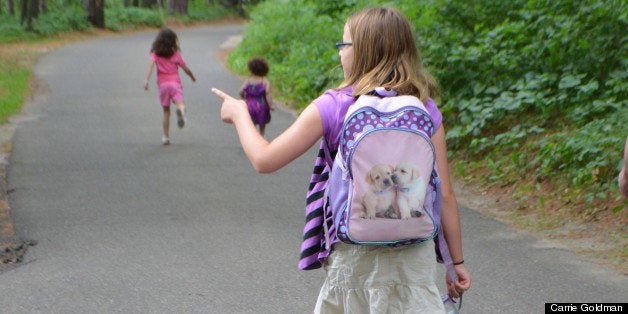 Saturday marked two weeks since we left our 9-year-old at camp, another two weeks until she returns home. When we first returned home, I missed her with an intensity that startled me. My knees buckled a little when I opened the dryer and found some of her favorite clothes tangled among the rest of the family's laundry. The same T-shirts and underwear that I had washed scores of times suddenly took on precious meaning -- these were the last items of hers that I would wash for the next month.
I placed the stack of neatly-folded clothes in her room, lingering to draw my finger across the pillowcase on her bed. It's the one from her 9th birthday party that her friends all signed. Now she is sleeping 12 hours away in another bed, surrounded by a different gaggle of girls.
The first communication came from a friend who was still dropping off her child at camp after we had already left K. The friend reported that K was crying a little and sad but that she was surrounded by loving friends and a kind counselor. The second communication came from K's camp counselor a few days after we arrived home. It was a quick note to let us know that our little girl was excited about fishing and ecology, that she was experiencing some homesickness. It was the part about the homesickness that lodged in my stomach and my throat. A mother is only as happy as her least-happy child. I couldn't get a read on my child, because I couldn't see her or talk with her. Was the homesickness the defining state of her being right now? Or was she having a grand old time with occasional bouts of homesickness at night?
After four more long days of radio silence, two letters from K both appeared in the mailbox on the same day. She reported missing us terribly; she was furious about the "stupid rain" that had led to the cancellation of some of her activities; her chalet had been planning some kind of party and it got screwed up and called off.
Those two letters did nothing to soothe my worries. They were negative in tone and content. When your kid is far away from you, you over-analyze each word of communication. You examine the penmanship for signs of stress or happiness. You speculate about what is said (and what isn't said). K's early letters were glaringly devoid of joy. Was camp something to be endured, I wondered? She had been so excited about attending. And I desperately want her to love this camp the same way I had loved it during all my years as a camper there.
The camp has a website on which it posts daily photos, gathered by various counselors and grouped by activity. Some camp parents scour the site regularly, looking for signs that their children are well and happy. I realized after a day or two that I am better off unplugging, rather than spending time clicking through all the pictures, trying to find my girl, wondering who she plays with and who she sits next to at each event.
If a friend texts me that she saw a picture of K from a specific day, of course I do go and look at it -- and oh, how wonderful it is to see that little bespectacled face!!! -- but largely, I stay off the camp website. After all, when I was a camper, there had been no such option for my parents. They didn't get to see photos of my sisters and me on a website, and they survived just fine. I would simply make do with racing to check the mailbox each day, hoping for a glimpse into my child's life.
And then a letter came, possibly the briefest one yet. But it was the one that replaced my anxiety with the certainty that K is fine:
Dear Mommy and Daddy,
There is a BABY CHIKEN!! Her name is Solo because she was the only baby chicken fertalized. Love, K. P.S. Tell A.R. and C. that I love them!
I recognized it immediately -- there was her enthusiasm! K has always been able to find joy, and here was the evidence that she is finding her joy at camp. All in the form of a tiny baby chicken (cleverly nicknamed Hen Solo by one of my Facebook followers). It didn't matter that the letter was brief. She said just enough. The icing on the cake was the afterthought squeezed in, the sending of her love to her little sisters. A few days later, my mom called to report that she also received a wonderfully upbeat letter:
Dear Yaya and Papa,
I miss you! But . . . . . I AM HAVING SO MUCH FUN!!!!! I hope you are to! I love you! Love, K
My heart soared. She may not be the world's best speller, but she is HAPPY!!!!!!!
So here we are, two weeks in, and I am not worried about K. I do miss her, but not with the same angst that I felt when I thought she was unhappy. It is a different type of missing now, a sweeter feeling.
It dawned on me today that this is the longest I have ever been away from my oldest daughter. Even when she was a baby in foster care, and we were trying to adopt her, I hopped on a plane and visited her almost every weekend. With an infant who was growing and changing every day, that missing was an agonizing feeling. She needed me, and I couldn't be there, and it was traumatic for us both. There are still subtle signs of that trauma -- the occasional separation anxiety, the difficulty with goodbyes, the intense attachments -- but K has made enormous strides. She is no longer an infant forcibly separated from her family. She is an independent, strong little girl who is growing and maturing. I marvel that my child who used to sob if I was out of her line of sight has willingly headed off to camp for a month.
And whereas the first week sounds like it was rough, she has discovered her own self-reliance. Without having suffered the pangs of homesickness, she would not know the rushing exuberance of her resilience. What an empowering experience for my girl. Her letters reflect her state of mind, and through these bits and pieces of her, I have been along for the journey.
Related