"One day you're in and the next day, you re out." Heidi Klum's fashion dictum applies to chicken sandwiches as well, it seems. Spicy chicken that was all the rage? Pushed aside and replaced by new down-home, country-style chicken. Sliced jalapeños have given way to sliced pickles; sriracha aïoli has been replaced with mayo. QSR menu development is all about appearing to be new, without necessarily being new: trends are in, out, in again.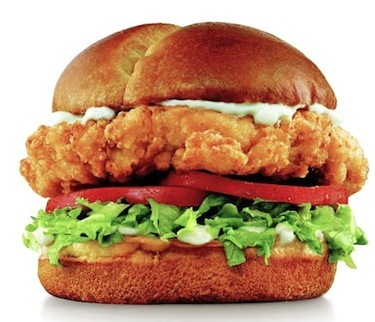 The latest incarnation of country chicken is Sonic's new Ultimate Chicken Sandwich (above). The build is a 100% all-white-meat crispy chicken breast filet on a soft brioche bun topped either with creamy mayo and crinkle-cut pickles (Traditional), or creamy mayo, fresh lettuce and tomatoes (Classic). But no sign of anything spicy.
What's not traditional about Sonic's chicken sandwich, by the way, is the suggested price: $5.99. It's another sign that $6 is quickly becoming the new $5 QSR entrée ceiling.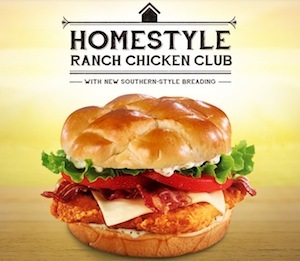 But we're talking chicken, and nothing is more down-home than Jack in the Box's Homestyle Ranch Chicken Club (above) with "Southern-style breading," bacon, lettuce, tomato and ranch sauce. In spring the chain was selling Jack's Blazin' Chicken with ghost-pepper sauce and jalapeňos.
Also mild and country is McDonald's Premium Buttermilk Crispy Chicken Deluxe Sandwich: A 100% chicken-breast-meat filet and a coating with real buttermilk, plus tomato, leaf lettuce mayo on an artisan roll.
Burger King's contribution is the A.1. Smoky Bacon Tendercrisp Chicken Sandwich: white-meat chicken breaded with house-made seasoning and fried then topped with thick-cut smoked bacon, melted American iceberg lettuce, ripe tomatoes and A.1. Thick and Hearty Sauce, all on a toasted brioche-style bun. And don't forget Shake Shack's limited foray into chicken. Available only in Brooklyn this summer, the $6.29 ChickenShack was a crispy chicken breast with lettuce, pickles and buttermilk herb mayo. Country goodness in Brooklyn.
There are outliers, of course, not on the country-style wagon. Back Yard Burgers has a Mediterranean Chicken sandwich. The patty is ground chicken blended with spinach, mozzarella, quinoa, bell pepper, herbs and spices. It's served on 5-grain flatbread with crumbled feta cheese, lettuce, tomato and mayo.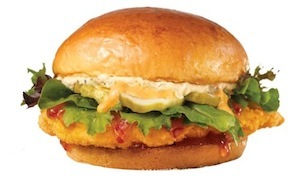 And Wendy's, the chain that has embraced spicy chicken longest and best, is testing a Sweet Thai Chili Chicken Sandwich (above) in three markets (Phoenix, Grand Rapids, Ft. Myers). It's not super-spicy, though. The build is chicken with sweet Thai chili sauce, mild green chiles, crunchy dill pickles, and smoky chipotle sauce on a brioche bun.
Menu market tests are heating up, so Thai chicken isn't all that Wendy's has under scrutiny. The chain's suddenly surprising informative website also discloses that it is testing a Power Mediterranean Chicken Salad in Columbus, Ohio; Greensboro, N.C.; and Wichita, Kan. The salad is grilled chicken with feta cheese, hummus and sun-dried tomato-quinoa blend.
In Providence, R.I.; Sacramento and Chattanooga, Wendy's is testing a Green Chile Quesoburger. That's a beef patty topped with warm and spicy poblano queso sauce, shredded Cheddar and salsa verde, with three strips of applewood-smoked bacon and red onion, all on a toasted premium bun. A baked potato with the green chile queso sauce is also available.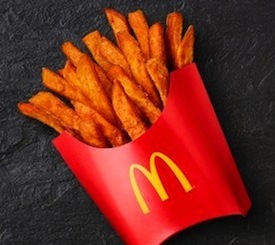 Other tests include the McDonald's of the Texas Panhandle co-op is offering sweet-potato fries (above) as part of its Create Your Taste custom package. The chain also is testing Monster Energy Drinks, according to the Wall Street Journal.
And BrandEating reports that Taco Bell is testing Croissant Tacos for its refined-palate breakfast customers.