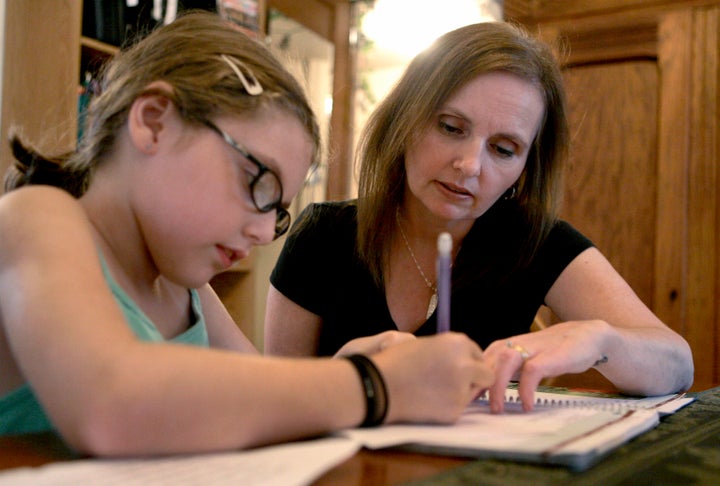 Children in some New Jersey school districts may soon be living nearly every student's dream: No more homework on the weekends.
Based on research, parent and teacher surveys, and recommendations from district officials, board members within the Galloway Township Public School District will soon consider discontinuing weekend homework forever. Officials believe the extra time will allow students to focus more on extracurriculars and spend quality time with their families, reports Press of Atlantic City.
Superintendent Dr. Annette Giaquinto said they want to make sure the work they do assign is meaningful, reports NBC:
"Many people believe that by doing homework, student achievement is increased. Well, in the early and primary grades, that is absolutely untrue."
While research has shown homework has the potential for both positive and negative outcomes on a student's academic learning, some parents and board members are fed up with the long hours children spend stressing over piles of books and what they feel is simply busy work.
According to CBS, this anger led some parents in Maplewood, N.J. to organize a movement to abolish homework altogether.
However, Sy Fliegel, education expert from the Center for Educational Innovation, isn't convinced, reports CBS:
"It's like someone saying to you too much food is no good for you, what's the solution? Let's not eat anything."
According to a study done by Harris Cooper, Department of Psychology at University of Missouri-Columbia, the relation between homework and academic achievement is determined by grade level. Cooper found:
"The effects of homework on elementary students appear to be small, almost trivial; expectations for homework's effects, especially short-term and in the early grades, should be modest...For high school students, however, homework can have significant effects on achievement."
Although some educators, including Cooper, tend to view homework as a positive force in building study habits, self-discipline, and better time management, other researchers believe it also has the potential to ruin a child's sense of curiosity. Alfie Kohn, author of "The Homework Myth," told TIME:
"It's one thing to say we are wasting kids' time and straining parent-kid relationships..but what's unforgivable is if homework is damaging our kids' interest in learning, undermining their curiosity."
"The standards and accountability craze that has our students in its grip argues for getting tougher with children, making them do more mindless worksheets at earlier ages so that we can score higher in international assessments...It's not about learning, it's about winning."
The solution? Cooper suggests all schools use the "10-minute rule," reported the Los Angeles Times: add 10 minutes of homework each night as students progress from grade to grade. For example, a fifth grader should be assigned about 50 minutes of homework a night, including reading.
However, even this reasoning couldn't satisfy a fifth-grader named Ben Berrafato, who went as far as comparing homework to slavery back in 2009, reported CBS. In response, Berrafato took to the streets with a petition to have it removed.
Although New Jersey is not the first school district to consider assigning less work, their decision could affect homework guideline policies in additional districts state and nation-wide. Their discussion probes an age-old question, which is certainly relevant given today's uncertain academic environment: Do you think our students are assigned too little, or too much homework?
Related
Popular in the Community