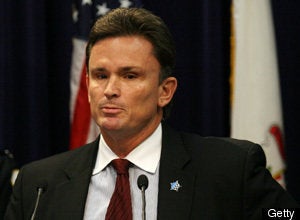 Chicago Police Superintendent Jody Weis released sobering statistics on city crime Sunday morning, announcing that homicides were higher through May 2010 than they were to that point last year.
The results were more encouraging in other areas, as total crime was down nearly 6 percent and other violent crimes fell 12 percent.
But the murder rate was particularly troubling to Weis. "Homicides have continued to challenge us," he said.
"This is still a work in progress," Weis said of the city's effort to reduce murders. "We study it and are working to get officers in the right place to stop acts of violence."
Across Chicago, 164 homicides were recorded through May of this year. That's a 4 percent increase over the 158 homicides in January through May of 2009, according to figures reported by the Chicago Sun-Times.
At the same news conference, Weis said a Country Club Hills woman who was shot during a heated card game might have still been alive if there had not been a gun in her friend's Calumet Heights home. Patricia Clark was shot multiple times Thursday after an argument with her friend, who went into a back bedroom, grabbed a gun and fired. Clark, 51, died Saturday.

"What a horrible loss of life over a card game," Weis said. "This is why it's so dangerous to have weapons in the house. People get upset, they get angry. ... If that gun wasn't in the house, there's probably an excellent chance that woman would be alive today."

The city's handgun ban has been challenged in the US Supreme Court, in the case of McDonald v. Chicago. Arguments in that case were heard in early March, with a decision expected this summer.
The one other area of crime that increased over last year was auto thefts, which were up more than 20 percent since 2009. "[T]hree officers from the auto pound have been moved to the detective division to analyze the rise in thefts," the Sun-Times reports.
Related
Popular in the Community