Before passing away, Jeffrey Gent's grandfather handed him a cabinet card of a young man from the 1890s, telling his grandson, "I just realized the other day that you look so much like my Great Uncle Clarence. It's funny, he was a confirmed bachelor his whole life, just like you."
From that moment forward, Gent developed an immense passion and curiosity for not only vintage photography, but stories of an untold history of lesbian, gay, bisexual and transgender (LGBT) individuals that could be hidden behind the lens. "That photo made me wonder if this bachelor uncle not only looked like me, but was also gay," Gent told The Huffington Post. "If so, how sad that Uncle Clarence's family knew nothing about his life, and that he wasn't able to speak openly about it."
Gent was moved to begin forming a massive compilation of vintage photographs that showcase same-sex couples, available now through a site he titled "Homo History."
"These photos represent just a small fragment of our Gay and Lesbian History. Unfortunately, so many of these photos were purposely destroyed by horrified family members," said Gent. "Since most of the men and women in these photos are unknown, it's hard to know for sure if they were a gay couple or just 'good friends.' For every photo that I may have mistakenly identified as gay, thousands more were burned or torn into pieces to keep a family secret... I hope that by sharing these photos of vintage gay and lesbian couples, we can correct the social injustice that they endured by seeing them in a brand new light."
The Huffington Post caught up with Gent last week to discuss the way in which he came across this extensive collection of vintage photographs, what they mean to him as an LGBT-identifying individual, and how he hopes they will contribute to the formation of an often invisible or erased history for the LGBT community.
A collection of photos from "Homo History" can be found in a slideshow below.
The Huffington Post: How did you come across all of these photographs?Jeffrey Gent: I started noticing vintage photos of male couples at the 26th St. Flea Market in NYC back in the '80s. I collected them for years and years, but during one of my many moves they were stored away and forgotten. I rediscovered them in a box a few years ago; that's what got me interested again. I started looking on Google Images and discovered that these sorts of photos were all over the Internet. I still buy original photos, but they are getting so expensive that I'm just about priced out of the market. As an LGBT individual, what does compiling all of these photographs for the larger community mean to you?There is something very reaffirming about seeing these vintage photos of gay couples, seeing that we've always been around. I like to keep the blog fun and hopefully educational, but the preservation of these images is what's most important to me. I'm looking for work these days, so creating this blog has given me a sense of purpose as well as a creative outlet.
I have received lots of touching messages from fans of the blog. Knowing that they have had the same emotional reaction to these photos is wonderful. As LGBT people continue to make further political and social gains, what do you think these photos mean or represent for our movement?"Coming out" has been the most powerful tool for promoting LGBT equality. In the past, we would have had to live in fear of rejection from our families, physical assault or even arrest. Bringing these vintage photos out of the closet -- and sharing them with the world -- is just one more way to show that we have always been here. We now live in a wonderful time where gay and lesbian couples can legally marry, but we need to be aware of our history. Our freedom is precarious; the religious fanatics and right-wingers will continue to fight us every step of the way. Gays and lesbians in Germany in the 1920's had more freedom than anywhere else in the world, but look at how quickly that ended in the 1930's.
For more information on "Homo History" and many, many more photos, check out the project's website. A slideshow of images from "Homo History" is available below.
Before You Go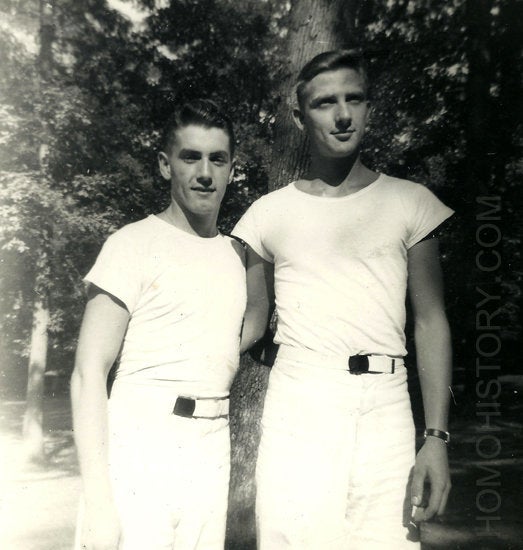 Homo History
Popular in the Community