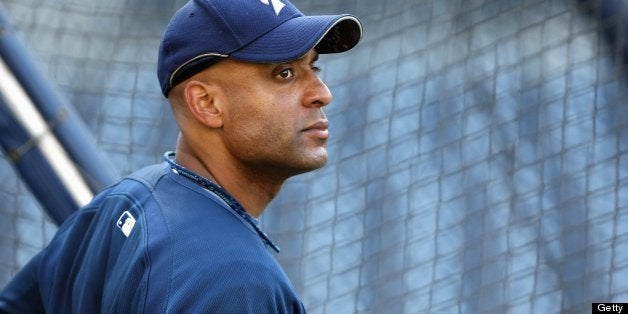 NEW YORK -- A handful of fans attending the Major League Baseball All-Star Fanfest convention on Tuesday paused briefly from trying on MLB batting gloves and ogling artifacts at the Hall of Fame exhibit to consider an increasingly hot topic in major league sports: sexual orientation and discrimination.
New York Attorney General Eric Schneiderman, MLB Commissioner Allan "Bud" Selig and former first baseman (and current representative of the players association) Tony Clark announced to those gathered that the sport is putting into place a sweeping set of policies to combat discrimination of sexual orientation.
There are currently no openly gay professional baseball players -- and only one openly gay player playing in any major league sport. (Jason Collins, the only openly gay professional basketball player, is not currently signed to a team, leaving only Robbie Rogers, who plays for the Los Angeles Galaxy in Major League Soccer, as the only active, openly gay player in major league sports.) The new policies, Schneiderman told the crowd, are designed to change this by sending "a message that no professional athlete -- professional or amateur -- should have to sit on the sidelines or hide out of fear of being mistreated because of their sexual orientation."
The new policies include a workplace code of conduct that will be distributed to every major league and minor league player, as well as training sessions on sexual orientation non-discrimination principles and a centralized system for reporting harassment or discrimination.
Those who gathered to listen clapped enthusiastically. "I think it's very cool -- and very brave of them, especially at Fanfest," said Christian Bautista, a 25-year-old in a Mets jersey who said he "bled baseball," when asked if he was a fan.
"It doesn't matter if you like guys or girls -- gay people have their rights, too," added Bautista's friend.
Neither guy thought there was likely to be a dramatic reaction to the announcement -- from fans or players -- but Bautista thought it was an important step, nonetheless. "I think it's definitely going to bring awareness to the pink elephant in the room that's been lingering for years and years."
The history of Major League Baseball is splashed with instances of players whose careers collapsed after they were discovered to be gay. But in recent years, the league has taken steps to pave the way for openly gay players. In November 2011, the MLB and the players association added sexual discrimination language into their collective bargaining agreement. And last year, when the Blue Jays' shortstop wore eye black with a homophobic slur written on it, the player was suspended for three games without pay.
Baseball's announcement, following similar standards from the National Football League in the spring, is a significant step forward. "It gets the power structure of these sports firmly behind making their game supportive of any gay player (or any LGBT baseball employee) who eventually comes out," Jim Buzinski, co-founder of gay sports website Outsports.com, told The Huffington Post. "Laying the groundwork is key and the fact that every team and clubhouse will be made aware of the policies is important. While this will not lead directly to a player coming out (everyone comes out for their own personal reasons), it does say that baseball as a league will embrace such an eventuality."
Cyd Zeigler, Buzinski's partner in Outsports.com and co-author, with Buzinski, of The Outsports Revolution: Truth and Myth in the World of Gay Sports, said he'd be surprised if fans had a strong reaction to the new rules.
"The effect of this new policy will be the codification of existing practice," Zeigler said. "The New York state attorney general is trying to score a bunch of political points by slapping his name on MLB's new policy, but the groundwork has been laid by the league and others for years. The new policy isn't groundbreaking or surprising. It's the logical next step in the progress of the league."
A Fanfest volunteer helping at the press conference on Tuesday echoed those thoughts. "As a fan, I haven't garnered a sense that there are active players afraid to come out, but I think if there are, today might make a closeted player feel more comfortable, or at least make them think twice about what their options are," said Douglas Churaman.
A group of fans lingered near the stage, waiting for an autograph or a picture with Tony Clark. Not all of them felt strongly about the issues at hand. "I don't care one way or the other," said a 51-year-old waiting in line with his young son for an autograph. "Players should be able to say what they are, if they're gay or whatever." Of his fellow fans, he continued, "Many will be fine with it, and some won't be. It's no different than the rest of society."
CLARIFICATION: Language has been amended to indicate that Collins is the only openly gay player in major league basketball, and that he and Rogers are the only such players in major league sports.
Calling all HuffPost superfans!
Sign up for membership to become a founding member and help shape HuffPost's next chapter