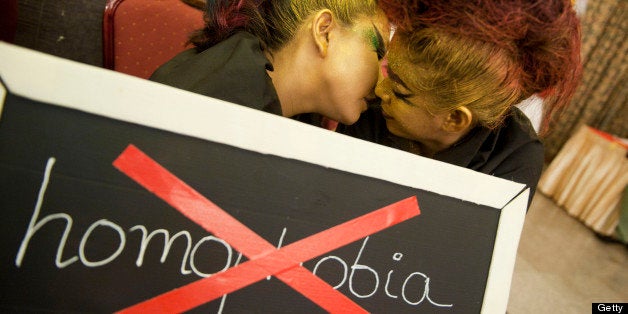 The complicated psychology of prejudice is something researchers struggle with continuously. Often, racism or homophobia is understood to be motivated by a variety of factors. Now, a report says sexual prejudice in particular may be strongly related to a deep-seated fear of being hit on by a member of the same sex.
Psychologists Angela G. Pirlott and Steven L. Neuberg, whose new study appears in the journal Social Psychological and Personality Science, write that their research shows how sexual prejudice among college students is tied to the belief that "certain sexual orientation groups direct unwanted sexual interest."
Lead author Pirlott, an assistant psychology professor at the University of Wisconsin-Eau Claire, told The Huffington Post in an email that she and Neuberg, a professor of psychology at Arizona State University, had previously looked at some of the more well-known theories regarding what drives sexual prejudice. One of the ideas they had explored was that members of the lesbian, gay, bisexual and transgender community violate gender norms; but their research had suggested there was more to discover beyond these theories.
"Then we began exploring the idea of a 'sexual interest mismatch' -- that the sexual interests of the perceivers and their perceptions of the sexual interests of the different sexual orientation groups differed," Pirlott told HuffPost. "In particular, that some sexual orientation groups might be perceived as directing unwanted sexual interest toward them."
Using a sample size of 533 heterosexual students, the researchers asked two questions of each participant: What is the student's own sexual preference in regard to members of the same sex, opposite sex or bisexual students; and to what extent does the student feel that these groups would be interested in having sex with the student?
In this way, the research did not explicitly ask students if they felt threatened, Neuberg explained over the phone. A range of related data gathered from the students helped the researchers infer whether students felt threatened or not.
"The patterns of prejudices map on nearly perfectly with perceptions of unwanted sexual interest," Neuberg said.
Over the course of the study, the pair also noticed that this sexual prejudice differed depending on the gender of the student.
"[O]ur article says that straight men perceive gay and bisexual men to direct unwanted sexual interest, but not lesbians or bisexual women; and straight women perceive lesbians, bisexual women and bisexual men to direct unwanted sexual interest, but not gay men; and that this perception strongly explained their sexual prejudices," Pirlott elaborated, adding, "I think people, in general, are uncomfortable by the notion of unwanted sexual interest."
Pirlott said the paper will hopefully shed light on a little-explored corner of sexual prejudice, and thinks it may surprise scientists who have been focusing all their efforts on perspectives such as the gender-role violation hypothesis, sexual identity threat or religious-values threat.
"I think the lay community, however, will find this explanation to make sense," she also said.
Popular in the Community