Being gay in a country town in Brazil can be an oppressive experience -- an oppression of feeling, relating and being. In places far from the cultural energy and multiplicity common in urban centers, different people may not be accepted -- either by force of tradition or by lingering prejudice.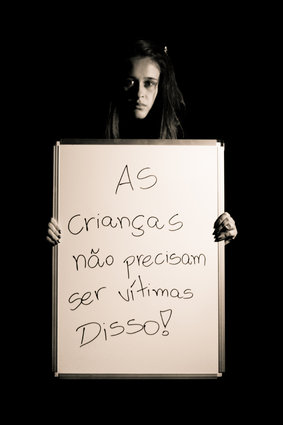 "Children shouldn't be exposed to this." In Blumenau, 90 miles from Florianopolis, a major city in southern Brazil, the LGBT community faces intense displays of discrimination from a significant portion of the population.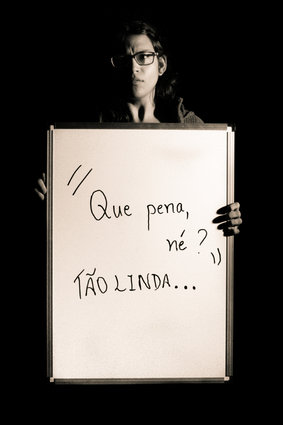 "What a shame ... so pretty." A more organized response to abuses against gay people gained momentum in this city in the northeastern region of the state of Santa Catarina this year. The photo essay "I heard you say" is an example: an artistic cry organized by the collective LGBT Liberdade (LGBT Freedom) to reveal prejudices and discuss homophobia in Blumenau.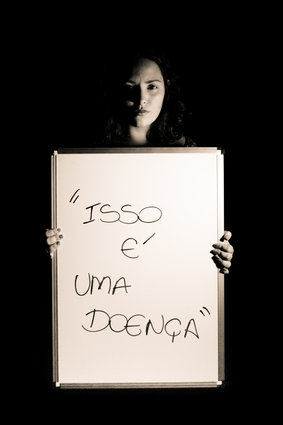 "This is a disease."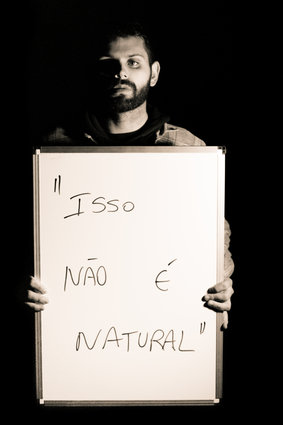 "This is not natural."
The plan is to display common sentences uttered to gay people as they go about their day, to confront people who harm others with their words.
In an interview with HuffPost Brazil, Sabrina Marthendal, the photographer responsible for this project, described the LGBT reality in Blumenau:
Being gay here in our city is really difficult. It's a small town. Being gay in smaller towns can be more challenging. And our community, in particular, is proud of a conservative German colonization. Here everything that is different is frightening. Although prejudice is also found in large cities, there the LGBT community has more meeting places, more places to discuss, dialogue, and feel 'at home' with those who accept and understand.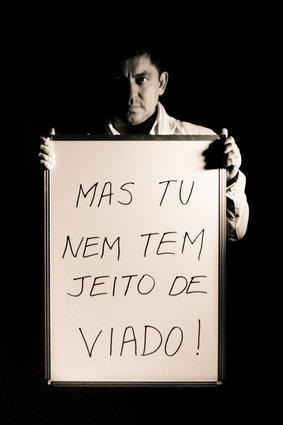 "But you don't look like a fag."
The 28 year-old actress and photographer described the creation process for the essay, comprised of LGBT people and supporters like herself who are unhappy how LGBT people are treated:
The posters contain the exact sentences we hear frequently. With alarming frequency. Each person being photographed would write the sentence he or she wanted.. These phrases are tattooed in our memory, in our skin. And it's important that they gain visibility. It is important that they generate controversy, that they generate reflection. I think revealing sentences like this raises questions like "where is the line that separates respect from prejudice?' This interests me a lot.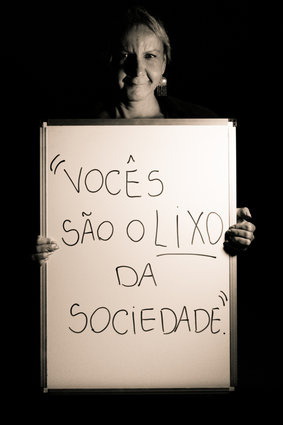 "You are the scum of society."
Marthendal believes that many people are not able to recognize that words or expressions are homophobic. And she remembers the impact of the sentence "I'm not prejudiced, so long as they don't kiss in front of me."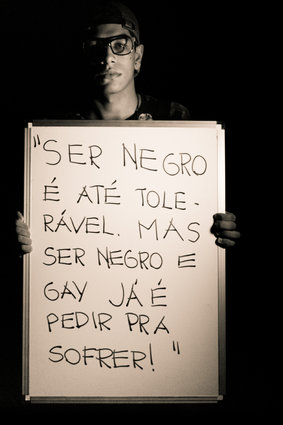 "It's OK to be black, but being Black and gay is asking to suffer."
In our opinion, this is a homophobic phrase because it morally attacks homosexuals. Because it says 'I will not harm you, I will treat you with affection and courtesy, but your kiss is not worthy, is not right, and is not acceptable in front of me.' How could this not be prejudiced? This sentence implies a preconceived notion regarding the homo-affectionate kiss, which is as dignified and as beautiful as any other kiss.
All photos were used with permission from the artist, Sabrina Marthendal.
This article was originally published in HuffPost Brazil and was adapted for an American audience.
Calling all HuffPost superfans!
Sign up for membership to become a founding member and help shape HuffPost's next chapter