Earlier this month, the Kiss Cam at Dodger Stadium in Los Angeles did something out of the ordinary: It stopped on two men, and not in an ironic, homophobic attempt at humor, but rather in a celebration of the couple.
The two men smiled, embraced and kissed. And then, perhaps to the surprise of some, the crowd roared, louder than it did for any other moment of the segment. One member of the crowd caught the moment on video, and the kiss went viral, racking up more than 1.6 million views on YouTube.
People across the country watched it and loved it. It made us feel good, and it made us feel like maybe one day soon, two men kissing on a Kiss Cam wouldn't be news at all. It would just be another silly kiss on the Kiss Cam.
A same sex-couple kisses at Dodger Stadium in Los Angeles, California. (Source: YouTube)
There are many of these types of stories in the news today. We hear about the "overwhelmingly positive" response to now-retired NBA player Jason Collins coming out, about the "overwhelmingly positive" response to Michael Sam getting drafted by the St. Louis Rams, about our self-professed willingness to support gay professional athletes, and it can feel like our country is on the precipice of something. Bigots remain, but the country is changing, we think to ourselves. Something is shifting.
Even if this sort of narrative is true in some ways, in some parts of the country, it does advocates and supporters of LGBT rights the disservice of making people think we're almost there on the gay rights issue. We are not, and that's especially true in the world of sports, according to a new study.
The study, "Out on the Fields," bills itself as "the largest and the first international study on homophobia in sport" across six predominantly English-speaking countries -- Canada, Australia, New Zealand, the United Kingdom, Ireland and the United States. Roughly 9,500 people were surveyed for the study, and to put it simply, the results are disheartening.
Overall, only 1 percent of those surveyed thought the LGB community (the survey didn't address gender identity, so the "T" will be omitted for the rest of this article) was "completely accepted" in sports. Forty-six percent said the community is "not at all accepted" or "accepted a little." Through a variety of other questions, the pervasiveness of homophobia in sports becomes even more clear:
-- 78 percent of respondents said they believe a LGB person would not be totally safe at a sporting event if they showed affection.
-- 84 percent of people said homophobic jokes occur at least "sometimes," if not "often" or "all the time" in the sports community.
-- 73 percent of all those surveyed said youth sports is not a safe or welcoming place for the LGB community.
Another startling finding from the report was just how many gay or lesbian athletes are not yet out of the closet -- 81 percent of all young gay men (defined here as under the age of 22) and 74 percent of young lesbian women surveyed for the study are still "completely or partially" in the closet. Sadly, you can understand why. In every one of the countries surveyed, at least 75 percent of those surveyed said they had witnessed and experienced homophobia in the sports world in some form: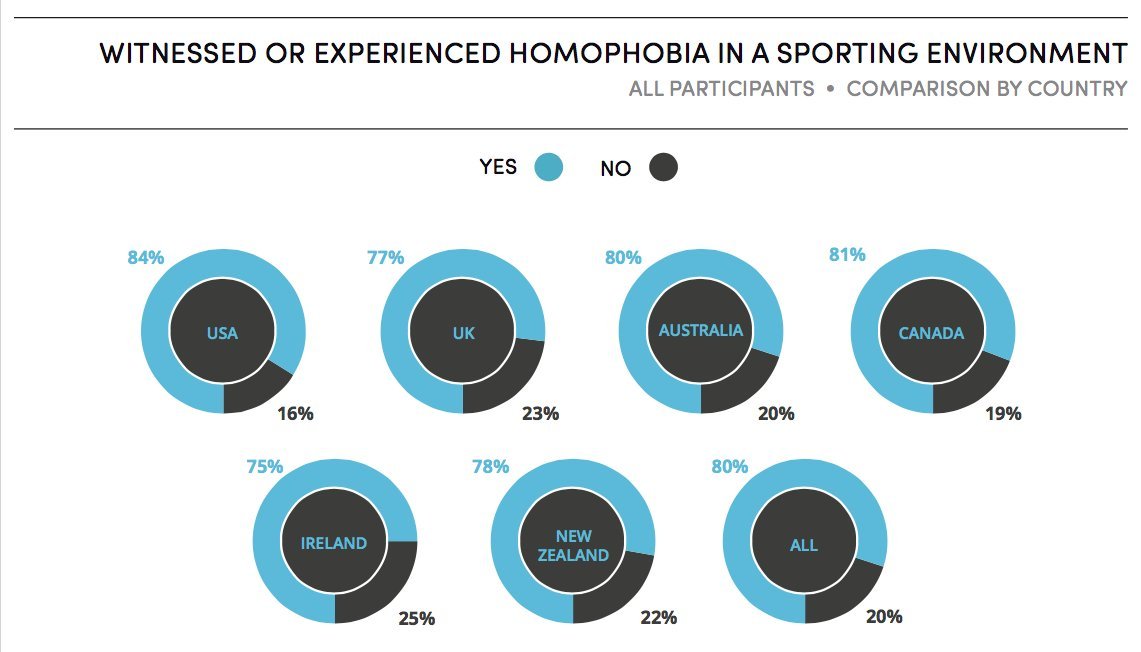 But if you feel hopeless hearing all of this, don't. There are things that can make gay men and lesbian women feel more comfortable coming out to their team, according to the report. Young gay men said having another friend on the team who already knew they were gay was by far the biggest motivator to come out. Young lesbian women cited three main reasons in roughly equal measure as their motivation.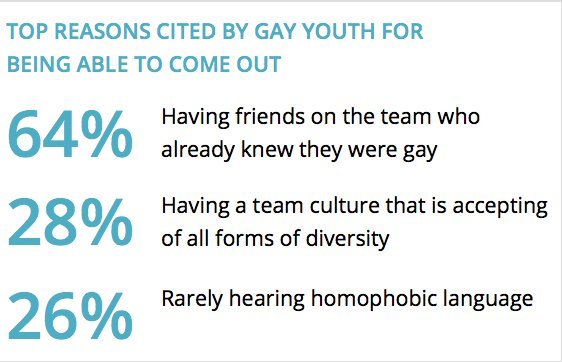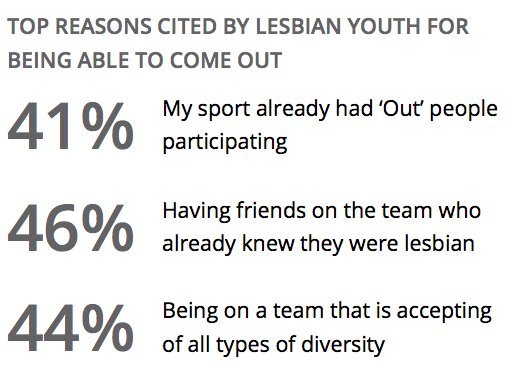 And really, it would be a misinterpretation of the survey to view the other countries as vastly superior when it comes to LGB acceptance in sports, as the authors noted. The problem is pervasive across all countries, and focusing on a few percentage points worth of difference here and there misses the large point.
4. United Kingdom 107/500
6. United States 84/500
"Unfortunately, the study found few positive signs in any country that LGB people are welcome and safe playing team sports," the report states. "Instead, even in the most promising countries, such as Canada, discrimination and homophobia were still widely experienced by both LGB and straight participants."
The LGB community was well-represented in the survey data. In fact, of the 9,500 people surveyed for the study, 4,672 were gay men, 1,386 were lesbian women and 709 were self-identified as bisexual.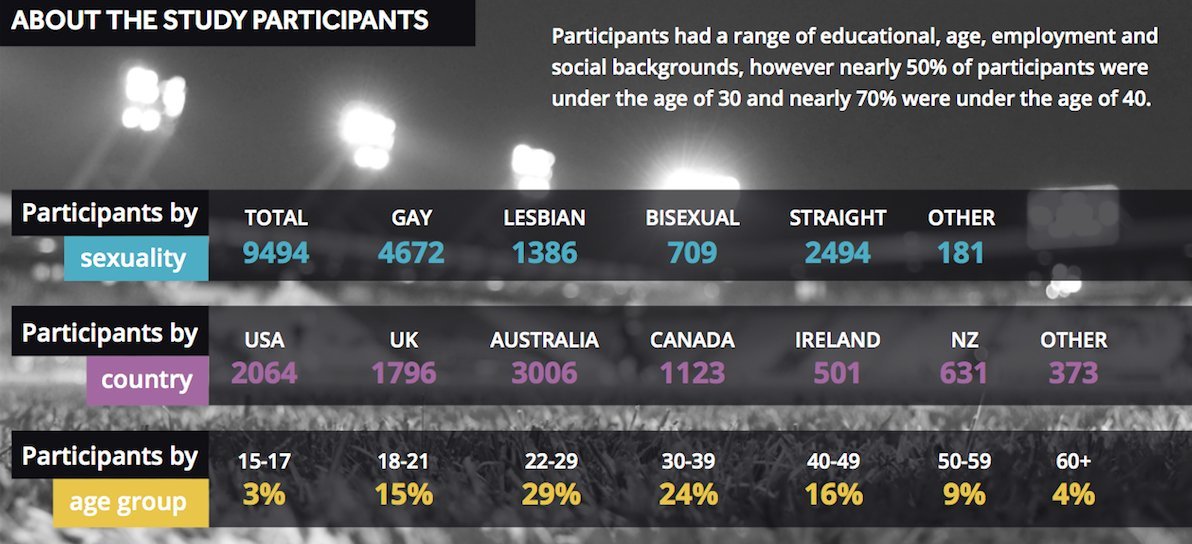 "Because it is so broad and because it is an international study I think it gives us access to information that we didn't have before," Pat Griffin, the professor emeritus in the Social Justice Education Program at the University of Massachusetts Amherst and one of the experts who reviewed the study, told The Huffington Post.
Notably, while it was reviewed by seven academic experts from four different countries -- all of which are experts on LGBT issues in sports -- the study was not published in a peer-reviewed journal. Time asked an unaffiliated sports sociologist named Joshua Newman of the Florida State University to review the study, and he said the survey likely over-represented "higher-earning, racial- and ethnic-majority, pro-LGBT respondents to the study." Nevertheless, Newman said:
I am inclined to say that the findings are important and the study holds the potential provide a significant contribution. This is the largest study of its kind yet to be undertaken. The results illustrate the extent to which LGB sport participants across multiple nations share common experiences of harassment, bullying, and even physical violence. It reaffirms what most LGB and straight athletes in these contexts already know, that homophobic language and action remain effective techniques for normalizing heteronormative masculinity in the sports domain.
Deborah Slaner Larkin, CEO of the Women's Sports Foundation, expressed similar concerns about whether a few thousand people could properly represent an entire nation in a phone conversation with The Huffington Post. But she agreed that there was enough to get the main point across.
"I don't know if there's a smoking gun here if you will," Larkin said. "But I do think that it says there is concern, and this is not a done deal."
The report was conducted by global sports market research firm Repucom and commission by Bingham Cup Sydney 2014 along with a coalition of sporting organizations, some of which are LGBT-affiliated.
Erik Jensen, an associate professor of history with an expertise in sexuality, wrote in an email to HuffPost that he hoped this reminded people how much work there is left to be done when it comes to LGBT issues.
"Since the repeal of 'Don't Ask, Don't Tell,' there is a conventional wisdom that sports is the last frontier of entrenched, and even institutionalized, homophobia, and this study seems to confirm that [conventional wisdom]," he wrote. "In that regard, the study cautions American society from getting too swept up in the celebratory atmosphere that has surrounded the rapid advance of same-sex marriage rights."
So when you hear the next anecdotal feel-good story about LGBT acceptance in the sports world, feel free to smile. But don't let it convince you there isn't a lot of work left to be done. There is, but luckily, things don't look so hopeless anymore.
Calling all HuffPost superfans!
Sign up for membership to become a founding member and help shape HuffPost's next chapter