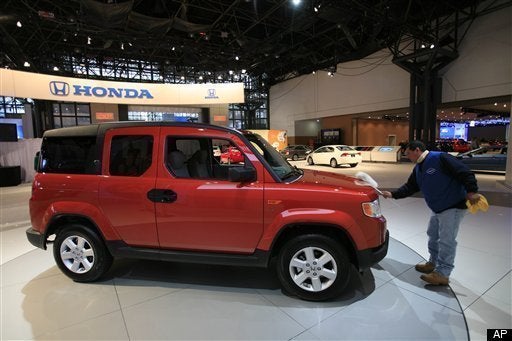 Honda has recalled more than 400,000 vehicles over concerns of brake failure, according to several news reports today.
The recall includes 344,000 Odysseys and 68,000 Elements from the 2007 and 2008 model years.

Honda said in a statement that over time, brake pedals can feel "soft" and must be pressed closer to the floor to stop the vehicles. Left unrepaired, the problem could cause loss of braking power and possibly a crash, Honda spokesman Chris Martin said.

"It's definitely not operating the way it should, and it's safety systems, so it brings it to the recall status," he said.

The National Highway Traffic Safety Administration has reported three crashes due to the problem with minor injuries and no deaths, Martin said. Honda notified NHTSA of the recall on Monday, he said.
The problems with uncontrolled acceleration acceleration seem to not be limited to Toyota. As Bloomberg noted yesterday, American automakers may also have had brake issues. Here's Bloomberg:
U.S. regulators have tracked more deaths in vehicles made by Ford Motor Co., Chrysler Group LLC and other companies combined than by Toyota Motor Corp. during three decades of unintended acceleration reviews that often blamed human error.

The agency received 15,174 complaints involving unintended acceleration in the past decade and has run 141 investigations of the phenomenon since 1980, closing 112 of them without corrective action. NHTSA's repeated conclusion that crashes occurred because drivers mistakenly stomped the accelerator became a policy position that caused investigators to take complaints of runaway vehicles less seriously than they should have, safety advocates say.
Drivers who fear that they've lost braking power should have their dealer check the brakes sooner, Martin said. The dealer can "bleed" air bubbles out of the hydraulic lines, which should fix the problem until the parts arrive for the final repair, he said.

Honda technicians will put plastic caps and sealant over two small holes in the device to stop the air from getting in, Martin said.

The automaker is still preparing a list of affected vehicles. After April 19, owners can determine if their vehicles are being recalled by going to or by calling (800) 999-1009, and selecting option number four. http://www.recalls.honda.com
REAL LIFE. REAL NEWS. REAL VOICES.
Help us tell more of the stories that matter from voices that too often remain unheard.