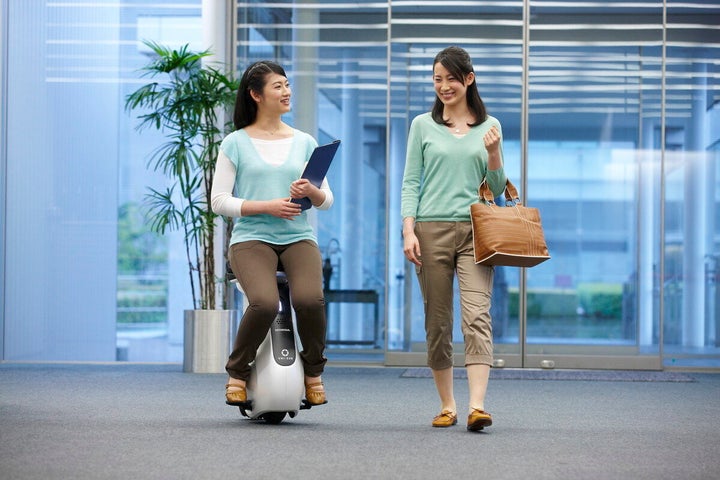 Honda unveiled an updated version of a robotic unicycle which it said could revolutionize travel for people with disabilities.
The UNI-CUB uses what Honda calls an omni-directional driving wheel system, which allows riders to sit upright almost as tall as pedestrians, using their body weight to change directions and turn.
The device raises the question: Are the folks at Honda way more in tune with the future transportation needs of the world than the rest of us, or have they gone a little wacky? Time will tell.
The UNI-CUB is part of Honda's robot family, which includes a humanoid robot called ASIMO.
In 2011, Honda brought the UNI-CUB's predecessor, the U3-X, to New York and let tech writers and auto writers tool around on it for a while. Reviews said it was smooth and a little nerve-wracking to get used to, but overall kind of cool.
Honda said the device is part of its efforts to "offer more and more people the joy and fun that comes from freedom of movement." And the company might be onto something. Currently, scooters are the only offerings for people who can't walk far, but are otherwise able to move around.
The UNI-CUB advances the technology from the U3-X, allowing riders to move forward, backward, sideways and diagonally, which enables them to move through crowds more easily.
And the height, "promotes harmony between the rider and others, letting the rider travel freely and comfortably inside facilities and among people."
The device will be at Japan's National Museum of Emerging Science and Innovation starting in June. Although Honda says it doesn't have plans to sell it at this time, the automaker is clearly working on getting this kind of technology into consumers' hands.
Popular in the Community