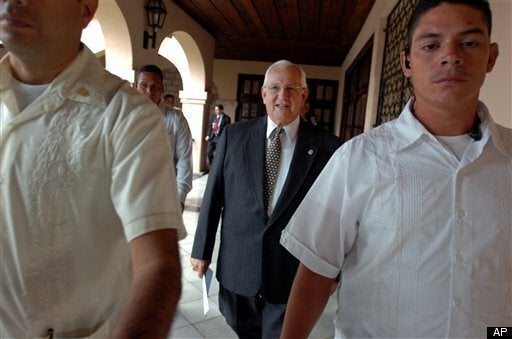 TEGUCIGALPA, Honduras (AP) -- Honduras' interim leader said Wednesday he is willing to step down if it helps end his country's political crisis, conditioning the offer on guarantees that ousted President Manuel Zelaya doesn't return to take his place.
Roberto Micheletti presented the offer as a means to end the nearly three-week standoff over Honduras' military-backed coup, but he also accused unspecified parties of handing out weapons and planning an armed rebellion in Honduras.
The interim president said he was willing to leave office "if at some point that decision is needed to bring peace and tranquility to the country, but without the return, and I stress this, of former President Zelaya." The resignation offer was presented by a Honduran delegation to the Washington-based Organization of American States, he told reporters in Tegucigalpa. It was unclear if the OAS had received the proposal.
Zelaya was not immediately available for comment, but the offer appeared unlikely to resolve the standoff over the June 28 coup, in which soldiers seized Zelaya and hustled him out of the country aboard an airplane. Talks on ending the crisis are to resume Saturday in Costa Rica.
Zelaya has said in the past that he intends to return to Honduras as president, and that the point is not open to negotiation. Earlier this week, he said Hondurans had a right to stage an insurrection against Micheletti's internationally isolated government.
Asked about the possibility of an armed rebellion, Micheletti said: "I don't think we will get to that point. Our country is peaceful. I don't believe Hondurans will pick up arms to kill other Hondurans."
But he added that some people are trying to create such a rebellion. "This morning we were informed that they were handing out some guns." He would not specify who "they" were.
Micheletti was named by congress to serve out the last six months of Zelaya's term, after Zelaya was accused of violating Honduran law by ignoring courts and congress that barred him from holding a constitutional referendum viewed by many as a power grab. Zelaya denies it was a power grab.
If Micheletti were to resign, under Honduran law the presidency would pass to Supreme Court President Jorge Rivera.
Demonstrations for Zelaya's return continued in Tegucigalpa on Wednesday and his supporters called for labor strikes.
Labor leader Israel Salinas, one of the main figures in the pro-Zelaya movement, told thousands of demonstrators who marched through the capital that workers at state-owned companies plan walkouts later this week.
He said protest organizers were talking with union leaders at private companies to see if they could mount a general strike against Micheletti, who has threatened to jail Zelaya if he tries to return.
Salinas also said sympathetic unions in neighboring Nicaragua and El Salvador would try to block border crossings later this week "in solidarity with our struggle."
At the five-hour protest, tempers were high. Demonstrators threw rocks at a government building that houses the country's women's' institute. Police showed up but no injuries were reported.
"We are going to install the constitutional assembly. We are going to burn the Congress," protest leader Miriam Miranda vowed at the latest demonstration for Zelaya, a wealthy rancher who shifted to the left after being elected.
Costa Rican President Oscar Arias is mediating talks aimed at resolving the impasse, but Zelaya has grown frustrated by the lack of progress.
The talks are scheduled to resume Saturday after two earlier rounds failed to produce a breakthrough. Arias, who won the 1987 Nobel Peace Prize for his efforts in ending Central America's wars, has urged Zelaya to "be patient."
Copyright © 2009 The Associated Press. All rights reserved.
Calling all HuffPost superfans!
Sign up for membership to become a founding member and help shape HuffPost's next chapter