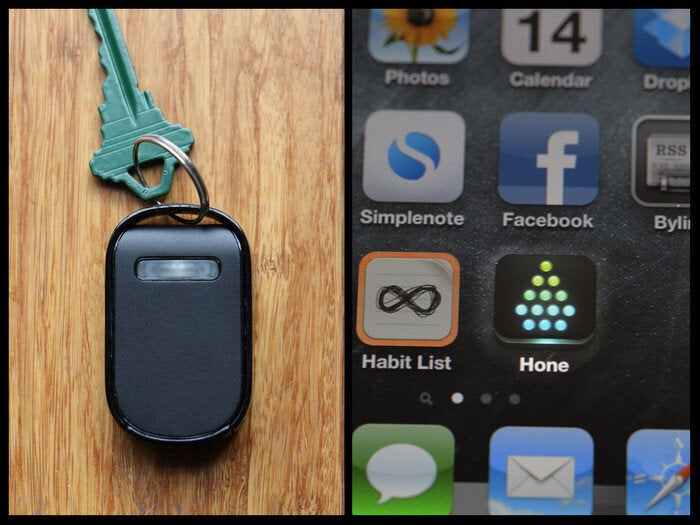 Phone? Check. Wallet? Check. Car Keys? Uh oh.
"My partner is an absent-minded professor type, and he spent 10 minutes looking for his keys every single time he was ready to leave his house," said app developer Geoff Litwack of his business partner Louis Gerbarg. "He's an engineer, so we decided to solve the problem with technology."
The Hone keychain device is triggered through the Hone iPhone app and Bluetooth 4.0 technology. The keychain vibrates, beeps and lights up, and a built-in proximity sensor on the app lets you know how close you are to your keys, as long as your keychain is within 150 feet of your iPhone or iPad. Because of Bluetooth's low power needs, the keychain can go up to six months between charges.
The Hone began as a Kickstarter project with a fundraising goal of $46,000. It has surpassed that with $67,000 as of Monday afternoon, with 15 days left to fundraise. Gerbarg and Litwack had a secret weapon to bring them Kickstarter success: Litwack's sister Kat Dennings (of "2 Broke Girls") directed and edited their promotional video for the site.
"My advice is to do as much work as possible on before the start of the Kickstarter [campaign]," said Litwack. "We're very happy with how it's gone, but thinking back we could have spent more time preparing ourselves, as once your Kickstarter begins it's almost a full-time job!"
Hone isn't the only device that can help you keep track of your valuables. Other products take the "paging" function to the next level. BiKN (pronounced "beacon") also resembles a keychain but serves a multitude of tracking purposes, like attaching to your pet's collar or your backpack. "Find My iPhone" is Apple's built-in iPhone finder, which allows users to log into a computer's GPS to locate their iPhone on a map.
Gerbarg and Litwack are hoping offering the Hone devices' UUID and Bluetooth profile will give programmers the flexibility to modify the keychain's technology to be used for other purposes.