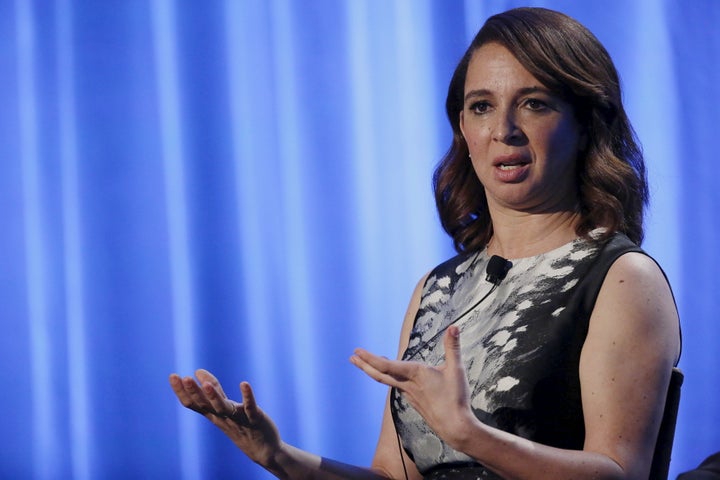 "I have a friend who had two babies at home! In bed! Her name is Maya Rudolph! She is a goddamn baby champion and she pushed her cuties out 'Little House on the Prairie' style!"
That's how Amy Poehler describes her pal and "Saturday Night Live" co-star, Maya Rudolph, in her 2014 book Yes Please. The "baby champion" and her partner, Paul Thomas Anderson, are parents to four children ― 11-year-old Pearl, 7-year-old Lucille, 6-year-old Jack and 3-year-old Minnie.
Throughout her years as a mother, Rudolph has spoken about her child-rearing experience. In honor of her birthday, we've compiled some of her standout quotes about motherhood.
Read up for some honest parenting wisdom.
On the expectation and reality of having kids
"It's funny when you think back on the parent you THOUGHT you would be before you had kids and how you judge other parents. Then you give in to the reality of it and just wing it."
On her advice for new moms
"If you nurse, you don't have to but if you do, the Medela In Style pump and a hands free bra. Whats up. I'm telling you right now, you can email, text, drive a car, have dinner. I did it at a wedding reception, in front of Lorne Michaels. You can pump anywhere and be a working mom and feel awesome, because you are feeding a human life. And if you don't nurse, it's fine no pressure. Don't let people pressure you."
On getting kids to accept new baby siblings
On watching her kids grow up
"We have all walking children now. It's sad that the baby days are over, but it's also like, 'Okay, everybody's healthy, we did it.' Now we're chugging."
On her parenting philosophy
"You're always going to make mistakes, constantly, and beat yourself up about it, and the one thing you have to remember is that the thing you can do better than anyone else is love your children, because they're your children. So you just have to remember to give yourself a little bit of a break sometimes."
On how parenting changes everything
On her "bullshit meter"
″[Motherhood] allowed me to create something that I call the "bullshit meter," which is like, the things that really are not important. I just got rid of them. Because I used to take on a lot more than necessary, and when it's you, you're sort of your own worst enemy in life ... When you're thinking about another human being, it's far more precious than you and you have the instinct to take care of them, you naturally do what's right and do what's important and they come first. So it just allowed me to stop saying 'yes' to things that were not good for me or not important."
On breastfeeding
"My mother breastfed me—there's like, folklore about it, people always say, 'I remember your mother used to breastfeed you!'—probably until I was about 4. So I just thought my kids would be hanging off me for years, but they were all like, 'I'm done!'"
On her home life
On working while pregnant
"I just didn't want to sit around and be idle, and let's be honest, when someone was like, 'Hey do you wanna work?' I'm like 'Yeah, I do.' ... You gotta do what you gotta do."
On your first kid versus later kids
"The stuff that I used to fear and used to worry about is so different, like the first time I brought [Pearl] home from the hospital. I think I was in the backseat, putting my finger under her nose, making sure she was breathing, [and] asking my husband to drive three miles per hour. By the third child we didn't even have a car seat anymore. Then when he got one, we didn't even install it properly because we were running out of the hospital because we just wanted to get home. I ended up switching seats with [Paul] and I ended up driving myself home from the hospital."
On the job of a parent
"It's so hard to become someone else's manager. I didn't sign up for that, like, 'She can come to your house on Saturday but she's got a birthday party at 3!' That is exhausting."
On supporting kids emotionally
"It's great for kids to be able to recognize that they're having feelings that are human as opposed to feeling ashamed for feeling them, and that they're common and they're normal."
CORRECTION: An earlier version of this article referred to Paul Thomas Anderson as Maya Rudolph's husband. He is her longtime partner.