When Copenhagen restaurant Noma was named The Best Restaurant In The World earlier this year, it created quite a stir. A Danish restaurant, the best in the world? Serving Scandinavian food? Contemporary Scandinavian food - of course - but anyway. Not French or Italian. Not Spanish or Japanese.
Scandinavian.
The Noma appointment was probably slightly chocking to outsiders, but the local foodies had actually seen it coming for some time. The New Nordic cuisine (a manifesto created by Noma Chef René Redzepi and a handful of other Nordic Über-Chefs) had been established a couple of years before Noma reached the top of the world, and a new generation of Scandinavian Chefs stopped looking towards France, Spain and Italy for inspiration a long time ago. Instead, they had been busy digging in their own backyards for both exciting indigenous produce and a local culinary heritage. A heritage that turned out to be prouder, more delicious and more in tune with international food trends than even the most hardcore pro-Scandinavian-gastronomers had expected.
Now, naturally Noma is spearheading the huge task of placing Scandinavian cuisine on the international culinary map, and they are doing it well. But to be perfectly honest - the food served at Noma isn't really something you would whip together for a quick Tuesday night family dinner.
It is, after all - The. Best. Restaurant. In. The. World.
So, in this new corner of The Huffington Post, one of the things I'll try to do is take the New Nordic cusine down from the stars and onto your plate. But my hope is also that the interest in more traditional Scandinavian food will begin to grow outside the region. Because even if New Nordic is the soup d'jour in the best restaurants of Copenhagen, Oslo, and Stockholm - more traditional Scandinavian food also has a lot to offer - especially when it comes to everyday cooking. Because Scandinavian food doesn't require a lot of weird ingredients, spices you've never heard of before, or techniques that take seven years of culinary training to master. It is usually very simple. The kind of food anyone can make at home. Some of the dishes are light, and served with a cold beer they make up the perfect summer lunch. Others are more filling, heavier and better suited for a dark and chilly evening in November together with a glass of red wine and an open fire.

What unites them is that they're honest. Real food. Good food.
But it won't be all Scandinavian here. My personal philosohpy when it comes to food is Honest Cooking - simple dishes with real ingredients and a no-frills approach to preparations. I am not a very technical cook, but I compensate with passion and love. Usually, I get away with it. So as long as a dish can be welcomed in under the Honest Cooking umbrella, there is a reasonable chance it will make it onto here, regardless of the geographical origin of the recipe.
But to start out, here's one of my favorite traditional Scandinavian dishes - Beef A La Lindstrom. A classic Swedish dish, to this day served the same way it was when it was first introduced at the Hotel Witt in Kalmar more than 100 years ago.
SMAKLIG MÅLTID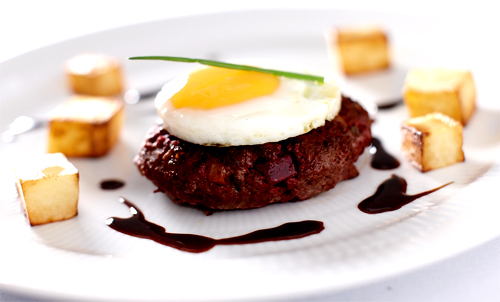 Beef A La Lindström

Serves 4
Beef patties
1 Ib of ground beef
1/4 Ib of ground pork
1 Anchovy fillet, finely chopped
4 Free range egg yolks
2 Tablespoons of capers, chopped
3 Tablespoons of pickled beetroot, finely diced
1 Large potato, boiled and very finely diced
1 Onion, finely chopped
1 Tablespoon of mustard
Salt & pepper
Organic butter for frying
To serve
8 Large potatoes
4 Free range eggs
Organic butter for frying and for thickening
½ Cup good beef stock
Salt & black pepper
Chives for garnish
1. Mix all the ingredients for the beef patties in a large bowl. Leave to rest for about 10 minutes.
2. Peel and dice the potatoes and fry them in a little butter and vegetable oil on a medium to low heat until golden brown on the outside and soft on the inside - about 15 minutes. Season with salt.
3. Using your hands, shape 4 large beef patties and fry them over medium heat in butter for about 5 minutes on each side. When done, deglace the pan with the beef stock and cook until reduced to about half. After it has reduced, thicken with butter (or thickener) and pour through a sieve into a saucer.
4. Fry the eggs and serve on top of the beef patties. Place the fried potatoes and drizzle a little pan sauce around the beef (the sauce is not the star of the show here, so don't use too much). Garnish with straws of chives.
Photo taken by Mads Damgaard.