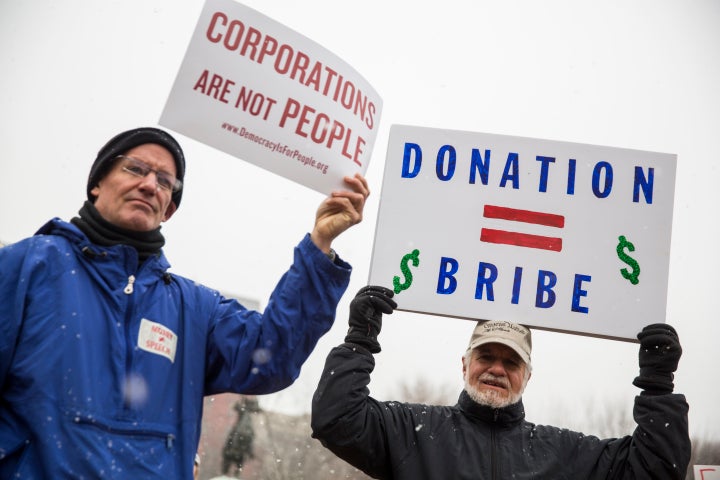 WASHINGTON -- In a little over a month, Seattle voters will go to the polls with the opportunity to create a brand new, first-in-the-country system of publicly financed city elections.
The Honest Elections Seattle ballot initiative, which is up for a citywide vote on Nov. 3, would create a system of "democracy vouchers" in the city. Under the program, every registered voter in the city would receive four $25 coupons to be used only as campaign donations to candidates for city election. The initiative would also lower campaign contribution limits, increase ethics enforcement, ban lobbyist and city contractor contributions, increase transparency and tighten other campaign finance and lobbying rules while upping legal penalties for breaking them.
It is the publicly funded voucher system, though, that has supporters from the city and around the country most excited. The chance to create and test a novel approach to democratizing the financing of political campaigns presents a huge opportunity for those looking to fix the current imbalance in favor of the wealthiest donors in the campaign landscape -- an imbalance exacerbated by multiple Supreme Court decisions gutting limits on campaign donations from corporations and the wealthiest Americans.
"If we can make [vouchers] work in Seattle, if we can demonstrate that it's a straightforward task of public administration to operate a system that gives 'democracy vouchers' to every voter in a large city like Seattle, we're hopeful that democracy vouchers will then spread to other places as well," said Alan Durning, executive director of the Sightline Institute, an environmental nonprofit that developed the Honest Elections Seattle initiative.
The idea of democracy vouchers dates back to a 2004 book by Yale University law professors Bruce Ackerman and Ian Ayres called Voting With Dollars: A New Paradigm for Campaign Finance. The authors proposed providing $50 in "patriot dollars" to each voter to contribute to the candidates of their choice, as long as the candidates enter into a system of entirely anonymous campaign donations.
The concept has also been picked up by Harvard professor Lawrence Lessig, a proponent of campaign finance reform and current Democratic Party presidential candidate. Lessig advocates allowing candidates to receive up to $100 in vouchers from a voter so long as they enter a system that severely limits private contributions.
There is some support for the notion in Congress, too. Rep. John Sarbanes (D-Md.) includes vouchers as part of a program to increase small donations with public funds up to fivefold in his Government By the People Act, the campaign finance legislation endorsed by the House Democratic caucus. Sarbanes will head out to Seattle to show his support for the ballot initiative campaign this fall.
But at the moment, there is no city, state or municipality that has a system of "democracy vouchers" for elections.
Here's how the system would work in Seattle, if voters decide to adopt it. Candidate participation is voluntary, as mandated by the Supreme Court for all public financing programs. Candidates would first need to reach a minimum number of donations under $100 (which varies by office sought) to qualify for the program.
To be able to receive "democracy vouchers," participating candidates would have to agree to strict spending caps, a lower limit on private campaign contributions, a ban on fundraising for any independent group that would spend money on elections and to take part in at least three public debates.
The spending cap would vary by election with mayoral candidates limited to $800,000, at-large City Council candidates to $300,000 and both district City Council and City Attorney candidates to $150,000.
In the event that an independent group like a super PAC came into the race to help the opponent of a candidate in the program, that candidate would have their spending cap lifted and be allowed to raise additional private funds.
Lorena Gonzalez, a former member of the Seattle Ethics and Elections Commission and a candidate for city council, supports Honest Elections Seattle because it would "refocus candidates on really paying more attention to voters rather than donors," she said.
"If I didn't have to spend a significant amount of time fundraising I would be able to spend much more time in the field having that direct voter contact, which ultimately makes you a better policy maker," Gonzalez said. She estimates that she spends an average of 14 hours per week on the phone raising money.
The Seattle campaign has broad local support with endorsements from five city council members, a dozen council candidates, Rep. Jim McDermott (D-Wash.), the state's League of Women Voters chapter and over a dozen city and state advocacy organizations. National organizations including campaign finance reform supporters like Every Voice, Represent.Us and Public Citizen and the environmental group Sierra Club are backers of the Seattle campaign.
"We're doing everything we can to help support the local groups that are in the lead on the ground to move this to a win," said Every Voice President David Donnelly. "That's a combination of providing strategic help -- we're helping recruit national organizations to mobilize their Seattle members to be active on the campaign -- and we're helping to raise money and we've also been a donor to the campaign."
Every Voice is the second largest donor to the ballot initiative campaign giving $66,980. The top donor is Sean Eldridge, husband to the millionaire owner of The New Republic and former Democratic congressional candidate in New York, with $200,000 donated. Other top donors to the campaign include the labor-backed Amalgamated Bank with $50,000, the Sightline Institute with $15,485 and Fuse Washington/Fuse Voters with $20,717.
Opposition to the ballot initiative exists in the form of the committee No Election Vouchers. Sandeep Kaushik, a political strategist, public affairs consultant and lobbyist who has represented Comcast, Lyft and marijuana businesses, is leading the opposition. Robert Mahon, a former member of the Seattle Ethics and Elections Commission who is now a lawyer at Perkins Coie, has also joined the No Election Vouchers opposition.
"I am pretty concerned that this particular proposal, while very well intentioned, is likely to be counterproductive and put us in a worse spot than we are right now in Seattle," Mahon said.
Mahon's concerns about the initiative are that overall costs will be higher than the $3 to $4 million anticipated cost, especially administrative costs, and that sending out vouchers at the very beginning of an election year, as the program does, would predominantly aid incumbents and well-known challengers. This latter concern is due to Mahon's belief that candidates would rush after vouchers to gather them early and voters holding those vouchers would want to get rid of them quickly, even if they have not yet paid much attention to the election.
The opposition is also concerned that the initiative's lower contribution limits could potentially move donors to give to less accountable independent groups instead of candidates.
The opposition group has raised little funds. The only reported contribution above $1 received is a $1,000 from Wallace Properties Development Co. LLC. The corporation is controlled by commercial real estate developer Bob Wallace, a big Republican donor in Washington state.
In 2013, Seattle voters barely rejected a ballot initiative to create a public financing system that would have matched small donations with public funds and an effort to place an initiative on the ballot in 2014 was shot down by the city council. The current initiative is a follow-up to these prior failed efforts. Polls commissioned by Honest Elections Seattle supporters show a majority of Seattle residents favor the initiative.
Correction: A previous version of this article referred to Sarbanes' Grassroots Democracy Act; the current legislation is called the Government By the People Act.