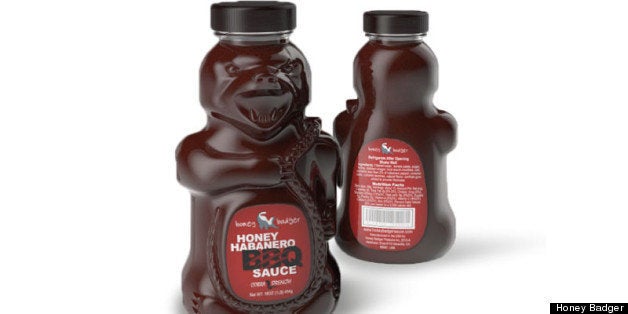 When we first heard about the release of the Honey Badger BBQ Sauce, we have to admit we were more than excited. And it may partly have to do with the fact that we love Randall's character as the honey badger.
But once we looked into the story of this soon-to-be BBQ sauce manufacturer, we were charmed by the story. A group of friends giving up their day jobs to make sure that we barbecue-sauce lovers were properly equipped with some tasty sauce. It's a cause we can respect. So as you can imagine, we were anxious to try it. And after months of waiting, today we finally did.
This is what we have to say. Beware of the Triple Cobra Strength BBQ Sauce. The description of their sauce says, "Triple Cobra Strength sauce redefines bringing the HEAT," and they were not lying. With just a little taste, some of the HuffPost Taste editors felt their faces turn red. And needless to say, there was an intense burning feeling from our mouth down to our chest. You'd better really like it hot if you're going to get into this sauce (it's also pricier, at $60, and a limited edition).
But, for the regular Joe BBQ-sauce lover, we were pretty pleased with how the simple Cobra Strength BBQ Sauce went down. It was sweet and slightly tangy. And it was just the right amount of hot. It's also way more reasonably priced at $7.99 a bottle.

Want to read more from HuffPost Taste? Follow us on Twitter, Facebook, Pinterest and Tumblr.