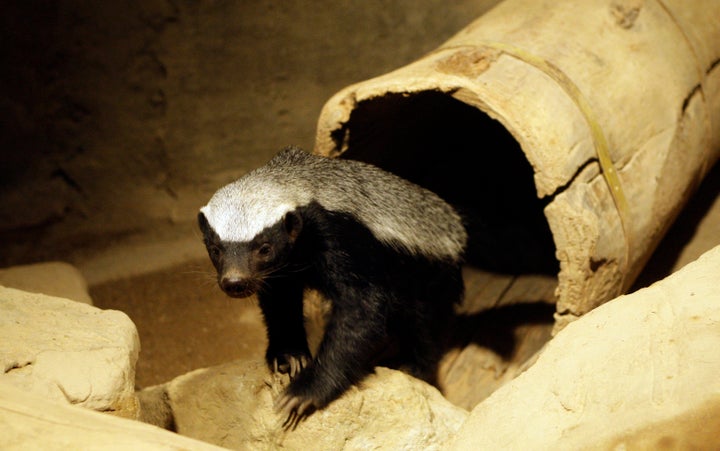 The infectious charm behind Internet sensation "The Crazy Nastyass Honey Badger" has secured a book deal. That's right, everyone's favorite nature narrator, Randall, will be bringing his voice to a book about honey badgers as well some of the world's other crazy animals, including the sloth, whiptail lizard and more.
The untitled-as-of-now release will be published by Andrews McMeel in January, and it will be a picture book for adults. For more details, we went caught up with Randall himself.
HuffPost Comedy: What can we expect from your first book?
Randall: Readers can expect to learn more about some the world's craziest and nastiest animals. The animals in the book are all fabulously unusual in some way; my book sheds light on these creatures. Expect to be terrified of nature, yet in awe at the same time. And oh, laughs galore--apparently, my talent for wildlife narration has translated well to the printed page, love!
HPC: Have you ever met an actual honey badger?
R: Once...many moons ago, but I'd prefer not to get into it. My assistant, Christopher Gordon, had the opportunity to meet the three new honey badgers at the Naples Zoo, in Naples, Florida. He said they were "cute and cuddly," but he doesn't know what he's talking about at all! They may seem cute and have a cute name, but honey, trust me...they are fierce and will demolish you in a heartbeat!
HPC: What's next for you after the book?
R: We shall see, love! I have a bunch of other fun projects I'm working on and am very excited about. I'm hoping once the book comes out, to take my show on the road and tour around the country, narrating a wildlife documentary before live audiences. I've also been meeting with networks and am hopeful one day, my show gets on television!
This is an exciting day for us all.
Randall's Original Honey Badger Video:
Calling all HuffPost superfans!
Sign up for membership to become a founding member and help shape HuffPost's next chapter