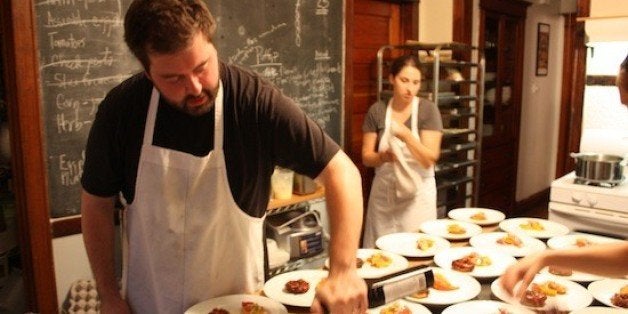 Chicago chefs Christine Cikowski and Josh Kulp know when they have a hit on their hands.
The pair started the popular locavore granola bar line, Eat Green Foods, in 2009. In a scant year and a half, Whole Foods, area coffee shops and specialty grocery stores around the Chicago region were selling out of the bars. At its peak, EGF was producing more than 1,700 granola bars a day.
Then, in 2011, Cikowski and Kulp shut it all down.
"We had to make a decision: Be a manufacturing business or be chefs," Kulp recently told The Huffington Post by phone. "For the life we wanted to live, [the granola bar company] wasn't the path we wanted to go down."
"When we started Sunday Dinner Club, we weren't necessarily making much money at it, but we kept doing it because we loved it," Cikowski says.
Kulp adds, "A lot of our life decisions have been guided by the life we wanted to live and not necessarily the thing that would bring us the most money."
"It's scary every day," Cikowski says.
Despite the risks, Kulps says the payoff from their work transcends monetary rewards.
"We really love to cook and use great ingredients -- and we get to do that every day of our life," Kulp says. "There's an indefinable wage to that. It adds value to our life and our experience."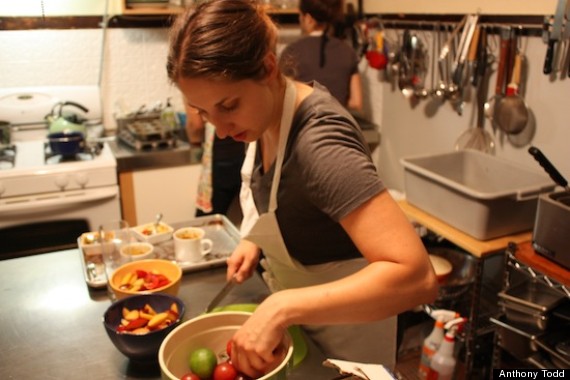 Christne Cikowski in the kitchen of Honey Butter Fried Chicken.
In a competitive food city like Chicago, many of the successful eateries around town are boosted by a celebrity name or a deep-pocketed restaurant group. Cikowski and Kulp, meanwhile, tapped friends in the restaurant community for knowledge, pushed their credit cards to the limit and buckled down to get HBFC off the ground.
Part of creating the kind of restaurant they were proud of, Cikowski says, meant working with three bottom lines instead of just one.
"You have to consciously decide that you're going to live a life against the grain on multiple levels," Kulp says. "With that comes financial hardship and some struggles. There are real issues of health insurance, being able to care for a family and how to fund a business. But it's about having more than one bottom line."
"Food, service and finance: They're equally valuable," Cikowski says. "We're not going to make any decision that affects any of those bottom lines negatively."
Keeping all three in check led the pair to make choices that included offering employees paid sick leave from day one, and flipping the hierarchy so that as owners, they were at the bottom.
"It's not top-down where we're the authority," Cikowski says. "We put ourselves at the bottom and think of ourselves as at the service of our customers and our staff."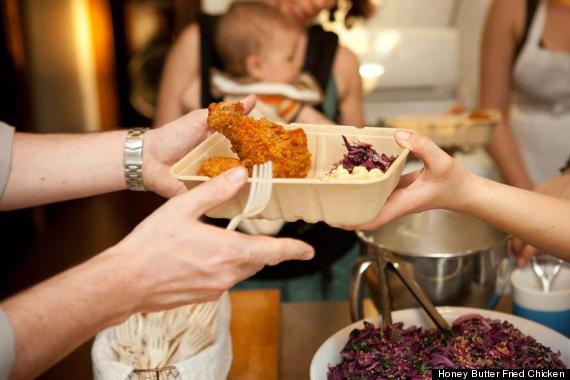 The signature dish at Honey Butter Fried Chicken.
Kulp says they offer all employees paid sick leave from day one and make the restaurant's financial books transparent so everyone knows how much money is coming in — and where it's going.
As for customers, the two say they considered every possible way to maximize a pleasurable experience. That meant installing wheelchair-friendly bathrooms in easily accessible spots (Kulp said it was important to make the dining out experience positive for every kind of customer), adding a hand washing sink to the dining room to clean customers' sticky hands and investing in larger, more expensive fryers to cut down the wait time between ordering and eating.
"You have to return to the fact that there's value beyond just the money you're making," Kulp says." We created a restaurant that gives everyone a good experience."
REAL LIFE. REAL NEWS. REAL VOICES.
Help us tell more of the stories that matter from voices that too often remain unheard.
BEFORE YOU GO
PHOTO GALLERY
Zagat Names Chicago's Best Restaurants For 2014