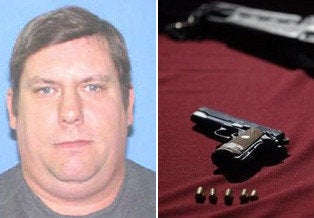 The assailant approached his victims with strange questions, asking one man about honeybees and another about construction material, then pulled out a gun. He came to be known as the "honeybee killer."
Now, authorities believe the man responsible for the shootings was killed during a robbery in an Orland Park tanning salon over the weekend.
On Saturday, an armed robber walked into L.A. Tan and tied up a female employee at gunpoint. Before he made off with any loot, however, a customer walked into the salon.
Customer Jason McDaniel immediately tried negotiating with the gunman, according to the Chicago Tribune. He offered him $600 in cash and told him he was a new father.
"I don't care about any of that (bleep)," the gunman replied, ordering McDaniel to get behind the counter.
McDaniel was able to grab the gun from the robber, and during the struggle, shot him twice. The gunman, later identified as 48-year-old Gary Amaya, died an hour later.
Now, authorities say the gun used in the robbery was the same weapon used in the "honeybee killings."
Ballistic tests show the handgun Gary Amaya carried during the Saturday holdup at L.A. Tan also was used in an Oct. 5 shooting in rural Will County and another that occurred later the same day near Lowell, Ind., the source disclosed.
"Seeing that look in his face, like there was nothing there, no sympathy, no compassion, I just knew that I had to do something to make it home," McDaniel told NBC Chicago.
Orland Park police say that McDaniel may have saved the lives of himself and two females inside the L.A. Tan.
Though investigators have not officially named Amaya as the "honeybee killer," he was being viewed as a possible suspect in the murders even before he entered the L.A. Tan on Saturday. Police from Will County and from Lake County, Ind., searched Amaya's in rural Rankin, Ill. Monday, according to the Sun-Times.
Amaya "seemed so normal -- if you saw him you wouldn't think there was anything unusual about him," Lynn Magers, who runs Rankin's post office, told the Sun-Times.
The discovery comes after a dramatic investigation into the shootings. Police officer Brian Dorian was charged in the "honeybee" shootings--before forensic evidence cleared him.
Police in Orland Park will not file charges against McDaniel, who they said "showed extreme bravery and courage," according to the Tribune. L.A. Tan gave him a $5,000 reward--and free tans for life.
Popular in the Community