One of the toughest choices couples face during the wedding process is where to take that much-anticipated honeymoon. Being a once-in-a-lifetime trip, it's a decision not to be taken lightly.
With a little bit of work on your part and some compromising, you can easily narrow down the many options to find your perfect destination. Follow these seven tips to ensure you have no regrets and take the honeymoon trip you've always dreamed about.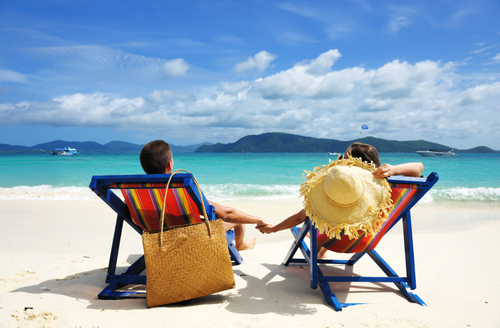 Before even thinking about potential destinations or making any reservations, you'll first need to determine exactly how much you can afford to spend on your trip. Whether your budget is $1,500 or $15,000, that final number will give you a better indication of where you can go and what you'll be able to do there.
For instance, if your ceiling is $2,000, a trip to Fiji is pretty much out of the question. However, a wine country road trip in California might be a better fit. Set aside some time to sit down together and come up with a final number that you're both comfortable with. Meanwhile, to help stretch that dollar, set up a honeymoon registry and let friends and family contribute towards your getaway.

2) Determine Trip Length
Next, figure out how long you can travel for. In addition to budget, many factors may come into play, such as work schedules, vacation time, and pre-determined itineraries (especially for all-inclusive trips and cruises). Only have a few vacation days remaining in the year? Consider a mini-moon first and then save that bigger, fancier trip for a future date that works better.
Inspired by Europe's countless number of historic sites? Or have you been dreaming of tropical cocktails and lounging on the beach? It's important to think about how you both envision spending time together. If the two of you have different tastes, consider mixing and matching until both individuals are satisfied with what the trip entails. Popular themes include the beach, mountains, history, adventure, road trips, ecotourism, and big city destinations.
The overall vibe you're seeking from a destination or hotel is also a key factor in narrowing down your ultimate choice. For example, if you're huge fans of mega-hotels and an overall party atmosphere, places like Las Vegas and Cancun should fit perfectly with your style. But if privacy, relaxation, and historic properties are all at the top of your list, perhaps B&B's or boutique hotels would be ideal in countries like Italy, Ireland, and Spain.

5) Consider the Season
With consideration to crowds, prices, local customs, and potential weather disruptions, the time period also makes a difference in where you eventually go. Set on Italy for your honeymoon? Unfortunately, the summer months offer up sizzling temperatures, exorbitant prices, and massive crowds. Meanwhile, in August, many towns across Europe seemingly shutter as locals head to the mountains or beaches for holiday. Looking toward the Caribbean after your fall wedding celebration? Remember that September and October are both prime hurricane months for honeymoon hotspots like Jamaica, Bermuda, and the Bahamas.
Also, think about taking your trip during the shoulder season or offseason at your destination of choice. Couples can save considerably yet still experience the ultimate vacation.

6) Assess the Situation
This is where paying attention to current events and doing a bit of research really pays off. Whether it be disaster-related, sustained violence, a financial crisis, or any other kind of emergency, it's vital to know if your potential honeymoon destination is going through a crisis. If so, you may want to hold off on taking a trip there until the situation improves. For instance, recent issues in Egypt have resulted in canceled flights and famous sites to be closed.

7) Remember Amenities

Finally, jot down a list of the amenities and services that are absolute must-haves for you both. Once you've compiled the list, search for hotels and destinations that only include those top items. For instance, let's say it's crucial that your hotel offers a top-notch spa facility. Well, the last thing you want is to book your accommodations for seven days and then find out that the facility (or region) doesn't even have a spa.
Most-coveted amenities for honeymooners typically include free Wi-Fi, complimentary breakfast, spa services, an on-site pool, and free parking.
Check out Adam and Traveler's Joy on their blog for the latest honeymoon news, features, and giveaways.
Support HuffPost
A No-B.S. Guide To Life
Related
Popular in the Community