In some corners of the world, the word "soon" is instead a tour through hell.
This is a tale of perseverance and taking control of one's life. It's a look behind those so-glamorous curtains of Hollywood and New York book publishing, where the way the real world works is totally different from how rosy it looks out front.
Like all good stories, though, it has a happy ending.
Bart Baker has had a career in Hollywood as one of those talented, workmanlike writers you've never heard of who labor hard and turn out fun, entertaining scripts. He's written a few feature films, including one that starred Pierce Brosnan, as well as seven made-for-TV movies, and worked on such TV series as The Outer Limits and Dirt, starring Courteney Cox. He's produced many of his films, too.
He's also brutally honest, with zero patience for pretense, and an imposing exterior (he looks like Mr. Clean. Seriously. Proctor & Gamble should sue him for copyright infringement) that all serve as a front to ward off fools. That's because underneath he's a giddy, bend-over-backwards-to-be-kind soul, who recently chose to adopt two toddlers at the same time.
(This is the quintessential Bart Baker story: on the set of a movie he'd written, an actor complained about a line, whining, "My character wouldn't say this." Baker cheerily said he'd fix it. Later, though, the actor was confused; he read the newly-rewritten scene, but... he no longer had any lines in it. "Oh, right," Baker warmly replied, "You told me your character wouldn't say that, so I took him out of the scene." The actor never complained about his lines again.)
And so it was, after a lifetime of nose-to-the-grindstone work in TV and film, Bart Baker sat down nine years ago to try his hand writing a novel.
And thus began Mr. Baker's Wild Ride.
What resulted was Honeymoon With Harry. Handing over the rough draft of his first book, he admitted wariness and reticently asked if I'd like to edit it. It was remarkable. Lest you think I'm speaking in subjective, hyperbolic exaggeration, New Line Cinema (which made The Lord of the Rings, Wedding Crashers, and countless others) immediately bought the movie rights. Yes, it was that wonderful.
And it was Soon to Be a Major Motion Picture.
Though Baker was himself a well-credited screenwriter, the studio went all in and hired Paul Haggis, the Oscar-winning writer/director, who made Million Dollar Baby and Crash. They liked his script so much (as did Baker) that they quickly were able to get Vince Vaughn anxious to come aboard.
This was a movie on the fast track. For one of the rare times in Hollywood, "Soon to Be" actually meant "soon."
Except -- well, perhaps you've also heard the expression, "Development Hell." Honeymoon With Harry was about to enter the first circle.
Paul Haggis left the project. Vince Vaughn went off to make other films. And the "soon to be" movie suddenly came to a screeching halt.
And so did that book publishing deal for Baker's novel which started everything. "Let's wait until there's an actual movie ready to go," he was told.
So, no book published yet, and no movie.
But the project stayed very alive. Actors kept anxiously wanting to get involved. Directors eagerly made their availability known. And because indecision is the gold standard in Hollywood, they'd all fall through. And ultimately, publishers would keep saying, "Well, let's wait until you officially have a movie."
For someone who doesn't suffer fools lightly, it became so frustrating for Baker that every collapse seemed like the end of the project, and hope of publication.
It was always the material, though, that kept it active. The story is deeply funny, adventurous, tragic, wildly romantic, and edgy. It tells of a self-admitted, womanizing, utter jerk, whose life blossoms when he meet the true love of his life -- and also meets her inhibited father, Harry, who viscerally hates the guy. Days before the wedding, the girl is killed in a car crash. These two totally devastated men, who fully distrust and dislike each other, find themselves forced go to Hawaii together. Connected only by their love for the same young woman, the twisted path that follows, often hilarious, ultimately allows them to finally move on with their lives.
But then, Jack Nicholson got involved with the project as Harry. The movie looked like it might finally go -- and the novel published. It didn't happen. Yet remarkably, Vince Vaughn returned -- and Robert DeNiro was so interested that they did a reading together. Until they both dropped out. However, Jonathan Demme, the acclaimed director of Silence of the Lambs, got involved... but left. Years still went by. More actors. Other directors. And the book -- oh, sorry, remember Bart Baker's book? The actual point of this? -- remained unpublished. Despite all the non-stop, high-end interest, as long as the motion picture was "Soon to Be," publishers still wanted to hold off.
"Overnight success" happens. But it's usually after a really, really long "night."
And yet Honeymoon With Harry still won't die. Because now, Bradley Cooper is interested. Not just to act in, but to direct, as well. And so Warner Bros. is interested. So... so... maybe... ?
Yet book publishers keep holding off. Waiting for "Soon."
This is the glamorous worlds of film and book publishing.
And this is what helped Bart Baker decide that "soon" was finally now. And take aggressive control of things. He understood that while he couldn't move a studio, the book was his. The goal was not a publisher waiting for a movie to be made. It was a publisher who would publish his book. Which was the point of writing the thing. It's the "Enough Already" syndrome.
And so, he got it done. After nine years of just about, almost, no, wait, maybe, so close... the novel, Honeymoon With Harry, has finally found a home and been published. At the moment, it's available in trade paperback, Kindle edition, and on the wings of smiling angels. And most importantly of all --
It's soon to be a major motion picture. But finally a book.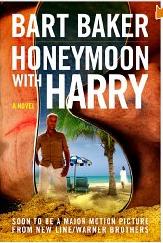 Related
Popular in the Community