I've taken on an entirely new challenge from a bride. And not just any bride - one of my favorite wedding alumni from 2015. She has asked me to plan a very special honeymoon for Valentine's Day weekend, and she wants my husband Bill and I to join them to celebrate!
You'd think this would be a much easier assignment than the others she gave me during her wedding planning. I don't have to herd 70 wedding guests from Nebraska around a remote Caribbean island. I don't have to create a Mardi Gras-themed wedding décor in December in the tropics. I won't be hunting for lost rental car keys in the sand at a beach party. Planning her honeymoon should be cake. I even get to be a guest when it's finished, sort of.
Actually, the groom was the real planning challenge because the ONLY two things he requested of the entire destination wedding weekend were that I have both a shark and a monkey at his reception. Yes, you read that correctly. He asked for a shark and a monkey. I took note. And he teased me about it mercilessly via social media during the planning so I was pretty sure he believe he request to be unrealistic.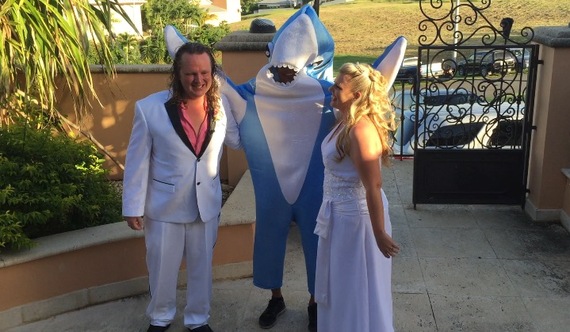 Ha! I showed him. It was a little tricky finding a shark costume (rental companies stateside and on the main island of Puerto Rico refused to ship to tiny little Vieques Island) so I ended up buying one. The result was absolutely fantastic. It looked like one of the sharks from the Katy Perry Super Bowl show, and it was a hit with literally everyone.
It was entirely too warm to make somebody wear a gorilla suit, but fortunately, we do have a bartender who works for us named "Monkey." No really, we do. So we fulfilled both of Mat's requests. My husband has a theory that when the groom doesn't ask for much, he should ALWAYS get what he wants. I agree, within reason. And for some reason, I decided a shark and a monkey were entirely reasonable requests, as long as the bride had no objection.
Jamalee and Mat had an incredible wedding on Vieques Island, with three days of activities that were a huge success. So how the hell am I supposed to top that experience with a four-day, mini-moon on Valentine's weekend? Maybe Shamu or Shrek could greet us at the airport?
The bride and I started brainstorming with the obvious. We've ruled out beach resorts because, let's face it, NOTHING in the continental United States is going to match up to the beaches they just spent a week on in Vieques. And since they live in Nebraska, they have zero interest going anywhere that requires a warm coat.
However, while both of our husbands are legally adults, but they act more like 12 year olds. Taking them to a theme park could be the perfect solution. Especially if we find someplace posh to stay where the bride and I can have a spa day, and get all dolled up for a special dinner to celebrate their first Valentine's Day, and actually getting a honeymoon, all rolled up into one.
It's up to me to figure out where we're going, because I also want to check out the wedding venue options wherever we stay so that I can tell my other clients about them. But at the same time, I need to keep in mind that this groom would probably get a major kick out of brunching with Mickey Mouse. The bride's actual nickname is "Dory" because, like a number of busy women, sometimes she forgets things, so a trip to SeaWorld or something like that could be in the cards.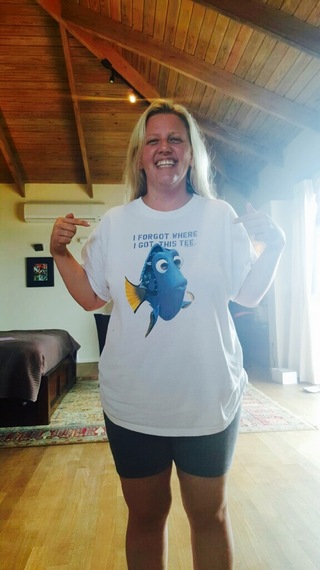 I must admit that I'd really like to visit the sorting hat at the Harry Potter Expo at Universal Studios to find out if I'm truly Gryffindor. I mean seriously, who doesn't want to drink butter beer and experience Hogwarts, right? And my husband read all the Harry Potter books too, even if he doesn't admit it in public.
I also have to find a special hotel that will give Jamalee and Mat a true honeymoon experience (even though they're bringing company) instead of feeling like they're staying in the middle of a theme park. We all like kids, but they're leaving theirs at home. So we need to make sure there's enough adult atmosphere available in the evenings to make it feel like a romantic trip.
Maybe this is harder for me because I'm taking my own opinions on things into consideration. Normally, when planning a wedding, I focus entirely on what the bride and groom would like. I give them suggestions, of course, but my recommendations are based on what I've learned about the couples' preferences, taste and style, not what I would necessarily choose to have at my own wedding. This time, the bride wants to me to choose something I would actually enjoy, too. That's a challenge.
I've just begun this crazy planning adventure, and it's clear I'm slightly overwhelmed by the options, so I'm wide open to suggestions from other brides and groom who have honeymooned at theme parks (anywhere and everywhere). Email me your ideas of places to go and things to plan that would help make this Valentine's Day honeymoon for this loving, crazy newlywed couple even more amazing than their wedding I just planned. I welcome your ideas at info@sandymaloneweddings.com. Or post your suggestions in the comments section of this blog!
Wish me luck - I'll keep you posted on our progress! This is definitely the first time I've been invited to plan, AND ATTEND, my clients' honeymoon. I am excited! Now to top that damned shark and monkey...