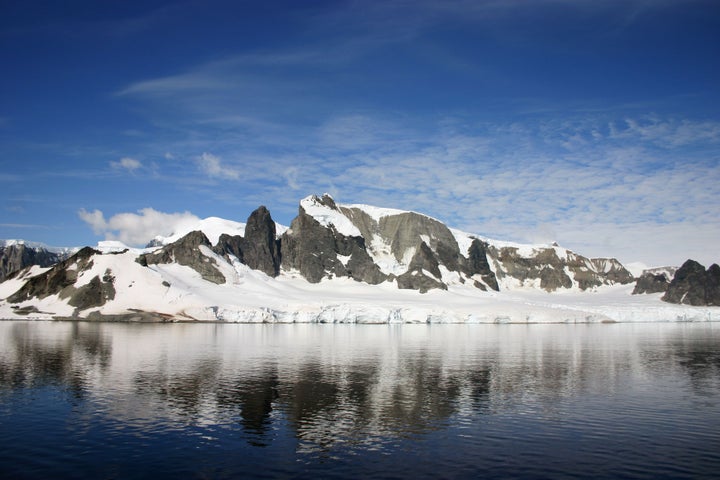 When she stepped off the vessel, her legs were shaky, her heart was pounding and she was filled with an overwhelming sense of responsibility. She didn't know anything about the environment or climate change but at age 24 she had been chosen to be the first Vietnamese person to set foot on Antarctica as part of an environmental awareness project of UNESCO.
"When my foot hit the ice I felt everything change inside me. I had been living all my life in cities, not thinking about nature or the environment, but when I felt my feet on the ice and saw the vast nothingness of nature I felt a connection to nature -- the boldness and the beauty combined with the fragility." Hong Hoang explained while sitting on the balcony of a busy café in Saigon, Vietnam.
Hong Hoang, known as Hong Antarctica in Vietnam, was selected to be part of the first global youth delegation in 1997 organized by Robert Swan to bring young people from 25 countries to Antarctica. Swan, the first person in history to walk on both the South and the North Pole, designed this program to bring young people from around the world to see Antarctica and participate in research to look at effects of climate change on the continent. His hope was that they would go back home and raise awareness of the devastating effects human activity is having on the planet.
Hoang has more than made Swan's hopes a reality. He has sparked a national movement in Vietnam that has garnered national and international attention. Young people across the country who have heard Hoang speak on their campus or read one of the hundreds of articles about her have joined her effort to raise awareness about climate change and participate in solutions based campaigns. Hoang runs the campaigns in Vietnam as part of the international climate change organization 350.org, an open-source campaign that supports movements around the world of people working on issues related to climate change. Young people in Vietnam have participated in 350.org activities since 2009 and Hoang has built on that existing energy to run campaigns year round.
"Young people in the country were ready to lead on the issue. I just gave them an inspiration to act and they have ran with it." Today tens of thousands of people in Vietnam have participated in the climate change awareness activities and hundreds of dedicated volunteers work around the clock to make climate change a household subject and provide everyday people with ways to be part of the solution.
The campaigns vary regionally and range from a strawless campaign to reduce the use of plastic straws in cafes and bars, public education campaigns in primary schools and a white roofs campaign based off the model of the City of New York. Vietnam's top pop artists have also joined the movement to raise broad awareness by putting together a song that is airing on YanTV, Vietnam's most popular music station, and many other popular TV channels:
"It is incredible to see all the participation in the campaigns, but it is not enough. We need every single person on the planet to understand the real threats of climate change and commit to being part of the solution. Vietnam is already seeing the effects of sea level rise." Hoang explained. "We don't have time to wait, we need young leaders to commit to spreading the message now!"
Hoang is leading by example. Hoang, who is a volunteer, works 8-to-12-hour days out of her living room and cafes coordinating the national activities. Her phone is always ringing off the hook with calls from people across the country who want to get involved. From environmental minsters to high school students to corporate leaders who want to go green, Hoang helps find ways to engage them in the campaigns and keep them enthusiastic:
"You know, I went back to Antarctica on a reunion trip three years ago and it was so different than 1997. It's melting, there is no way around that fact. I feel a huge sense of responsibility to do as much as I can to stop that." Says Hoang. "I know I am only one person, but as one person I want to inspire and empower as many young Vietnamese as I possibly can in this lifetime."
REAL LIFE. REAL NEWS. REAL VOICES.
Help us tell more of the stories that matter from voices that too often remain unheard.