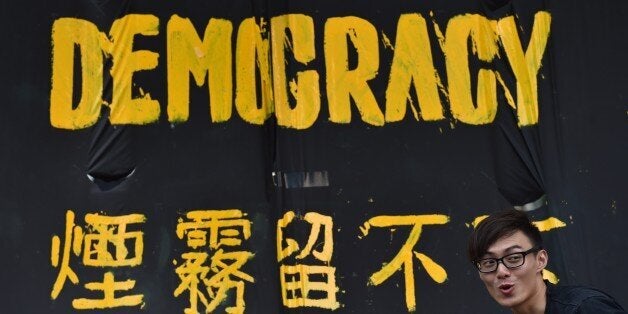 By Clare Baldwin and Anne Marie Roantree
HONG KONG, Sept 30 (Reuters) - Some academics at the forefront of Hong Kong's fight for more democracy say they have become targets of death threats or other intimidation as the former British colony remains near-paralyzed by the biggest protests since it returned to Chinese rule in 1997.
Hong Kong has freedoms not enjoyed on the mainland, but Beijing last month rejected demands for free elections to choose the city's next leader, prompting outrage and protests by tens of thousands of people, mostly students, who have blockaded roads in the global financial hub.
Riot police fire tear gas and pepper spray at large-scale rallies over the weekend. Although Monday was relatively peaceful, protesters were on edge on Tuesday, fearing a new round of police action.
Chan Kin-man, a professor of sociology at the Chinese University who has been on the frontlines of the protests, said he has a stack of envelopes containing death threats scrawled in Chinese characters.
"I understood that once I joined this movement, they would attack me and treat me as an enemy," Chan told Reuters, his head shaved in protest against Beijing's decision to rule out free elections for the city's next leader in 2017.
Chan is a co-founder of the "Occupy Central" group that wants to lock down the business district.
Another co-founder, Benny Tai, a law professor at the University of Hong Kong, said he had also received death threats, some addressed to "The Devil," with one envelope containing a razor blade.
Five other academics told Reuters they had suffered intimidation because of their activism.
It was not immediately clear who was behind the intimidation or threats. Chinese officials, worried that calls for democracy will spread to cities on the mainland, threatening the Communist Party's grip on power, have said the Occupy movement is illegal. But Tai doesn't believe Beijing sanctioned the letters.
"For Beijing, I think it's important to protect me," Tai told Reuters. "If I am in trouble, the blame will be on Beijing."
Neither Chan nor Tai reported the death threats to police. Tai told Reuters he did not believe it would be possible to trace them while Chan said he was advised by Tai not to make it a police case.

Tai said a handful of core Occupy organizers abruptly left the movement and he attributes their departure to intimidation, possibly through their business ties with mainland China.
"We know that kind of thing is happening," he said, declining to give details or say how many people had left.
Another academic and Occupy supporter, Joseph Cheng, a political science professor at City of Hong Kong University, said he has also been targeted.
Pro-Beijing newspaper Wen Wei Po has accused him of plagiarism and not reporting extra income, charges he has denied, though complaints were also lodged with his university, which said in an e-mailed statement that it was investigating in accordance with established rules and procedures.
Wen Wei Po declined comment and Hong Kong's office of mainland affairs and its liaison office did not respond to phone calls or faxes requesting comment.
Cheng told Reuters his computer has been hacked, his access to databases and relationships with mainland academics has deteriorated and he has struggled to obtain research funding.
Pro-Beijing groups had stormed his lectures, urged the city's anti-graft agency to investigate him and harassed him outside his home, he said, adding that his wife had also been followed.
The anti-graft agency, the Independent Commission Against Corruption, declined comment.
"Anyone who speaks up, they can really destroy you, they can exert a lot of pressure on you," Cheng said.
The intimidation comes at a time when two academics in the nearby former Portuguese colony of Macau, which returned to China two years after Hong Kong, were sacked for expressing their political views.
None of the academics in Hong Kong has lost their jobs, suggesting that academic freedom, in its strictest sense, remains intact. In terms of formal, legal protections for academic freedom, Hong Kong is among the toughest in the world.
However, Chan, the sociology professor, said there was "zero chance" of his returning to mainland China in the near future, fearful of physical harm or attempts to ruin his reputation.
"If I go back, my friends warned me that they will use whatever dirty tricks," he said. "You might be hit by a car or they will send a woman to your hotel room." (Additional reporting by Diana Chan, Kinling Lo, Yimou Lee, James Pomfret, Farah Master and Grace Li; Editing by Raju Gopalakrishnan)