Imagine a kooky grandma who lives with a dozen kitties, and invites her grandchildren over to cook and hang out. That's the feel of Ah Meow, one of the only cat cafes in Hong Kong.
In this video, travel host, La Carmina, samples "cat food" and snuggles up to the furry residents.
Many Hong Kong residents are unable to have pets because they work long hours and live in small apartments. Cat cafes let them get a feline fix, while enjoying tea and snacks. This restaurant trend began in Japan, and is now popular in major Asian cities.
There aren't any ground rules at Ah-Meow -- simply walk in, and join the action. The tables are packed with young locals on dates. Many hold smart phones and take photos of (or with) the kitties.
This cafe is home to eleven cats, all of whom were adopted. They roam the space freely: Some duck into baskets, others climb onto the tables and whisk their tails in people's faces. Not surprisingly, the squish-faced Scottish Folds and Exotic Shorthairs got the most attention.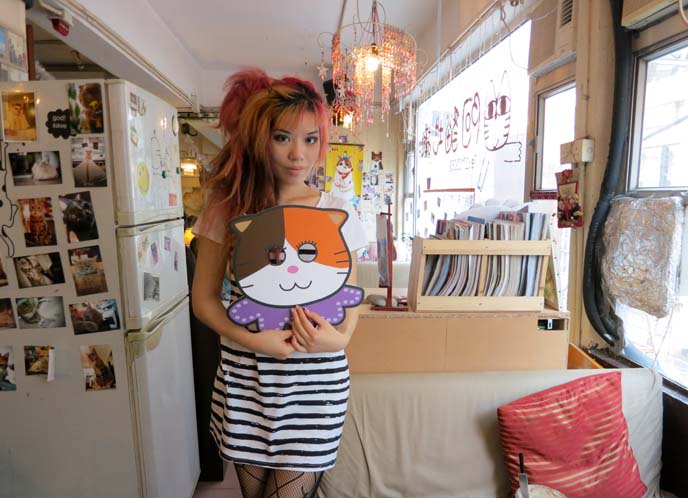 The pets are allowed into the open kitchen, but I didn't hear anyone complain about whiskers in their food. Most menu items are decorated with cat faces, such as cocoa with a paw-shaped stir, or curry-rice shaped like a kitten's head. Customers can even custom order a meat cake for a four-legged friend.
Near the entrance, there are racks of Hello Kitty stationery and other goods for sale. You can even put on a "vampire kitten" mask, as my friend did in the video.
Have you ever been to a cat cafe? What do you think of this bizarre Asian phenomenon?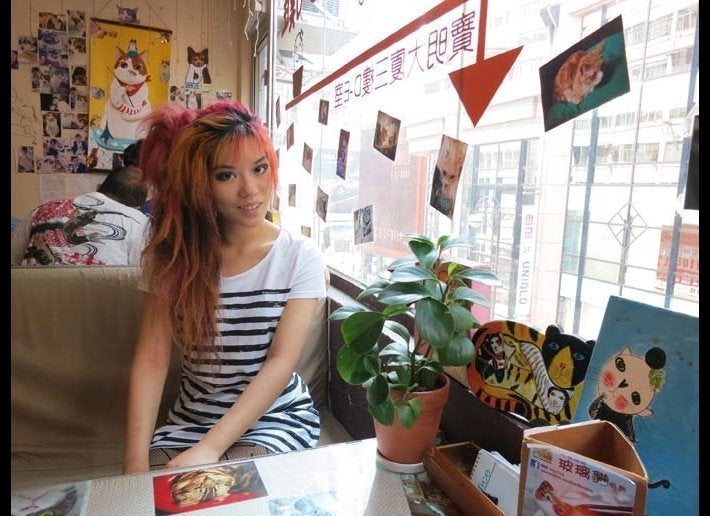 Cats In Hong Kong
Popular in the Community