By James Pomfret and Clare Jim
HONG KONG, Oct 15 (Reuters) - Hong Kong's most prominent tycoon, Li Ka-shing, on Wednesday urged protesters who have occupied parts of the city since late last month to go home, after police mounted their toughest action against the democracy activists in more than a week.
Police arrested about 45 protesters in the early hours of Wednesday, using pepper spray against those who resisted, as they cleared a main road in the Chinese-controlled city that protesters had blocked with concrete slabs.
But footage of police beating a protester went viral, sparking outrage from some lawmakers and the public. Authorities said police involved in the beating would be suspended.
Outrage over the beating could galvanize support for the democracy movement in the city where the protests over Chinese restrictions on how it chooses its next leader had dwindled from about 100,000 at their peak to a few hundred.
Li, Asia's richest man and chairman of property developer Cheung Kong (Holdings) Ltd, had made no public comment on the protests but broke his silence to say if Hong Kong's rule of law broke down it would be the city's "greatest sorrow."
"Since the handover, the 'one country, two system' formula has protected Hong Kong's lifestyle," Li said, referring to the formula under which the city has been run since its return from British to Chinese rule in 1997.
"I urge everyone not to be agitated. I urge everyone not to let today's passion become the regret for tomorrow. I earnestly request everyone to return to their families," Li said in his first public comments on the protests.
The "one country, two systems" formula allows wide-ranging autonomy and freedoms not enjoyed on the mainland and specifies universal suffrage for Hong Kong as an eventual goal.
But Beijing ruled on Aug. 31 it would screen candidates who want to run for the city's chief executive in 2017, which democracy activists said rendered the universal suffrage concept meaningless.
Earlier, Hong Kong Secretary for Security Lai Tung-kwok told a news conference police would investigate the beating of the protester after he was dragged into a dark corner next to the protest site police were trying to clear.
Several officers appeared to beat and kick a handcuffed protester for several minutes in footage aired by television broadcaster TVB. The officers shown in the video would be suspended, Lai said.
Alan Leong, leader of Hong Kong's pro-democracy Civic Party, identified the person in the video as Ken Tsang Kin-chiu and said he was a member of the party.
Civic Party legislator Dennis Kwok, a lawyer representing Tsang, said police also beat Tsang inside a police station. Tsang had since been taken to hospital, Kwok said.
Photographs released by activits showed Tsang with bruising on his face and body.
Police, without referring to Tsang, said in a statement they had used minimum force, including pepper spray, to disperse protesters who had gathered illegally.
The altercation came after demonstrators swarmed into a tunnel on a four-lane thoroughfare late on Tuesday, halting traffic and chanting for universal suffrage.
"There were so many police. They punched people ... We are peaceful," a distraught student, Danny Chiu, told Reuters.
The tunnel in the Admiralty district near government headquarters was reopened after police cleared away barriers of concrete slabs.
The protesters are also calling for its pro-Beijing leader, Leung Chun-ying, to step down. But their campaign has caused traffic chaos and drained public support.
Leung said this week there was "zero chance" China's leaders would give in to protesters' demands and change the August decision limiting democracy.
He postponed a question-and-answer session scheduled for Thursday due to what he called security risks, citing calls for protesters to surround government buildings.
China's ruling Communist Party believes it has offered enough concessions to Hong Kong in the past, and would give no ground because it wants to avoid setting a precedent for reform on the mainland, sources told Reuters.
The position was arrived at during a meeting of the new National Security Commission chaired by President Xi Jinping in the first week of October, the sources said.
The People's Daily, the Chinese Communist Party's newspaper, said in a commentary giving in to "political blackmail" would "exacerbate instability and chaos."
On Tuesday, police used chainsaws and sledge-hammers to clear blockades on another major road in Admiralty, next to the Central business district. Hundreds of protesters then stormed into the nearby tunnel.
Despite the reopening of the two major roads there was no immediate sign the core protest zone outside government headquarters, where hundreds of tents remain pitched on a highway, would be cleared.
Protesters are scattered around other parts of Admiralty and smaller groups remain in the shopping district of Causeway Bay and in the densely populated Mong Kok area.
Police, criticized for using tear gas and batons in the first 24 hours of the protests, had adopted a more patient approach, counting on protesters to come under public pressure to clear main arteries. In recent days, police have selectively removed some barriers on the fringes of protest sites.
The police action in the early hours of Wednesday, however, suggested official patience may be wearing thin. (Additional reporting by Donny Kwok, Yimou Lee, Amanda Lee and Farah Master in HONG KONG and Benjamin Kang Lim and Ben Blanchard in BEIJING; Writing by Dean Yates; Editing by Robert Birsel)
Before You Go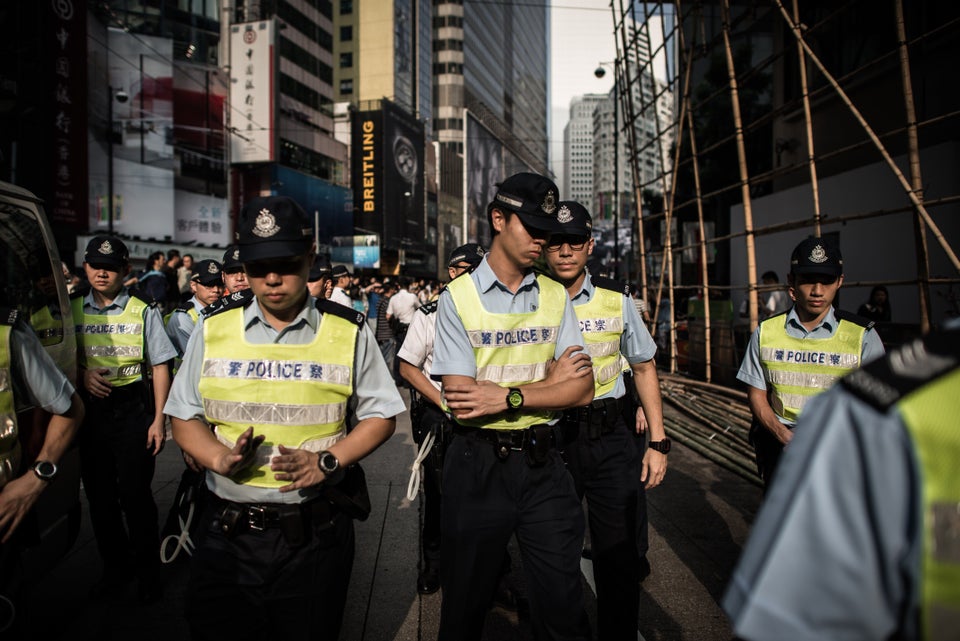 Hong Kong Protests
Popular in the Community