Since the demonstrations began to heat up last Friday, Hong Kong residents from all walks of life have come out to protest what they see as a reversal on the Chinese government's position on direct elections for the city's leadership. Here's what you need to know about this week's historic developments:
Protesters are united around one central issue: They want to be able to choose their top leader, the chief executive, without interference from China.
When the United Kingdom handed over Hong Kong to China in 1997, the city became a "special administrative region" within China, entitled to a high degree of autonomy and eventually to its own leader. While Hong Kong's chief executive is currently appointed by a committee that largely consists of Communist Party loyalists, Article 45 of the Basic Law, Hong Kong's constitutional document, stipulates that he or she should ultimately be selected "by universal suffrage upon nomination by a broadly representative nominating committee in accordance with democratic procedures."
In preparation for Hong Kong's first direct elections, scheduled for 2017, authorities in Beijing outlined at the end of August the details of the national committee that would nominate the candidates. Beijing made sure that the new rules guaranteed candidates would need to be vetted by China's leadership. The decision angered many in Hong Kong who had hoped to be able finally to elect their leader.
Student protesters rest next to a defaced cut-out of Hong Kong's Chief Executive Leung Chun-ying at one of their protest sites around the government headquarters, Tuesday, Sept. 30, 2014, in Hong Kong. (AP Photo/Wong Maye-E)
Pro-democracy activists in Hong Kong have been organizing since this summer, long before the protests came to a head last weekend. In an effort to influence Beijing's decision on the national committee, a coalition called "Occupy Central" organized massive rallies in the city's streets. But the coalition failed to rally a majority of the city's population. Rachel Lu pointed out in Foreign Policy that, before September, polls indicated that many Hong Kongers did not support the coalition. A majority of residents even said they could live with Beijing's new rules.
In the wake of Beijing's August decision, however, student groups blew new life into the protests. They organized a massive boycott this week, which culminated in a sit-in at the Hong Kong government headquarters. Security forces reacted with strong-arm tactics, forcibly removing the students from the plaza they were occupying. When protesters blocked roads in the Admiralty District the following day, riot police again moved decisively. Instead of quelling the protests, however, the aggressive response of the security forces galvanized Occupy Central supporters and new protesters. The images of students peacefully protesting, only to be doused with tear gas and pepper spray, motivated thousands to come out in support. The umbrellas used by many demonstrators to protect themselves from the gas have become a symbol of the protests.
Protesters on a street outside of Hong Kong Government Complex on Sept. 30. (Anthony Kwan/Getty Images)
In addition to the chief executive race, the protests are fueled by several other mounting concerns.
Reuters explains that Hong Kong's ties to China are complex -- a relationship often described as "one country, two systems" -- and both sides' interests diverge on crucial issues. "It was never going to be easy, to have one country where there is still a border dividing the two sides, separate currencies, cars driving on opposite sides of the road, and mutually incomprehensible languages; let alone competing political systems with vastly different ideas of citizenship, rule of law, and transparency."
Nicholas Bequilin wrote for ChinaFile that many Hong Kongers have become increasingly disappointed in their leadership in recent years. Many believe Hong Kong's top government leaders are too close to the city's rich and powerful, and do not defend the interests of the average resident.
In addition, the city has been flooded by visitors from mainland China, an influx that has driven up property values and the cost of living. "The average Hong Konger simply has been crowded out -- from public transportation, from shopping malls (the territory's biggest public spaces), from hospitals, from schools, and from the property market, long the best route for members of the salaried class to get ahead," Bequilin explained. "Hong Kong won't be Hong Kong," 50-year-old businessman Lawrence Ku told the Guardian, referring to the arrival of mainland visitors.
Ku also reflected the growing sentiment in the city that Beijing has tightened its grip on the enclave, prompting more self-censorship among citizens and threatening dissident voices. "Hong Kong's freedoms have been getting less and less since the handover. We just want to have the freedom like before," Ku said.
Protesters chant "Jiayou! Jiayou!" or "Keep it up!" while waving their cell phones in the dark as they gather near government headquarters, Wednesday, Oct. 1, in Hong Kong. (AP Photo/Wong Maye-E)
Students have been at the forefront of the recent pro-democracy protests, with a 17-year-old named Joshua Wong as one of their most prominent leaders. According to the Wall Street Journal, the protests have laid bare a deep generational divide in the city.
The city's younger generation hasn't benefited from China's economic rise to the same extent as older residents, many of whom cashed in as factory owners and real-estate investors. This group strongly opposes disrupting the city to fight against Beijing's limits on how Hong Kong's leader is chosen.
Sebastian Veg, the director of the French Centre for Research on Contemporary China, told McClatchy that Hong Kong's younger residents also don't have the same connection with China that many of the older residents have. He explains that because many of Hong Kong's older residents lived under British rule, they have a more patriotic attachment to Beijing than members of the younger generation.
Protesters gather outside the Hong Kong Government Complex on Sept. 30. (Paula Bronstein/Getty Images)
"The Chinese authorities do not want to see it spread to the mainland," historian and political analyst Zhang Lifan told the Associated Press, adding that the country's leaders are worried that the protests could have a domino effect. Hong Kong is not the only region in the country with ambitions for more autonomy from Beijing. "For a leadership already grappling with separatist movements in the western regions Tibet and Xinjiang, any sort of successful independence movement would set an unthinkable precedent," the Guardian summarized.
Beijing did move decisively to block news of the democracy movement from reaching many of its citizens. Chinese news outlets have barely mentioned the demonstrations, and the coverage by international networks broadcasting in the country has been censored. Reports emerged on Monday that the popular photo-sharing platform Instagram was down in mainland China. According to The New York Times, Beijing's central propaganda department also ordered websites to delete any mention of this weekend's clashes in Hong Kong. In addition, any mention of "Occupy Central" has been banned from popular microblogging platform Sina Weibo.
Chinese President Xi Jinping gives a toast during the National Day reception marking the 65th anniversary of the founding of the People's Republic of China on Sept. 30 in Beijing. (Photo by Feng Li/Getty Images)
Before You Go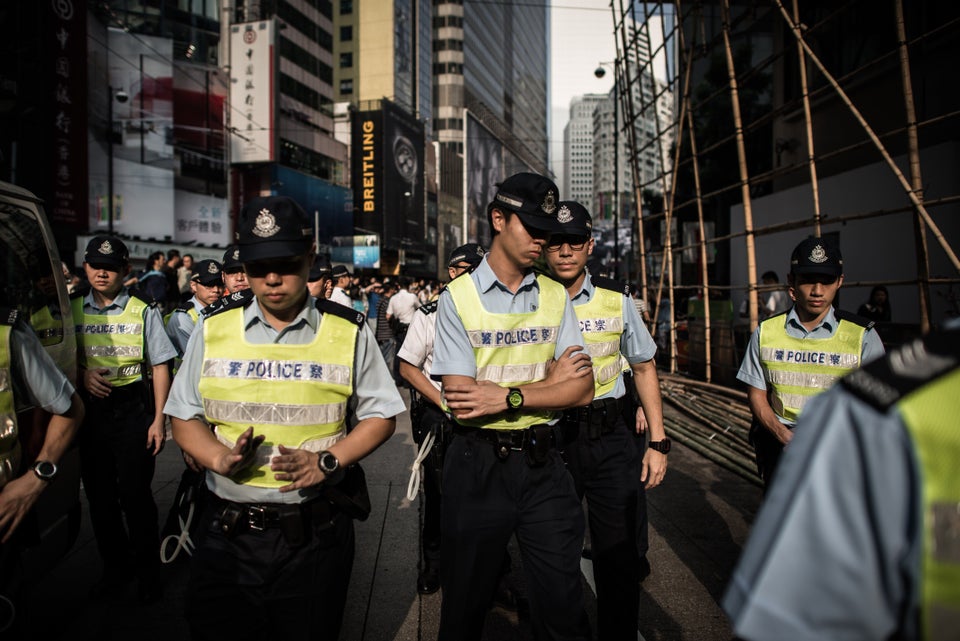 Hong Kong Protests
Popular in the Community