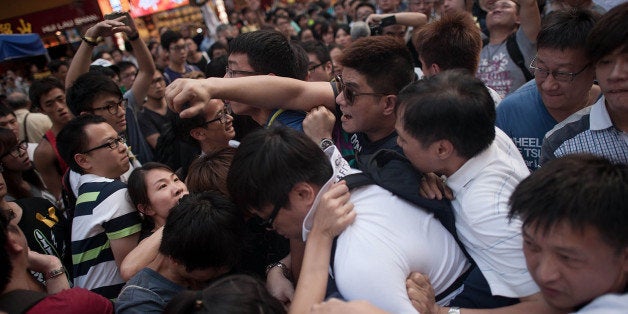 HONG KONG –- On a tense Sunday afternoon, the occupation of Hong Kong's streets by democracy protesters crossed the one-week mark, as mounting losses to local businesses fed an increasingly violent backlash. Small business owners report that the perpetually blocked roads and physical confrontations have taken a toll, with the flow of customers slowing to a trickle.
"Business now under Occupy Central is even worse than when SARS [severe acute respiratory syndrome] hit Hong Kong [in 2003], because back then traffic wasn't blocked," said Sun Oi-ling, who runs a small restaurant located two miles from the occupation's epicenter in the Admiralty neighborhood. Sun said that her business has dropped by roughly two-thirds over the past week. "The protesters have their own position, but our position is that we have to face high rent and labor costs."
Since Sept. 28, student demonstrators have occupied major streets in the Asian financial hub to demand that the mainland Chinese government not screen candidates for the city's 2017 elections. Public sympathy for the students surged last Sunday after local police used tear gas and pepper spray in an attempt to disperse protesters.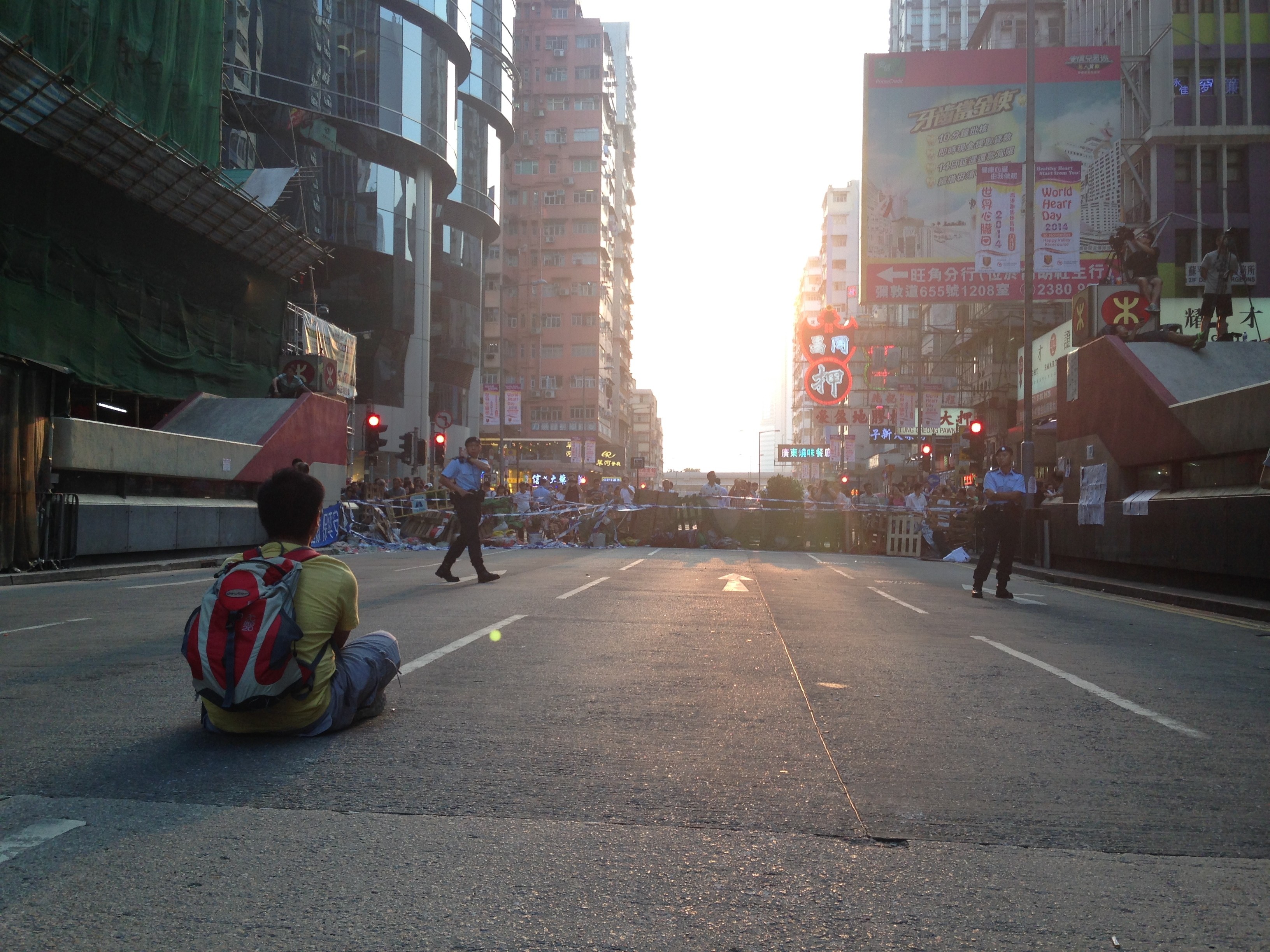 Student-led demonstrations have shut down some of Hong Kong's busiest commercial and financial centers. (Photo: Matt Sheehan/The WorldPost)
That support continued to run high during a major public holiday this week, but as some Hong Kongers found protests interrupting their return to work on Friday, patience began to run thin. Confrontations between pro- and anti-occupy forces morphed into public brawls, with activists blaming much of the violence on triad gang members who they claim have been paid to stir up trouble.
Hong Kongers who run small businesses with no guaranteed income now complain that their livelihoods are at stake. Restaurant owners, taxi drivers and fruit sellers report significant losses, ranging anywhere from 20 to 65 percent of regular sales. Some of those shop owners have gone onto the front lines to engage the pro-occupy camp in heated debates.
In the weeks preceding the occupation, government officials had warned of the damage to Hong Kong's economy and its reputation as a stable place to do business. On Friday, ANZ Bank estimated that the protests had already cost retailers around $2.2 billion in Hong Kong dollars (USD $280 million).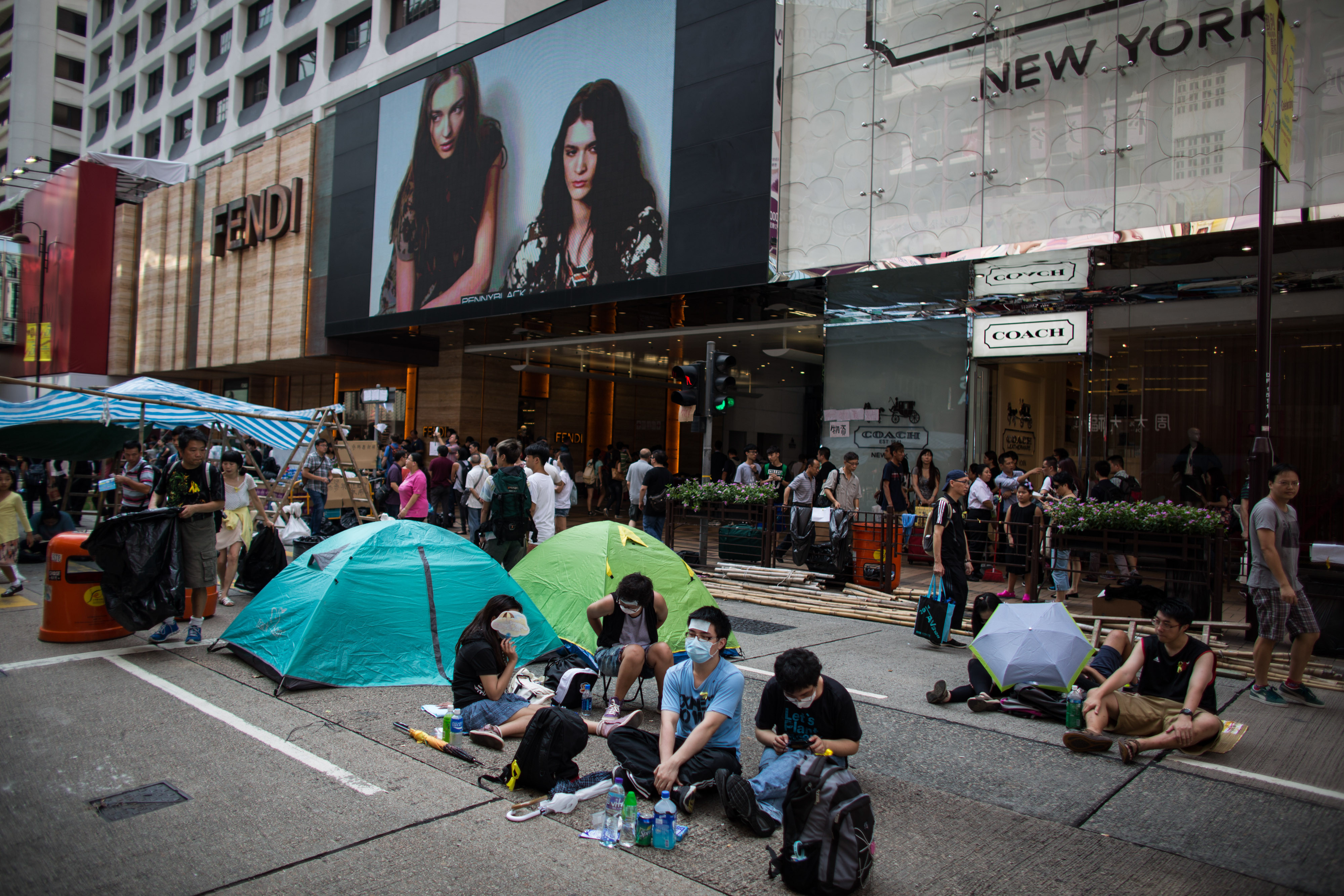 ANZ Bank estimated that occupy protests have already cost the city over HKD $2 billion. (Photo: Bloomberg via Getty Images)
That impact has many locals feeling torn between sympathy for the occupiers and concern over a very real hit to their own pocketbooks.
Hong Kong taxi driver Wu Man-wai said that his daily income has dropped by around one-third during the occupy demonstrations, as the blocked roads and brawls push many riders to take the subway or stay home. But he still maintains a certain appreciation for demonstrators who have braved rain, heat and violent attacks in pursuit of political reform.
"When people oppose the movement because it disrupts their businesses, they should stand back and think about what the students are fighting for," said Wu. "I'm not saying the students are always right, but when they are shouldering the responsibilities for society, shouldn't we as adults support them?"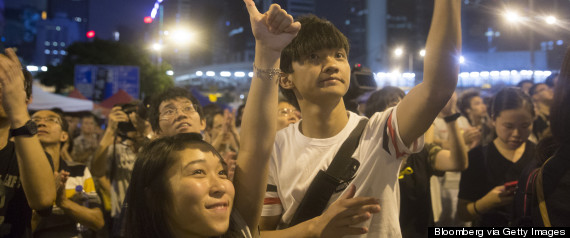 Some working Hong Kongers see the students as taking up a struggle that they can't because of their jobs. (Photo: Bloomberg via Getty Images)
Some protesters, many of whom work in the city themselves, argue that the short-term economic losses will be compensated for in the long term with better governance under a more democratic system.
"There will definitely be some impact on stores, but we haven't taken to the streets for money," said Ngan Wing, 30, who has been coming out to the protests when not working at Hong Kong International Airport. "These people are here to demand the government improve its policies toward Hong Kong, and that will change the lives of Hong Kongers for the better."
But others in both the pro- and anti-occupy camps doubt that the protesters will achieve their stated goal of public nomination of electoral candidates for chief executive. That pessimism makes the short-term pain more difficult to bear for business owners, many of whom point out that students can simply return to class when the demonstrations end.
Occupy protests have always been controversial in the city, with opinion often starkly divided along age and class lines: Protesters have overwhelmingly been young, many of them students from prestigious Hong Kong universities, while Hong Kong's older and poorer populations tend to oppose such actions at much higher rates.
As night fell over Hong Kong on Sunday, demonstrators faced difficult decisions about how best to turn up the pressure on the government without alienating more local residents. Authorities have set a deadline to clear the streets before Monday morning. Any move by protesters to limit their impact on surrounding businesses would help them consolidate local support ahead of potential negotiations with the government.
Cleared streets that restored the flow of customers to Sun Oi-ling's restaurant would placate her opposition to the protests.
"I don't mind Occupy Central taking place as long as it doesn't affect business," she said.
Calling all HuffPost superfans!
Sign up for membership to become a founding member and help shape HuffPost's next chapter