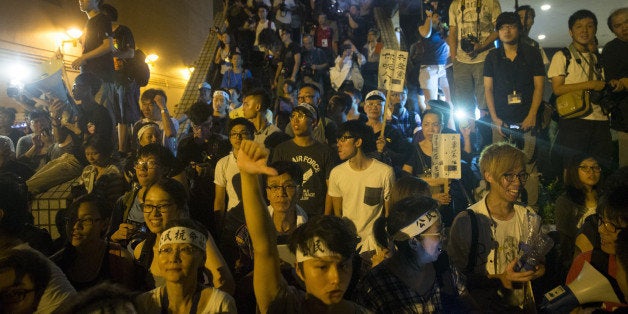 HONG KONG -- As Hong Kong people reel with the aftershocks of last Sunday's pronouncements by the Standing Committee of China's "parliament," the National People's Congress, they desperately need to be assured that the world cares that their sovereign government has now ridden roughshod over their aspirations for a genuinely democratic election of the city's head of government, or chief executive, in 2017.
Cynical voices will say it was naïve not to see this coming, that there was never any chance that an increasingly authoritarian leadership in Beijing would allow Hong Kong people to freely choose their leader. This is why there is so much anger, as well as disappointment, amongst those of us who played the game.
Despite years of frustration and past disappointments, my pro-democracy think tank, Hong 2020, and many others, placed our trust in a six month consultation process rolled out in December 2013 by the Hong Kong Special Administrative Region Government.
We worked in good faith to come up with proposals that are fair, respect the terms of Hong Kong's constitution, the Basic Law, and offer voters a genuine choice of candidates. We made clear that, subject to the final package measuring up broadly to international standards of universal suffrage, we would be ready to negotiate and show flexibility.
Our reward has been connivance by our own HKSAR Government in the formulation of decisions so rigid and uncompromising that even local Beijing supporters were left gasping.
In a nutshell, while we can have one person, one vote in 2017 as promised, we will be offered a choice of no more than three candidates, each of whom must garner support from at least 50 percent of a 1200 member "nominating committee," elected by only some 7 percent of registered voters and at least three quarters of whom can be relied upon to choose only candidates acceptable to the central government. The alternative to accepting this sham democracy is to continue with the current system under which the 1200 member committee both nominates and elects the chief executive. Hobson's choice if ever there was one!
Universal suffrage for the election of the chief executive and all members of our legislature is promised to Hong Kong people in the Basic Law which, in turn, flows from, and for the most part, mirrors the terms of the Sino-British Joint Declaration (JD): the 1984 treaty that paved the way for the British colony to be handed back to China in 1997. Under the concept of "one country, two systems," Hong Kong people have been guaranteed the right to rule Hong Kong with a high degree of autonomy and to maintain unchanged for 50 years the rights, freedoms and rule of law enjoyed under British rule.
Increasingly, however, the "one country, two systems" motto is being undermined. Central government authorities now openly interfere in matters that should fall entirely within Hong Kong's sphere of autonomy. Press and other freedoms are being eroded, and key sectors of the civil service, such as the police and anti-corruption agency, politicized.
A white paper on the practice of "one country, two systems," published by the central government last June, sent shock waves through Hong Kong's legal community by stating, among other things, that Hong Kong judges must be patriotic and in their rulings must safeguard China's sovereignty, security and development interests. Some 1500 lawyers took to the streets to protest at this blatant threat to the independence of the judiciary.
With their freedoms and way of life in jeopardy and confidence in the SAR Government at an all-time low, it is small wonder that Hong Kong people were clinging desperately to the hope that they can elect a chief executive in 2017 who will genuinely represent their interests, be truly accountable to them and not simply toe the Beijing line on every occasion.
By thwarting this hope, not just for 2017 but indefinitely, Beijing has squandered a crucial opportunity to win hearts and minds. Instead of trusting Hong Kong people to exercise their votes sensibly, they have decided simply to show us who's boss.
It is hard to see a way forward at this point. The stark terms of the NPC's decisions make it impossible for pro-democracy legislators to vote for them in due course; if they do not, the required two-thirds majority support in the legislature will not be obtained and we will be at a constitutional standstill.
The Beijing leadership is clearly banking on being able to sway public opinion to accept a glass half full, rather than an empty one. But they overlook the fact that political credibility is at stake. Pro-democracy legislators have a mandate from some 60 percent of the electorate. They cannot be expected simply to cave in and toss aside their principles.
Those of us who worked so hard to devise proposals that meet Basic Law requirements by recommending ways of making the nominating committee more genuinely representative -- not just a puppet of Beijing -- cannot accept a blanket ban on any change to its membership and size of electorate. Something has got to give on the part of Beijing -- and quickly -- or Hong Kong faces increasing social turmoil and a complete breakdown of governance.
The tide of overseas media interest and commentary in the past few days shows the wider world is watching. However, comments by overseas governments and trading partners, notably Britain, which has treaty obligations to defend, have been ominously scarce or muted. They should realize that Beijing's treatment of Hong Kong is part of the bigger picture of an increasingly brazen and high-handed China that has no scruples about issuing threats and playing the trade and economic relations card in order to get its way. It is vital that free societies in the international community stand up for their principles and do not sacrifice their moral integrity in the face of this sort of intimidation.
PHOTO GALLERY
Protests In Hong Kong
Calling all HuffPost superfans!
Sign up for membership to become a founding member and help shape HuffPost's next chapter