For the ninth year in a row, the Honk! Festival of Activist Street Bands, featuring more than 600 street musicians from around the world, gathered in Somerville, MA for four days of live performances and street actions in support of social justice issues, ranging from increasing the minimum wage to immigration reform. Simply put, if Occupy! had a marching band, the HONK! Festival would be it.
This year's festival took place over Columbus Day weekend and featured 27 bands from across the country and from as far away as Moscow and Paris with an estimated 10,000 onlookers. The HONK! Festival spread music throughout the Boston area including a parade to Harvard Square in Cambridge.
"HONK! is a rousing spectacle featuring social activist street bands who come together to share their approaches to both performing music and merry making, while also instigating positive change in their communities," according to the festival's organizers.
In addition to live street performances, HONK!'s musicians and followers staged a "HONK for $15" Jam, calling for an increase in the minimum wage in front of a Macy's store in downtown Boston that was organized in conjunction with the Service Employees International Union, and various fair wage advocacy organizations.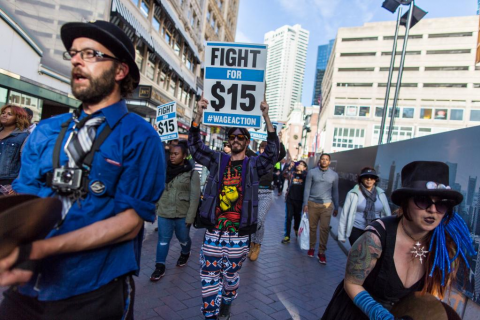 Photo courtesy of Leonardo March
In another action set to a rousing musical beat, dozens of musicians and their followers participated in a protest along with Resist the Raids, a Mass. statewide advocacy network that challenges US immigration laws and their impact on immigrants and their families. The protest at Boston's South Bay Jail, where hundreds of immigrants have been held, called for improved living conditions for the immigration detainees and, according to organizers, an end to unsanitary eating and living conditions and poor medical care.
Video courtesy of Resist the Raids
"According to organizer Reebee Garofalo, who plays snare drum in Second Line Social Aid & Pleasure Society Brass Band and is an early Honk organizer: 'We don't close any streets. We don't allow any outside vendors. We drive all the business to local businesses . . . So the notion that what we're promoting here is what a normal day might look like is a statement about reclaiming public space . . . We don't use any stages . . . We don't use any electricity. We don't use any sound reinforcement at all. So there is virtually no distance between artist and audience. And in fact there are moments when you can't tell who's who without the playbook. . .'" and
"Avi David, bass drummer in the Extraordinary Rendition Band and an organizer: 'The thing that really gets me is it's not just a normal music-focused festival. It has a very deep tie to social activism and this notion that art should be used to provoke social change, that artists and musicians should be working together and try and use this incredible power as artists and musicians we have to do something positive for society.'"
HONK! encourages community organizers and advocates to lend their own causes to the event. Susan McLucas, a Somerville-based anti-drone activist with the Eastern Massachusetts Anti-Drones Network marched in the parade, along with a one-fifth scale, six foot replica of a weaponized drone. According to McLucas, "The bands are all concerned about social issues from a progressive point of view and are happy to give a deeper meaning to their music than just fun, though fun is a serious part of the festival."
Melissa Ludtke marched with Mothers Out Front, a Cambridge-based organization that "focuses attention on climate change and promotes conservation, efficiency, and renewables," according to its organizers. For Ludtke, a journalist whose own activism includes her landmark federal lawsuit in the 1970s to gain access for women reporters to major league baseball locker rooms, the festival helps build community awareness of important issues.
"Walking in the HONK! parade with these moms, passing through our own neighborhoods, is about the best way I can think of to spread the message and invite others to join with us. There I was in the company of good friends, greeting good friends along the way, with a message I care deeply about them hearing," said Ludtke.
Related
Popular in the Community