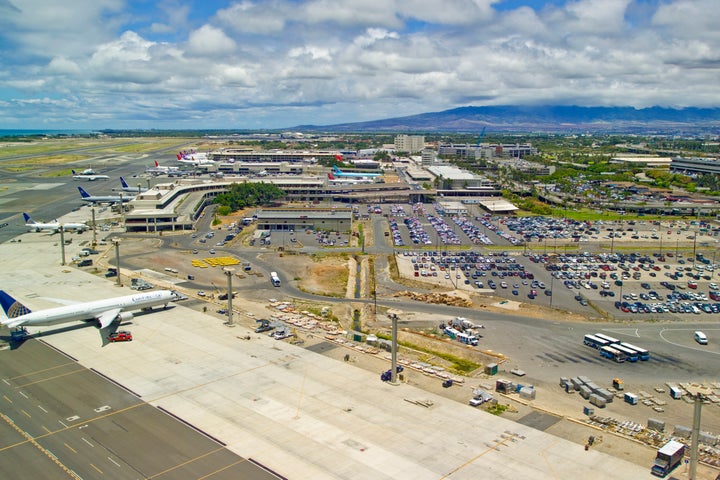 A man was arrested on Friday morning at an airport in Honolulu after a disturbance occurred during an American Airlines flight bound for Hawaii. 
A spokesperson for the airline confirmed to HuffPost that crew members on American Airlines Flight 31, which departed from Los Angeles, requested law enforcement to meet the aircraft at the Daniel K. Inouye International Airport "due to a disturbance."
Los Angeles airport police identified the man as 25-year-old Anil Uskanil, according to Hawaii news station KHON2. Before the flight to Hawaii, Uskanil was arrested about 2:45 a.m. Pacific time for misdemeanor trespassing at the Los Angeles International Airport for going through a restricted door that led to the airfield ramp, the Los Angeles Airport Police Division said in a statement. Police said he had been drinking but did not meet the criteria for a drunk-in-public violation.
In response to the crew members' disturbance report, U.S. Pacific Command deployed two F-22 Raptors from the Hawaii Air National Guard to escort flight AA31 into the Honolulu airport, Cmdr. Dave Benham, a spokesman for Pacific Command, told HuffPost.
Local law enforcement apprehended Uskanil once the flight landed in Hawaii at 11:35 a.m. local time. The FBI is investigating the incident, according to the Honolulu Police Department. The FBI did not immediately respond to HuffPost's request for comment.
A passenger on the flight posted an Instagram video of the arrest.
"Crazy! Someone tried to break into the cockpit on my flight from LA to Honolulu," Instagram user bplus.noisefloor.dnb wrote.
"We were greeted by the FBI," the passenger added. "They are now taking us off the plane a few rows at a time for dog sniffing and interviews. I've never seen anything like this."
FBI officials escorted Uskanil from the plane in handcuffs.
A source with the Transportation Security Administration told ABC News that Uskanil had a laptop and appeared to be waiting for the bathroom. A flight attendant told him to sit down, and he was reportedly subdued when he attempted to open the cockpit door, according to ABC News' TSA source. 
The Department of Homeland Security released a statement saying there were no other reports of flight disruptions but they would "continue to monitor all flights out of an abundance of caution and will provide updates as necessary." 
Officials cleared the passengers and checked the aircraft for explosives.
The incident caused a 30-minute backlog, the Hawaii Department of Transportation told KHON2.
Calling all HuffPost superfans!
Sign up for membership to become a founding member and help shape HuffPost's next chapter