You didn't have to go to London to see a world record broken this summer. On Saturday, 28,442 people packed Miller Park, home of the Milwaukee Brewers, to watch the world premiere of the documentary Honor Flight on one of the largest HD jumbotrons in sports.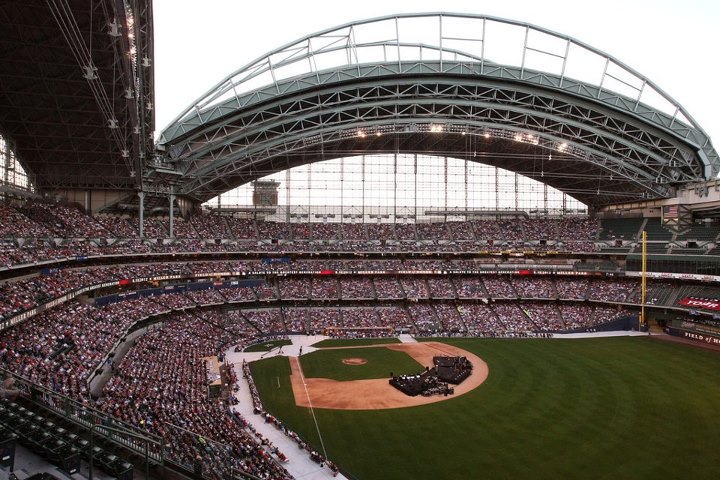 A Guinness World Records judge was on hand and officially announced the film set a new world record for largest attendance at a film screening. (The previous record was 27,022, set in Brazil in 2010 in the stadium of the pro soccer team featured in that film.)
Honor Flight follows a devoted team of Wisconsin-based volunteers as they race against the clock to take every local World War II veteran on a trip to Washington, D.C., to visit the memorials built in their honor. The trips are called "Honor Flights" and for the veterans, who are in their late 80s and early 90s, it's often the first time they've been thanked for what they did and the last chance to give them a day in the sun.
The film features four WWII veterans. Each tells their haunting war stories and beautiful post-war life stories as they embark on their own Honor Flight. Meanwhile, the volunteer community orchestrates a series of emotional surprises for the veterans that are revealed as their trip unfolds.
The premiere event was called "Field of Honor -- a salute to the Greatest Generation." Hundreds of WWII veterans were in attendance.
Without this movie and event, real-life heroes like Harvey Kurz, who bagged groceries at a local Pick n' Save until age 85, might be passed by without much notice. Harvey saw the iconic American flag go up at Iwo Jima in 1945. He can't say the words "Iwo Jima" without tearing up, and he can't talk about his living wife Loretta without tearing up either.
Many of these veterans might have been forgotten by most everyone, like 89-year-old Julian Plaster who has survived his wife, his son and almost his entire troop in the War. Julian was on "burial disposal unit" in the Pacific and buried many of his friends. By the time his wife of 65 years passed away, she had been bedridden for seven years. In the film, Julian recites a love poem he wrote to her while she lay there, unable to move. Upon her death, the nurse couldn't believe she had been in bed for so long because she had no bed sores. That's how well Julian had taken care of her skin. "I was real proud of that," he admits.
Making the film, we learned that this was a generation that gives. They made unbelievable sacrifices in an unavoidable war and then came back and as civilians taught us the importance of family, hard work and keeping a positive attitude in life.
Honor Flight, the program, and now Honor Flight, the film, is our small way to give something back. Saturday was their night. The world record, a gift for them.
White towels propelled around like helicopters behind one dugout. It was the family of Orville Lemke, one of the veterans featured in the film who has since passed away. 190 Lemke family and friends turned out for the premiere.
The Democratic Mayor of Milwaukee, Tom Barrett, and the Republican Governor of Wisconsin, Scott Walker, both spoke to the crowd. If you followed the Wisconsin recall elections, you know the significance of this. Saturday itself was a particularly big day for Wisconsin politics with the announcement of Paul Ryan as the Republican VP pick, but 28,442 people didn't come to Miller Park to be a part of partisan politics. We were there as Americans, as human beings and we were grateful to be alive and living in freedom.
Throughout the event, the crowd was still and focused. They were there to pay their respects. During the film, they laughed with the veterans, and they wept with them too. Men and women, young and old, cried, even while smiling.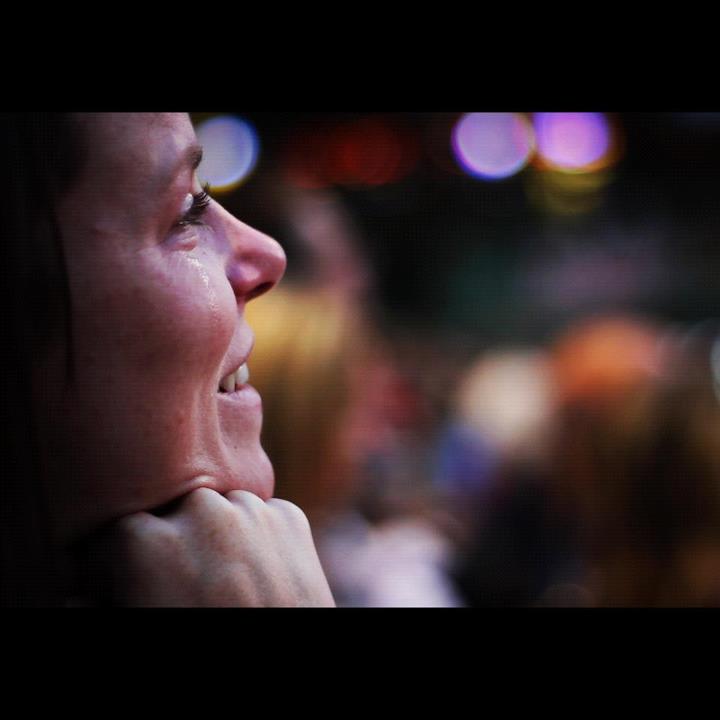 The audience was gracious enough to give the film, and the veterans including Harvey and Julian who were sitting among them, a standing ovation that will never be forgotten. It was incredible and humbling.
The veterans who we honored on Saturday have challenged us to think deeply about what it means to live in freedom, and to decide what kind of lives we want to live. This film is just one attempt by us to do something in our lives with the gift they've given us. We thank WWII veterans for their service but also for providing us with much needed perspective.
However, perspective is easy to lose. In this week following the premiere, as we return to our everyday lives and argue about whose turn it is to do the dishes or complain about the stress of work, reality sinks in. One movie and one night, even if record-breaking, isn't enough to make a difference. If we're serious about honoring the legacy of WWII vets, we must reflect on what we have in this country, appreciate it and strive for lives worthy of the Greatest Generation not once or twice, but every day.
Calling all HuffPost superfans!
Sign up for membership to become a founding member and help shape HuffPost's next chapter