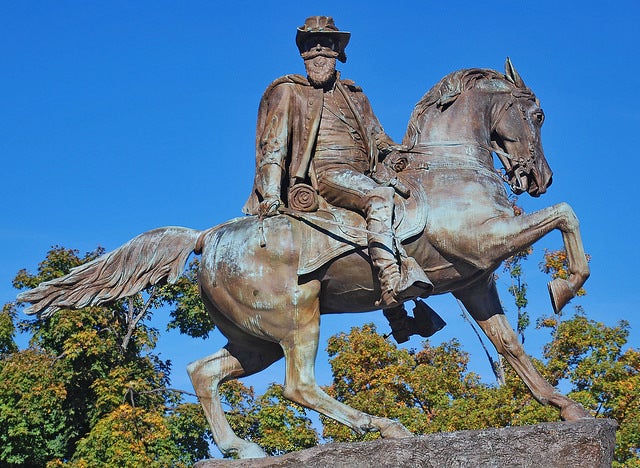 In a state with a racial history as complicated and fraught as Virginia's, it is critical that our leaders show vision and openness in healing the deep racial divides across our Commonwealth. Never in the recent past has this been more evident than in our current race for governor. The Democratic candidate Lt. Governor Ralph Northam understands that it is in our best interests to confront our state's past. Ed Gillespie, the Republican candidate for governor, has repeatedly stood on the wrong side of history, fomenting racial hate and division for votes. Just last month, he declared that Confederate monuments – symbols of Virginia's violent, racist past – should remain on our streets.
This issue is deeply personal for me. For six months, I have been fighting to change the name of J.E.B. Stuart High School in Fairfax County. I am a product of Fairfax County Public Schools and while I did not attend this school, I often went there for extracurricular activities. It always bothered me that this school bears the name of a Confederate general known for raiding northern towns and kidnapping black people to send into slavery in the South during the Civil War. It is truly sinister that our local leaders force thousands of Virginia children – many of whom are descended from slaves – to graduate under the banner of a Confederate general. It tells the students that it is O.K. to cheer on the school's teams, the 'Raiders.' It is O.K. to lionize a leader whose historical accomplishments are deeply embedded in hatred, racism and bigotry. And it is O.K. for the school district to systemically dehumanize black people by funding and supporting the school.
Virginia's dark past and present are jumbled, existing uneasily in a state where so many families can trace their roots back to slaves and slave-owners. Children of color in Virginia grow up surrounded by public spaces like the Jefferson Davis Highway, the Robert E. Lee and Stonewall Jackson Memorial Highway and JEB Stuart High School. That is why I have been working to change the name of the high school – to send a signal to all its students, regardless of the color of their skin, that their lives and their voices matter. Meanwhile, opponents to the change have made disjointed and incoherent arguments to maintain the status quo – out of shame, ignorance, guilt, or perhaps all three.
Our voices were finally heard when seven out of twelve school board members voted to rename JEB Stuart High as Justice High ― a name that embodies our vision for a more just and fair Commonwealth. This victory shows why we need leaders who stand on the right side of history. And no elected leader in our state is more critical to us than the governor, who sets the tone for how we should treat other Virginians in the way we'd want to be treated.
I believe that leader is Dr. Ralph Northam.
A native of the Commonwealth, Northam has made it his life's work to make Virginia work better for everyone – immigrants, people of color, students and people who are struggling to get ahead. Compare Northam's positive and forward-thinking campaign to that of his opponent. Ed Gillespie, a New Jersey transplant, has led a campaign built on stoking racial fears and resentment in political ads and interviews. At the same time, he favors policies that take away health care and other resources for people of color, immigrants and those struggling to get by. It is unconscionable – and it proves that Gillespie is the wrong choice for Virginians.
The Commonwealth needs a governor who is willing to confront our complicated past. A governor who is willing to stand up to white supremacists and fight for all of Virginia's families, many of whom continue to be impacted by the lingering consequences of slavery, segregation and other racist policies. A proven leader who is going to bring people together, not tear them apart. Ralph Northam is that leader – someone we can trust to finally start to heal the wounds of the past and create a better future for every Virginian, no matter their race, religion, gender, or immigration status.
I believe Virginia can do better. That's why Northam has my vote. I hope he has yours, too.
Helen Li is a Fairfax County resident, community activist and writing fellow for the Center for Community Change Action.
REAL LIFE. REAL NEWS. REAL VOICES.
Help us tell more of the stories that matter from voices that too often remain unheard.