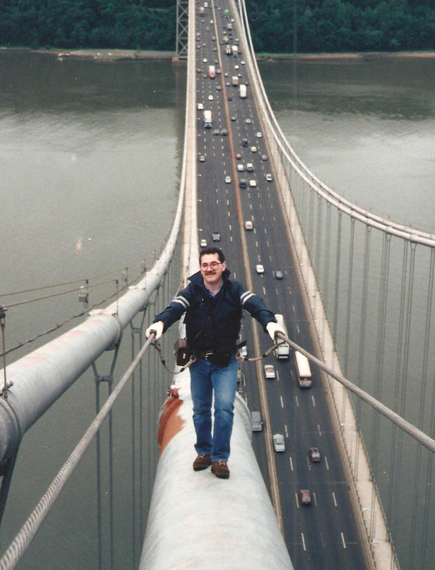 Franco Lalama said those words to colleagues on the morning of September 11, 2001. He had led the evacuation of engineering offices on the 64th floor of One World Trade Center, but then, moments after heading down the stairs, he turned back. He wanted to check the offices one more time--to make sure no one had been left behind.
"He put himself last and everyone else first," his wife Linda said.
Frank worked for the Port Authority, overseeing the structural integrity of bridges and tunnels. Now, on the 15th anniversary of 9/11, to honor his memory, his life, and his sacrifice, friends and family have created the Franco Lalama scholarship for Cross-Cultural Solutions, a global volunteering organization. The scholarship will help CCS volunteers to build cultural bridges in Costa Rica.
The Costa Rica connection comes from Frank's stepdaughter, Marianne, who volunteered in San Carlos in 2006. My wife Karen and I also volunteered with CCS in Costa Rica that year, arriving the same day as Paul Gass, a CCS volunteer from the UK--and Marianne's future husband. Paul and Marianne met while volunteering, and were married in New Jersey in 2011.
Nine years earlier, on the one-year anniversary of the attacks, Marianne paid tribute to Frank at the 9/11 memorial service, standing at a podium Ground Zero. She said these words:
I don't remember the last time I told him that I loved him. I would give anything to go back to the morning of September 11 and tell him how much I appreciate everything he's done for me. But I think he knows that now. In my eyes, he died a hero, and how much more could you ask for.
There's a quote that pretty much speaks for itself:
You never lose anything. Not really. Things, people--they go away, sooner or later. You can't hold them anymore than you can hold the moonlight. But if they've touched you, if they are inside of you, then they are still yours.
Frank, as I look back on these days, I realize how much I truly miss you and how much I truly love you. You were the best father I could ask for. I miss you. And I hope you didn't hurt too much.
Frank was known for many things. For his generosity. For his skill as a structural engineer--and the canoli he'd bring to meetings. For his love of family and traditions (he was seven when his family came to New Jersey from Italy in 1963, and every autumn would use a family recipe to make homemade Italian wine). I'm thrilled that Frank's legacy, and his ideals, will live on through this scholarship, which was funded by my memoir, The Voluntourist, along with contributions from Linda, and Paul and Marianne, and from the estate of my mother, Sandra M. Budd, who died on September 13, 2015.
The Franco Lalama scholarship will help volunteers to fund their travels as they connect with others, learn from others, and create their own Costa Rica memories. The scholarship will provide funds to one volunteer per year. For more information, contact Cassandra Tomkin at cassandra@crossculturalsolutions.org.
Ken Budd is the host of 650,000 Hours, a web series launching in 2017. You can follow 650,000 Hours on Twitter and Facebook. Ken is the author of the award-winning memoir The Voluntourist and his writing credits include The New York Times, National Geographic, Smithsonian, The Washington Post, and The Chicago Tribune.
Calling all HuffPost superfans!
Sign up for membership to become a founding member and help shape HuffPost's next chapter