President Barack Obama signed the Honoring America's Veterans and Caring for Camp Lejeune Families Act of 2012 into law on Monday, providing a wide-ranging package of benefits to military personnel and enacting new restrictions on protests of service member funerals.
"We have a moral sacred duty to our men and women in uniform," Obama said before signing the bill, according to a pool report. "The graves of our veterans are hallowed grounds."
The new law will have strong implications for the Westboro Baptist Church, a Kansas-based organization which the Southern Poverty Law Center and the Anti-Defamation League have labeled a hate group. Westboro Baptist Church has drawn media attention for its brand of protest, which frequently links the deaths of soldiers to America's growing acceptance of gays.
Under the new legislation, protests must be held at least 300 feet from military funerals and are prohibited two hours before or after a service. The law counters a 2011 Supreme Court ruling, which found that displays such as Westboro's were protected under the First Amendment.
Members of the church responded defiantly to a Huffington Post report following Congress' passage of the bill, claiming that the law's restrictions could also have an effect on counter-demonstrations organized in response to Westboro's attempts to disrupt military services.
Two of these counter-efforts drew national attention last month, when large groups of people turned out in both Missouri and in Texas in an attempt to create "human walls" to shield attendees of military funerals from Westboro's demonstrations.
(Photos of the Texas event below)
In an interview over the weekend, Westboro spokesman Steven Drain told CNN that the new law was "not going to change our plans at all."
According to the Army Times, future violations of The Honoring America's Veterans Act would include the possibility of $50,000 in statutory damages.
For more on The Honoring America's Veterans and Caring for Camp Lejeune Families Act of 2012, click here.
Before You Go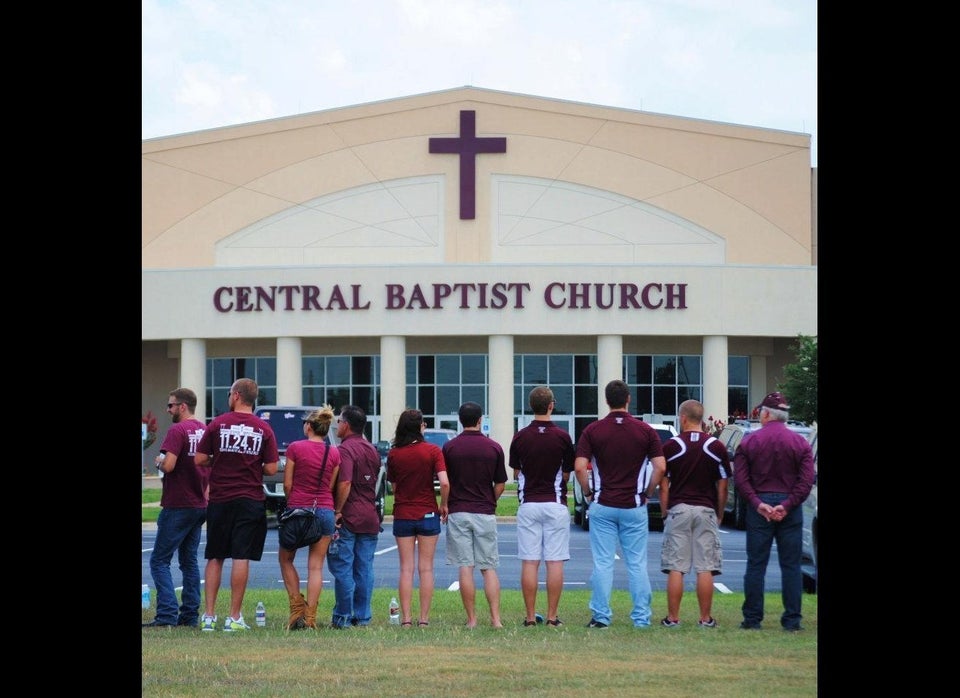 Texas A&M Maroon Wall
Popular in the Community