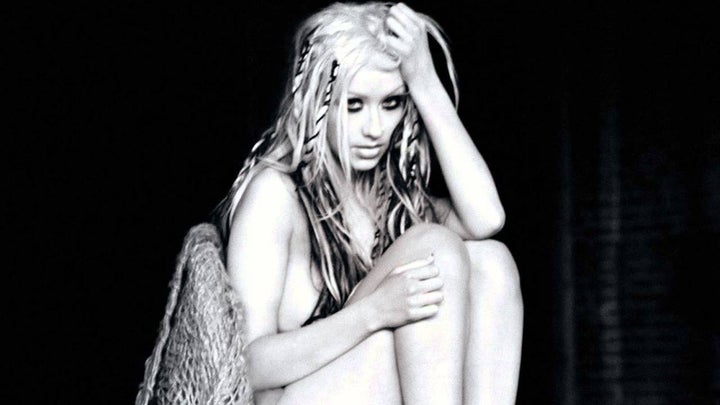 It was the highly anticipated album known for transforming a sugary-sweet pop princess into a feisty, cornrowed, assless chaps-wearing wild child.
Stripped, Christina Aguilera's sophomoric follow-up to her self-titled debut, was released this week in 2002. From the lead single and its grimy music video ("Dirrty" -- cue the STD jokes!) to the provocative black-and-white cover, it flaunted its ambition from the get-go. It was the then-21-year-old singer's attempt to break out from the teen pop mold that had its grip on her at the turn of the 21st century. The introductory track made the message abundantly clear: "Sorry you can't define me/ Sorry I break the mold/ Sorry that I speak my mind/ Sorry don't do what I'm told." Behold "Xtina" and her bold, new sounds!
Some critics were quick to dismiss the disc, calling it a kind of schizophrenic mess as it jumped from hip-hop-flavored dance anthems (the aforementioned single, which still gets club play today) to rock-tinged foot stompers ("Fighter") to inspirational ballads ("Beautiful," "Soar," "The Voice Within"). What other artist her age (remember, 21) had the gall to experiment with such range at the time?
Back then, she was damned if she stayed predictable, and she was damned if she moved away from formulaic fodder. And now, in hindsight, we're glad she took the risk, showed off those piercings, and layered on the "hooker" makeup.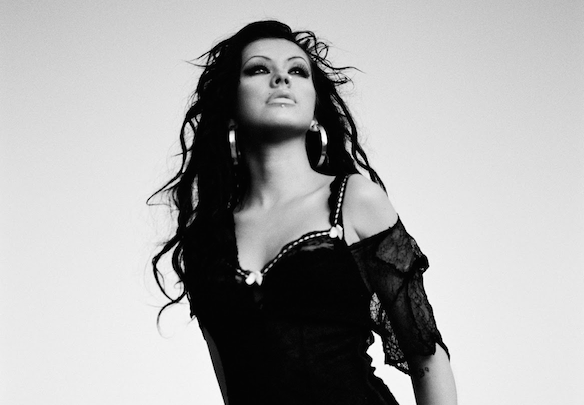 Such reinvention became a useful strategy at the start of the 2000s. Alumni of the Teen Pop Boom of the late 90s were all taking chances with their images and musical stylings. NSYNC's second album celebrated the boy band's liberation from the shady puppeteers that did them wrong; it was aptly titled No Strings Attached (2000). P!nk's Missundaztood (2001) was a refreshingly daring collection of hits that was the result of her collaboration with Linda Perry. Even Mandy Moore's self-titled follow-up (2001) experimented with (gasp!) Southeast Asian sensibilities before the term "cultural appropriation" was thrown around. These young acts had learned a thing or two during their first outings. They wanted to prove that they were no one-hit wonders. Call it the New Millennium Effect. Not only was it a new decade, it was a new century, and there seemed to exist an air of ambition never before felt in pop music. Rules were broken, risks were taken, and record labels were defied.
But no one did it on such a level like Christina. In retrospect, Stripped is possibly the most criminally underrated pop album of the 2000s. While Britney carried on with her not-that-innocent antics and other imitators pumped out vapid tracks, Christina defied expectations. Rather than spit out more factory-made fluff after her 1999 debut, Aguilera took three years to perfect an album that she could be proud of, paying homage to her musical influences and helping her boldly stand out from the litter of like-minded TRL acts.
As a result, Stripped was a declaration of independence that has undoubtedly influenced today's Top 40 female artists. Consider Exhibits A through D:
a. Ariana Grande: Not too long ago the interwebs were quick to call her Christina's vocal successor.
b. Selena Gomez: Just take one look at the cover for her 2015 album Revival.
c. Demi Lovato: Her latest, Tell Me You Love Me, got Christina's approval for its deeply personal content and vocal range.
d. Miley Cyrus: She shed more than her golden locks during her Bangerz era.
In other words, one can argue that Stripped ultimately paved the way for current pop that celebrates and pushes individuality, positivity, hopefulness and above-all-else confidence.
That said, from the deep cuts to the chart-toppers, every piece of Stripped deserved a chance in the spotlight. It's one of those rare albums that can be played straight through without skipping a track. Every song works in its own compelling way...
"Can't Hold Us Down" -- This battle cry, exposing the double standards in pop music (and society), features Lil Kim, Xtina's fellow femme-fatale-in-arms from 2001's "Lady Marmalade," and it is as relevant as ever in 2017. Billboard recently asked, "Who else was talking like that and owning it with an equally open and sexually positive image in 2002?"
"Walk Away" -- A slow burn confessional about resisting seduction. "Your love was like candy, artificially sweet/ I was deceived by the wrapper," she coos. Perfect for those nights when you feel like performing a striptease in front of a loved one. Also works as a theme song for anyone looking to break free from the brothel business.
"Infatuation" -- Christina's excuse to capitalize on her Latin roots is also a love letter to the bad boys she tended to attract while she was amping up her image.
"Get Mine Get Yours" -- Sexual exploration never sounded so hot. This was Xtina unabashedly demonstrating that she was DTF, delivering an anthem for one-night stands.
"Loving Me 4 Me" -- The R&B slo-jam that would make Janet Jackson proud.
"Make Over" -- This surf rock-friendly shriekfest is brought to us by Linda Perry, who taught our girl how to both gritty up and reel in those powerhouse vocals.
"Cruz" -- A harmonious power ballad for road trips, the kind that celebrates leaving all your troubles behind.
"Soar" -- Not only did this inspiring number appear in the trailer for Jessica Alba's Honey (you know you remember it), it also helped this writer, a fresh-faced college grad at the time, adjust to a brave new world called Los Angeles. Everything about this track -- its hopeful message, its near-Mariah theatrics -- works. A much-needed lift-you-upper to defeat the pull-you-downers:
"I'm OK" -- No one expected Christina to sing a song about domestic abuse, but here she is, confronting her childhood demons and delicately venting to the world with vocals that never sounded so vulnerable.
One can only hope Christina Aguilera's legacy inspires more empowering, exciting artistry. And if it calls for another attention-grabbing stunt like assless chaps bouncing across a boxing ring and into our collective pop consciousness, then so be it.
Support HuffPost
The Stakes Have Never Been Higher
Related
Popular in the Community