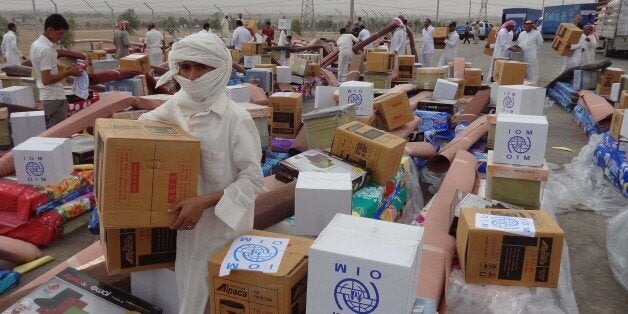 Today, World Humanitarian Day, is the 12th anniversary of the devastating attack on the United Nations headquarters in Baghdad which killed 22 humanitarian workers and injured many more. I remember the day vividly, as one of those killed in the blast was a long-time colleague, Arthur Helton. He was one of the world's most respected, articulate and passionate champions of refugees, the internally displaced and asylum seekers. Two other colleagues were severely injured, but survived, and have returned to human rights and humanitarian work.
Those of us who work from the "home office," who are not in the field on a regular basis, are devastated by the loss of life abroad in the name of humanity, and deeply moved when the torch is picked up and carried forward again and again. Today is the day to stop and consciously honor humanitarians across the globe--those serving in the UN, NGOs and other humanitarian agencies. This includes our Center for Victims of Torture staff who labor daily in difficult and dangerous situations to rebuild the lives and restore the hope of countless survivors of torture and war-related atrocities, often against overwhelming odds. Their selflessness is truly inspirational.
These women and men are talented and skilled professionals from countries around the world. They have many opportunities to work and be successful in better paying jobs which are far less risky (and much more comfortable). Yet, as humanitarians, they cannot see the tremendous need and not do something: they choose to help.
They do this work because they are committed to making a difference, to reducing human suffering, to doing what they can to make the world a better and less painful place.
They work in the Dadaab refugee camp complex in eastern Kenya, not far from the border with Somalia, in locations that can never be completely secure. After the attacks in Garissa a couple of months ago, we had to suspend operations temporarily, until it was judged safer to resume. IEDs, abductions and armed attacks on convoys are all too frequent possibilities. Aware of the risks, staff are committed to do what they can in this environment to provide the rehabilitative care that is desperately needed. Many survivors literally have no other place to turn.
As the crisis in the Middle East escalates alarmingly, our team in Jordan sees the toll that a protracted, increasingly desperate situation takes on our clients. The stories they face are harrowing: whether fresh accounts of ISIS (Daesh) atrocities in Iraq, or renewed desperation on the part of Syrian refugees who found ways to cope for years before the increasing lack of food, shelter, and education made their distress unbearable. Clients speak of returning to their countries of origin--not with a sense of promise or prospect, but so they can die at home with their families, rather than fade away in foreign lands. Our staff work tirelessly each day to help clients see hope in what seems to be an increasingly hopeless crisis.
In the suburbs (informal settlements) of Nairobi, our staff confront risks to their personal safety, and theft--sometimes accompanied by terrifying treatment by the burglars--is common. The uncertainty of what each day will bring is stressful. The 2013 al-Shabaab attack at the Westgate shopping mall in Nairobi took the lives of nearly 70 people, with nearly 175 wounded, and our staff and their families could easily have been among them.
CVT staff also often live in remote or marginalized locations, such as northern Uganda, a politically neglected, hard-to-reach area where survivors of the horrors inflicted by the Lord's Resistance Army (LRA) are reconstructing their lives in villages devoid of structure. In northern Ethiopia, establishing even a temporary sense of community has been difficult at best, because many of the women and men leave the camps in the middle of the healing process--departures utterly disheartening for our staff who know they have taken on an arduous journey. From time to time, refugee staff-in-training also choose to leave the camps, creating a critical gap in both the quality and quantity of counseling services available.
Humanitarian work can be tremendously lonely. National staff are often separated from their families for extended periods of time, and expatriate staff are separated from their relatives in their countries of origin.
They are only too aware of the sheer enormity of the needs. We are facing the largest number of people on the move in a generation--60 million--according to the most recent figures. Many of these are survivors of torture or war atrocities. With numbers like that, we can sometimes despair and wonder what dent we can make.
But while we may not be able to change the world for survivors en masse, for each single individual survivor now on the path to healing, we can and do change their world. Over the past year, CVT's work has touched the lives of 3,400 people, and since CVT's inception 30 years ago, we have reached more than 30,000 survivors of torture and war atrocities in the United States, Africa and the Middle East. Today is a day to honor the courage, the unwavering commitment, and the sacrifices made by humanitarians all over the world. They represent the best of humanity. At CVT, we are fortunate to consider them colleagues and friends.
Today, we echo the call by the UN and its partners to inspire the world's humanity, by joining with the world's humanitarian organizations to become an active messenger of humanity. Use the hashtag #ShareHumanity today, post a story about humanitarian work somewhere in the world and shine a light on the women and men who give so much of themselves to heal others.
Popular in the Community