"We, the people, declare today that the most evident of truths--that all of us are created equal -- is the star that guides us still; just as it guided our forebears through Seneca Falls, and Selma, and Stonewall...."
In his Second Inaugural, President Barack Obama spoke of the diverse places that reflect important chapters in America's complex history. In the years since, he has visited Seneca Fall's Women's Rights National Historical Park and marched across the Edmund Pettus Bridge in Selma, Alabama. This week, he completed the inaugural trifecta by designating the Stonewall Inn a national monument. The significance of all of these sites endures, just as the struggles for justice they symbolize continue.
The Stonewall Inn's monument designation is a watershed development in celebrating diversity within national parks. Site of the June 1969 riot that helped spark the gay rights movement, the bar is the first property to be designated a national monument specifically because of its association with LGBTQ history. It is also a remarkable reminder both of how far we have come over the past few decades, and how far we still have to go.
Today, openly gay bars are common in cities and marriage equality is the law of the land. Fewer than 50 years ago, it was effectively illegal for LGBTQ patrons to drink or dance together in public, or to show affection in any way. At the same time, the tragic and terrible mass shooting in Orlando this month shows that there is still work to be done to ensure acceptance and protections for the gay and transgender community. Recognizing and honoring LGBTQ history can help advance the cause.
National parks and the historic sites and structures within them represent our shared history and the people and movements that tell our collective story. They help us understand who we are and where we come from. And they still shape our values and our relationship with our communities today. That is why it is so important that our parks reflect all of our many facets as a people. The mission of historic preservation is to recognize, protect and support places that represent the full story of American history. Within national parks, this includes cultural resources associated with civil rights leaders and movements, artists, musicians, writers and others who have helped shape our national identity.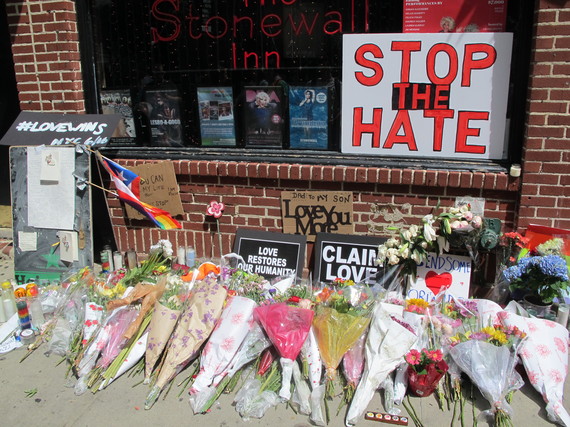 In the wake of the mass shooting in Orlando on June 12, 2016, visitors paid their respects outside the Stonewall Inn. credit: Andrew Dallos/Flickr/CC-BY-NC ND 2.0
As the diversity of cultural resources within national parks has grown over the years, so too has their number. In President Franklin Roosevelt's time, the then-young National Park System only included 23 historic buildings, and those, according to a 1935 report for the president, "can hardly be classed among the first rank of historic houses of national significance."
But many in the Park Service felt that parks should reflect more of our history, and worked hard to make it happen. Now, two-thirds of America's more than 400 National Park sites are dedicated to cultural and historical significance. And across the system there are nearly 27,000 historic buildings, 3,500 historic statues and monuments, 2 million archaeological sites, and 123 million museum objects and documents - only the Smithsonian has a bigger collection.
At the National Trust, we want to celebrate these many diverse cultural resources, and help some of them receive the care and maintenance they need, through Partners in Preservation: National Parks. Building on our decade-long partnership with American Express to preserve and build public awareness of historic preservation, this initiative is dedicated to saving the places and sites that tell the stories of America's past, and that represent the full diversity of the American experience.
We encourage you to get involved by voting once a day for up to five parks until July 5 at VoteYourPark.org, our online portal hosted by National Geographic. You can also show your support for your favorite park by using #VoteYourPark and tagging @savingplaces on Instagram and Twitter posts.
Respect for and celebration of these historic places are vital to ensuring that our history lives on, and that future generations can enjoy and learn from them. By saving the important places of our past, we illuminate our present and enrich our future. And we help to ensure that the march towards real equality, freedom, and justice - the self-evident truths that have defined our nation from its very beginning - continues.
Support HuffPost
Every Voice Matters
Popular in the Community