I come from a tiny town in northern New Hampshire with a population of less than 300 people. Most of my family still lives there. My mother taught me the importance of volunteering. She learned how to give back from my grandfather, who was the most amazing human being I have ever known. He was the type of person that never met a stranger and always had a helping hand for everyone. His dad died when he was very young and my great-grandmother had to "farm out" all of her children so my grandfather was basically a "foster child" before they coined the term.
When my sister-in-law told me about a volunteer opportunity with CASA advocating on behalf of children in need, I knew that was how I wanted to give back. I feel in a way I honor my grandfather's memory through my work with these children.
CASA's (Court Appointed Special Advocates) are trained volunteers who are appointed by judges to handle abuse and neglect cases. In addition to the time we spend volunteering with the children, we also have ongoing training each year on court procedures, substance abuse, addiction, child development, social programs, and mental health, among many other issues. Often times a child's CASA is the one constant adult presence in their life throughout the course of the case. We serve as the child's voice in court so that they do not have to face their abuser. These children so desperately need someone who is there just for them.
It doesn't seem like it's already been 10 years, but I started volunteering in November 2003. In one of our first training sessions, I remember they asked us to write down what we hoped to gain from CASA and what we were most worried about with CASA. I wrote down that my biggest worry was the possibility of visiting parents who were incarcerated. When our training period was over, my CASA supervisor called me and told me she had a case for me; and the parent was incarcerated. I was so nervous visiting the prison for the first time; however, I remember the visitation was nothing like I thought it would be. Fast forward ten years later and I can't imagine doing anything else.
When you're dealing with children who have experienced incredible hardships, it can be pretty tough at times. We work with kids of all ages, from drug-addicted newborns to teenagers. I have heard details of physical and sexual abuse that bring me to tears and keep me awake at night. Some of these kids still try to protect their abusers because that is what they have been taught to do; it can be a challenge to sort through the layers of a case. You have to have a lot of patience with these kids and it takes time to gain their trust.
After the case closes and a plan for permanency is reached, we cease contact with the child so that they can strengthen the bond with their family. It's incredibly hard to let go of the child but it's also overjoying to know that we changed a child's life for the better. I have helped children return home once their parents have corrected their own issues. Other children have been adopted by relatives, and a couple of children have been adopted outside of their families.
Without a doubt, one of my favorite moments volunteering was when NASCAR and CASA collided.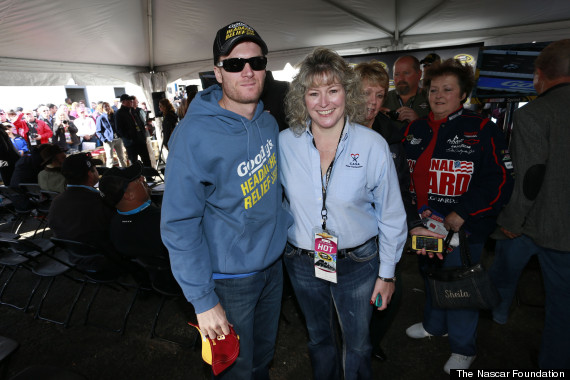 Lisa Hall and Dale Earnhardt, Jr.
When The NASCAR Foundation gave me the honor of being a finalist for the 2013 Betty Jane France Humanitarian Award it allowed me the rare opportunity to re-connect with Kayla Ware, who I assisted in finding a new adoptive family. To see her thriving in a loving family and experiencing a happy and healthy childhood is just priceless to me.
NASCAR is a family event and I love the fact that our tracks, team owners, and drivers give back to their communities. I have so many racing memories and one of my favorites is joining Kayla at her very first NASCAR race this year. Let's just say that NASCAR driver Danica Patrick has a new fan!
I have never felt that what I do is extraordinary; it is just what I do. So you can imagine the shock upon hearing I was nominated for this award. Strangers have contacted me and asked how they can help in sharing the information and getting the word out because they know CASA is such a worthwhile cause. I wish I could personally thank everyone who has helped.
If I were to win the $100,000 award from The NASCAR Foundation, it will be used to recruit and support citizen-volunteers for CASA. Funds will be leveraged across three ongoing initiatives, each critical to ensuring that CASA is able to serve every child in need as quickly and effectively as possible; increasing the pool of volunteer advocates, ensuring each volunteer is optimally supervised and trained to provide high quality advocacy for children, and improving program effectiveness through enhanced training. There are 77,000 CASA volunteers in the U.S. and over 600,000 children in the foster care system. My hope is that one day every child will have the CASA that they need.
This blog post is part of a series produced by The Huffington Post and the NASCAR Foundation, in conjunction with the latter's Betty Jane France Humanitarian Award. HuffPost will feature a blog by each one of the four finalists on consecutive days, and each will appear on HuffPost Live that day. To see all the posts in the series, visit here. For more information about the Betty Jane France Humanitarian Award -- and to vote for the winner -- visit here.
REAL LIFE. REAL NEWS. REAL VOICES.
Help us tell more of the stories that matter from voices that too often remain unheard.