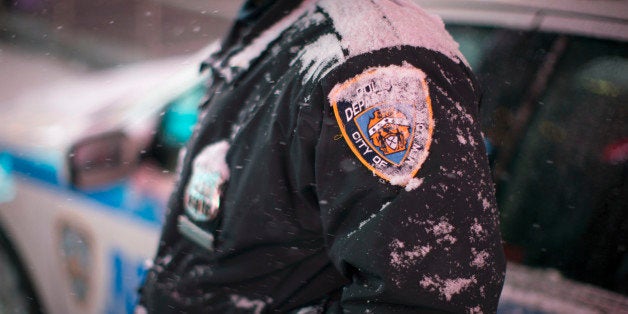 On Tuesday, November 18th, two NYPD officers were honored at Brooklyn's 66th precinct for helping an elderly woman cross the street. Igor Smolyakov and Joseph Droge received citations from Assemblyman Dov Hikind for distinguished service.
Hikind decided to honor the officers after a staff member reported to him that he had witnessed the officers stop their car and get out to help an elderly woman cross the street.
"I immediately thought of my own mother and anyone who I shared this story with thought of their own mother or their grandmother." Hikind said.
No one asked these policeman to help this woman. They were out on patrol, doing their jobs and they noticed that she was standing on the corner so they stopped and helped her. That is not a small thing: It shows sensitivity and concern. It's all about making a difference in people's lives and these two officers demonstrated that with their actions.
Although Hikind's intentions may have been noble, I find this very troubling. Since when do we honor people for being decent human beings? There is nothing unique or extraordinary about the officers' conduct. Thousands of people around the United States engage in similar acts, perhaps every ten minutes. This is how we are supposed to conduct ourselves in a civilized society.
It is true that the members of the New York Police Department regularly risk their lives to protect our great city and its inhabitants and that many of them are compassionate individuals. Police officers are underpaid and under-appreciated. Moreover, the media is quick to criticize the NYPD when there is suspicion of wrongdoing but hardly give recognition when the officers are heroic and courageous. Hundreds of officers put their lives at risk responding to calls every day. In some neighborhoods, just driving through in a police car or patrolling the streets in uniform is dangerous.
The bible tells the story of Sodom, a city that was destroyed for the wickedness of its people, who had no consideration for the underprivileged, and offered no hospitality to passing travelers. New York is not Sodom. And there is nothing distinguished about helping an old lady cross the street. While we may not give the police the appreciation they deserve, it is a disservice to honor them for going slightly beyond their job description by doing something that we would expect from any New Yorker. This sends the wrong message, and, in my opinion, is insulting and ridiculous.
Calling all HuffPost superfans!
Sign up for membership to become a founding member and help shape HuffPost's next chapter