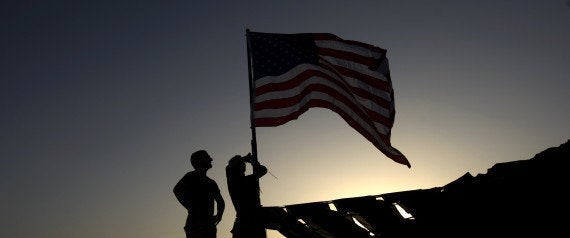 This Memorial Day, as we pay tribute to all the brave heroes we have lost fighting for our country, we must also remember the debt we owe to those veterans who return home.
For many of the brave men and women who have fought on the frontlines, returning home means trying to navigate a complicated and bureaucratic Veterans Administration benefits system.

The VA's passive system forces veterans to figure out on their own what benefits they are eligible for. It is outrageous that after all these brave men and women have done for our country that our government allows so many of them to fall through the cracks.
Currently, more than 720,000 of our veterans do not take advantage of the VA benefits they are eligible for. We must do a better job of making sure the brave men and women who serve our country get the benefits they have earned and deserve.
That's why, last week, I introduced legislation in the U.S. Senate that puts the onus on the Veterans Affairs Department to make it easier, quicker and more efficient for veterans to get help.
My bill, called the Providing Real Outreach to Veterans (PRO-VETS) Act, would require the VA and Department of Defense to work together for a seamless transfer of information between their offices.
President Obama has begun the effort to simplify this process by requiring the Department of Defense to develop a universal medical record used by the Defense Department and VA, but more work needs to be done.
My legislation would ensure that every veteran's medical and other service information relevant to eligibility for veteran's benefits is swiftly and effectively transferred to the VA.
Using the information from the Defense Department, the VA would provide each exiting service member an assessment of the benefits they are likely eligible for, and a streamlined application for these benefits. This would ensure that veterans are aware of the benefits they can access, and make it quicker and easier to take advantage of them.
For example, all service members who served in Iraq and Afghanistan are currently eligible for up to 5 years of free VA health care -- regardless of whether they were injured or not. But many never claim this benefit, or only claim this when they need health care.
The PRO-VETS Act would ensure that every veteran immediately takes advantage of this important benefit, and would help prevent veterans struggling with TBI and PTSD from falling through the cracks by giving them immediate access to care. All exiting service members would also immediately be given a VA identification card and information on the nearest VA facilities to make it as easy as possible to quickly access key benefits.

One of the primary reasons I first ran for Congress was to be a voice for our troops, veterans and military families. I first introduced this legislation as a Congresswoman and will continue the fight in the Senate.
While we can never truly repay the debt we owe our heroes, the least we should do for our brave veterans is to ensure that the government takes a proactive approach to delivering the services and benefits they have earned, so they can access the care they need and so richly deserve.
Calling all HuffPost superfans!
Sign up for membership to become a founding member and help shape HuffPost's next chapter