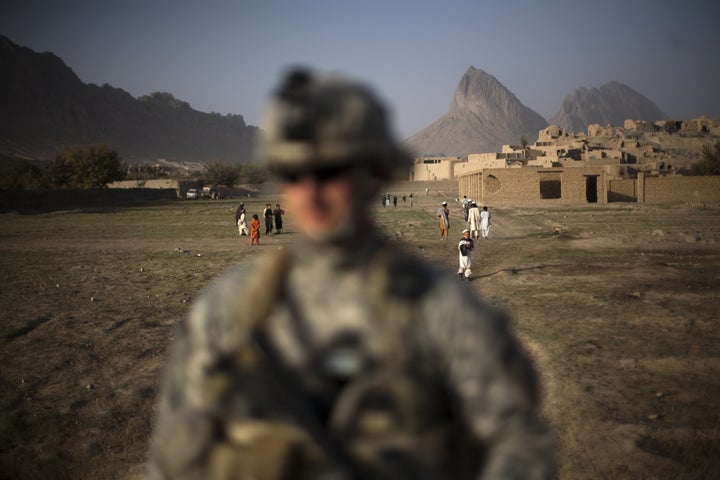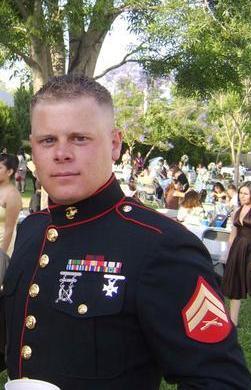 In the Vietnam war the U.S. military sprayed the herbicide Dow Chemical created, Agent Orange (also Purple, Green, Pink, White and Blue) for the improvement of road and waterway visibility and clearing camp perimeters of weeds. The military authorized its use assuring the deployed soldiers it was harmless. But reports circulated in 1964 of increased miscarriages, stillbirths and birth defects among exposed Vietnamese women and animals. In essence performing genocide on the East Asian population by sabotaging the reproduction system of the would-be mothers of future Red Soldiers. With 36 forms of cancer associated to the "approved" chemical, and a 30-year incubation period -- it would continue to do the U.S. military's handy work long after the end of the war.
Our use of carcinogenic chemicals and a coziness with Big Pharma seems to fester during war time, as a more potent cocktail with severe adverse reactions is introduced with each war. In 1990 soldiers deployed for the Persian Gulf -- Desert Storm war under Bush Senior's regime, the soldiers witnessed piles of dead animals in the desert. They were stacked into decomposing mounds five months prior to the troops arrival.
The animals weren't considered a direct threat since the soldiers weren't camped directly beside them. But the potential for breeding grounds of diseases remained. To contain the existing problem military personnel thoroughly sprayed the decaying animals with the insecticides methyl carbamate and "Baygon" (a propxur produced by Bayer, the aspirin makers); "Sevin" (a carbaryl produced by Aventis, a French company and smallpox vaccine maker that donated close to $2 million to the Bush camp in 2000); and "Lannate" (a methomyl produced by the chemical making machine DuPont). All are listed as poisons. Our military has already chosen to die for their country -- but does that include by the hand of Big Pharma too?
From their deployment, Gulf War Veterans have faced an endless battle with the VA for their array of chronic health issues. Only to be pacified with an all-inclusive watered-down diagnosis of "Gulf War Illness," and mediocre benefits for their exposure.
Our current Operation Iraqi Freedom (OIF) Veterans have since 2003, encountered a gamut of toxins in theatre from the carcinogenic smoke of burn pits that includes feces from port-a-potties to radiological exposure from inhalation or ingestion of depleted Uranium dust from spent munitions, both of which has infiltrated their camp environment, as well as the Iraqi civilians, via air, soil and water.
Without the DoD willingly coming forward with their cancer diagnoses amongst deployed soldiers, and refuting cancer as a war wound -- medical doctors at the VA and other medical institutions are meeting challenges they've never seen before. As a percentage of soldiers are being diagnosed with rare, aggressive cancers post-deployment -- 4-36 months -- that don't fit the criteria of the illness.
Wyoming native, Cody Feeback (pictured above) joined the United States Marine Corps in 2002 at 18. The teen whose penchant for hunting, fishing, camping and spending time with his friends and family -- would take second place to the military service in which he became a devotee. "I loved the Marine Corps the friendships are like none other... it is a wonderful bond you experience with your fellow Marines," explained Sgt. Feeback, whose home base from 2002 to 2005 was Camp Lejeune, N.C.
In February 2003 the 19 year-old deployed from Camp Lejeune in good health for his first tour in Kuwait, Iraq. He spent the next five months in northern Kuwait at Camp Coyote where as a combat engineer was in charge of convoy security. Like most soldiers, Sgt. Feeback experienced vomiting and diarrhea in theatre, but like most soldiers deployed since 2003, was told it was normal. "I didn't want my family to worry any more than they already were," so Sgt. Feeback never mentioned it.
On a night convoy below.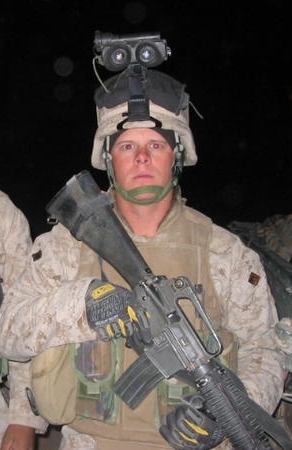 In the DoD's own December 20, 2001 Field Manual, Treatment of Nuclear and Radiological Causalities, chapter three, page 13 outlines the radiological exposure dosages from 0 - 5 cGy being nominal and acceptable for military personnel during peacetime. But during war, if the dosages are from 75 - 300 cGy, onset in 6 hours the symptoms are headache and nausea at the low end of cGy, vomiting for the high range of cGy with an onset of 2 - 3 hours. The low range of duration is 12 hours upward to 3 - 4 days.
When diarrhea is included to the aforementioned symptoms, the cGy dosage ranges from 300 - 530. The onset of diarrhea within 2 - 6 hours with a duration of 2 - 3 weeks. There is a minimal 24-hour window after exposure to Uranium to order a urine or fecal bioassay. If ordered, those results are kept confidentially in the soldiers RER records [Radiation Exposure Records].
On chapter five, section I, Low Level Radiation, 5-2, B, Exposure Guidance page 5 - 1 and 5 - 2, "The risks associated with radiation exposure within the range of 5 - 75 cGy are confined primarily to the risk of increased incidence of malignant diseases, including solid tumors and leukemia." So from their own admission, the U. S. military is fully aware of radiation exposure of deployed troops resulting in a Cancer diagnoses, but maintain ignorance when a soldier is actually diagnosed post deployment.
Sgt. Feeback's tour ended July 2003 and returned to Camp Lejeune. He reconnected with his parents and three siblings, then in 2005 he transferred to Camp Pendleton, California. By that September he received orders to re-deploy. His second tour sent him to Fallujah, Iraq where over the next seven months he made a home at Camp Fallujah. Unaware that local doctors were recording high-rates of abnormal birth defects in Fallujah civilians.
Study Finds Iraq Littered with High Levels of Nuclear and Dioxin Contamination The Guardian UK --Jan. 22, 2010

• Greater rates of cancer and birth defects near sites • Depleted uranium among poisons revealed in report

More than 40 sites across Iraq are contaminated with high levels or radiation and dioxins, with three decades of war and neglect having left environmental ruin in large parts of the country, an official Iraqi study has found.

Areas in and near Iraq's largest towns and cities, including Najaf, Basra and Falluja, account for around 25% of the contaminated sites, which appear to coincide with communities that have seen increased rates of cancer and birth defects over the past five years.

The joint study by the environment, health and science ministries found that scrap metal yards in and around Baghdad and Basra contain high levels of ionizing radiation, which is thought to be a legacy of depleted uranium used in munitions during the first Gulf war and since the 2003 invasion.
So when Sgt. Feeback's tour ended in March 2006 he returned to Camp Pendleton where he awaited the completion of his stint in the USMC. And by September 21, 2006 Sgt. Feeback was honorably discharged. The only thing the 23 year-old had on his mind was living a comfortable and fun life with his family, so he moved back home to Wyoming. The next two years he worked as an equipment operator until a position opened at the local VA, in their warehouse shipping and receiving. Within a month he met Roxan, and 16 months later, in March 2010 they were engaged, and prepared for a September wedding.
Then without warning in July 2010 he developed flu-like symptoms that sent him to the Sheridan VA Medical Center. "I complained of abdominal and lower back pain, the doctor assumed it was appendicitis and ordered a urinalysis and CT scan," the 27 year-old informed. "But when the foctor read the CT scan they saw a mass on the right kidney."
Immediately they medEvac him to the Denver VA for a biopsy. "The doctors were certain after the biopsy it was Wilms Tumor, but were perplexed since it is a pediatric kidney cancer usually found in three to six year-old children." The following day when the urine results came back he was diagnosed with Stage III.
"At first my response was disbelief and fear for my family," he admitted. "I don't have any idea if I was exposed to burn pits or had depleted Uranium exposure. Even so, I don't blame anybody for this sickness... I just don't like putting my family through all this stress."
Within a month his right kidney was removed. "I underwent eleven rounds of radiation and am currently going through 24 weeks of chemotherapy," Sgt. Feeback informed. "I've had good care at the VA, and have had a lot of support with visitors and phone calls."
Marine Feeback below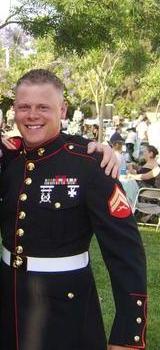 On September 4, 2010, while undergoing treatments, Sgt. Feeback married Roxan, and after serving 4 years and 8 months in the USMC he conveyed, "I was very proud to serve my country and I would do it again."
The dedication a majority of soldiers have for the military is palpable. And no matter what they were exposed to during deployments, the selfless, courageous men and women serve with honor and devotion never blaming... even at their own peril. And if the U. S. Military subjugates the evidence of cancer stricken soldiers in attempts to hide the environmental genocide in Iraq... then its higher ranking officials will find themselves marred in the history books, as a disloyal superpower that thoughtlessly devoured its own.
In June 2010, Doug Rokke, Ph.D. retired, U.S. Army Major commented on the predicament Operation Iraqi Freedom [OIF] Veterans and civilians of war torn countries are subjected to. "We've ignored what we have done to the residents of the nations. We [the U.S. Military] has invaded without justification and then trashed their country. I have come to the realization that based on history we in the military bought the notion "to protect," but who are we protecting, and from whom?" "We in the military are simply the extension of power and greed, reality not myth. And the abandonment of our Veteran's is because of the casualty numbers, that we ourselves are responsible."
"I am constantly bombarded by telephone, E-mail, knocks at my door, and stopped wherever I go. Every day more Veterans or their families seek help, and suffice to say it's becoming worse -- while we continue to set-up more of the same," said the disabled Veteran Doug Rokke.
UN Health Agency, Iraq Studying Birth Defects AFP Agence France-Presse --Oct. 5, 2010

GENEVA (AFP) - The UN Health Agency, the World Health Organization (WHO) and Iraqi authorities are carrying out a survey of birth defects in Iraq following media reports of abnormal patterns in Fallujah, a WHO spokeswoman said.

"An investigation has begun in six governorates (administrative region) of Iraq into these reports of congenital defects," WHO spokeswoman Fadela Chaib told journalists.

The BBC reported in March 2010 that large and growing numbers of birth defects were observed by doctors in Fallujah, a former insurgent stronghold west of Baghdad that was at the heart of some of the fiercest fighting with US forces.

Chaib said the scientific "pilot assessment" by "the Iraqi government with the help of the... WHO" began in July and would take about 18 months to complete.

The study covers Sulemaniah, Diyala, Baghdad, Dhi-Qar, Basra and Anbar province, which includes Fallujah.

It will lay out "the magnitude, distribution and trends of Congenital Birth Defects" in Iraq and establish a basis for comparison with today as well as between different parts of the country, according to the UN health agency.

Reports of health abnormalities among civilians in Iraq or soldiers who served there have sparked claims of links with special weaponry allegedly used during successive wars, including armour-busting depleted Uranium shells.
UN First Committee Sends Clear Message to Depleted Uranium Users Over Transparency International Coalition To Ban Uranium Weapons, U.K. --Oct. 29, 2010

The United Nations First Committee has voted, by an overwhelming margin, for state users of depleted Uranium weapons to release data on where the weapons have been used to governments of states affected by their use.

136 states voted in favor of a resolution calling on state users of depleted Uranium weapons to release quantitative and geographical data to the governments of affected states. The resolution will now go forward to the United Nations General Assembly for a second vote at the end of November 2010.

Although UN resolutions are non-binding, they are a useful means of focusing attention on key issues. In this case the ongoing failure of the US to release data on its use of depleted Uranium in Iraq and concerns over the use of the weapons in other conflicts, such as the interventions in Somalia in the mid-1990s.

The resolution was opposed by only four states - the US, UK, France and Israel. These four also voted against previous resolutions accepting that DU has the potential to damage human health (2007) and calling for more research in affected states (2008).
CNN Audit: Military Using Potentially Harmful Methods of Burning Trash

By Adam Levine, CNN --Oct. 15, 2010 Military bases in Iraq and Afghanistan continue to use waste methods that expose troops to potentially toxic emissions without fully understanding the effects, according to a new government audit obtained by CNN.

Between September 2009 and October 2010, investigators from the Government Accountability Office visited four bases in Iraq and reviewed planning documents on waste disposal for bases in Afghanistan. None of the Iraq bases visited were in compliance with military regulations. All four burned plastic -- which generates harmful emissions -- despite regulations against doing so.

The emissions have been the source of controversy as troops have complained about a host of problems, from cancerous tumors to respiratory issues, blaming exposure to burn pits. Military officials have denied any consequential effects on most troops.

Prior to an initial outcry about the pits more two years ago, the largest base in Iraq -- Balad Air Base -- was burning everything from hazardous and medical waste to plastics, using jet fuel as accelerant, according to military documents. The smoke poured over the living quarters and the base hospital, exposing thousands of troops to the emissions.

The U.S. military generates about 10 pounds of non-hazardous waste per service member each day and "may consist of plastic, Styrofoam, and food from dining facilities; discarded electronics; shipping materials such as wooden pallets and plastic wrap; appliances; and other items such as mattresses, clothing, tires, metal containers, and furniture," the report says.

According to the report, there were 221 burn pits in Afghanistan by August and more are anticipated. Only 21 remained in Iraq and, like the troop levels there, the numbers are expected to decrease. The burn pits are operated by either the military or contractors.

While the pits have been in use since the beginning of each war, regulations and guidance were only issued in 2009 -- eight years into the Afghanistan conflict and six years after the start of the war in Iraq. The military's attitude about the impact of the burn pits has shifted. When complaints initially arose in 2008 military officials denied there was any hazard to troops. Last year the Pentagon changed that position, declaring long-term effects for troops who had pre-existing conditions was foreseeable.

A GAO analysis of the data from the samples collected found matter named on the CENTCOM list of potentially harmful substances. Investigators found that the samples which exceeded the levels considered safe if exposed for a year mostly contained fine particles. Fine particles can embed in the lung tissue, and of particular concern is when there is prolonged exposure.

Sen. Russ Feingold, D-Wisconsin, who has been vocal in his concern about troops' exposure to burn pits, urged the Pentagon to restrict the use of the pits in Afghanistan.

"I am deeply troubled to learn that the Defense Department has not taken simple steps, such as segregating plastics, to ensure that our troops are not exposed to harmful emissions," Feingold said in a statement.

The acting commander of Central Command, Lt. Gen. John Allen, wrote a letter to Feingold in July saying the military is trying to eliminate the use of burn pits at bases that are active for 90 days or more and occupied by 100 personnel or more. In Iraq, Allen anticipates there will be no burn pits by December of this year. Afghanistan is more challenging, but the military is in the process of procuring "almost 200 incinerators," he said in the letter, obtained by CNN.
REAL LIFE. REAL NEWS. REAL VOICES.
Help us tell more of the stories that matter from voices that too often remain unheard.