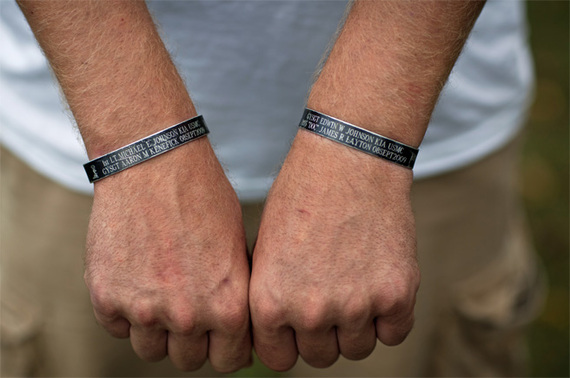 These memorial bracelets, worn by the author, are engraved with the names of his fallen teammates who were lost in the Battle of Ganjgal, Afghanistan, on September 8, 2009: Marine 1stLt Michael Johnson, Marine Staff Sergeant Aaron Kenefick, Marine Gunnery Sergeant Edwin Johnson, Jr., and Navy Hospital Corpsman 3rd Class James "Doc" Layton.

I am lucky enough to have grown up in central Kentucky. If you've never had the pleasure of visiting, you should know that this is God's country, where wide fields of farmland give way to rolling green hills. It's the land of front porches, of barbecue and sweet tea, the kind of place where neighbors are friends and friends become family. (In fact, throughout my childhood, the state's official slogan was "It's that friendly.")
Like every kid growing up in small-town America, I looked forward to summer each year -- swimming in the lake, helping out around my dad's farm, typical stuff for a kid growing up in a rural area like me. And as a kid, I, like many Americans, viewed Memorial Day as the unofficial start to summer. On some level, I knew that Memorial Day celebrated the sacrifices and service, but I can't say it was at the forefront of my mind each year.
One May afternoon back in 2006, though, a chance encounter with a Marine recruiter in my high school cafeteria changed the direction of my life, and little more than a year later I was on a plane headed for my first combat deployment in Iraq. In the years that followed, I met some of the very finest men and women our country has to offer. We trained together stateside, deployed together to operational zones in Iraq and Afghanistan -- but we didn't all come home together. And now for me, and for the friends and families of the more than 6,800 service members who have died since 9/11 and all those who went before us, Memorial Day represents something very different. It's a day for reflecting on sacrifice and service, a day for placing flags and flowers in front of headstones. It is also a day to be proud to be American, a reminder to be openly thankful for those men and women who not only volunteered to join the one percent of Americans that fight for our country and our freedom, but who gave their lives for it.
So this year on Memorial Day, honor their memory by celebrating the America they loved. Cherish the opportunity to spend time with loved ones, enjoy the freedom to swim or hike or cookout with friends. But don't forget to pause for a moment to reflect on the sacrifices that my brothers and sisters in arms have made for all of us. Let's teach our children that our freedom was bought and paid for by generations of service members they will never meet; while we can never repay our debt to them, it is our responsibility to remember them.
And when the sun sets on Memorial Day, continue to remember their sacrifices. Find some small way to carry that spirit of appreciation and remembrance with you throughout the year. They've earned it.
Calling all HuffPost superfans!
Sign up for membership to become a founding member and help shape HuffPost's next chapter