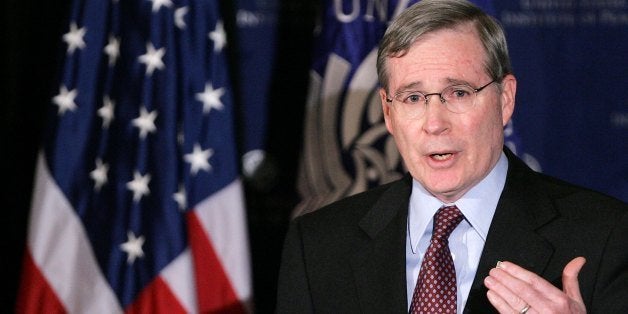 This post was originally published here by USA Today on Nov. 11.
This Veterans Day we honor and thank all those who served in our nation's military and the family and friends who supported them. We remember in particular those who made the ultimate sacrifice and those who bear the scars and wounds of war.
The service and sacrifice of our men and women in uniform has been the foundation for American leadership in the world. That world still wants and needs American leadership. But that leadership does not just require a strong armed forces and the service of the men and women in our military. Our country also needs the commitment and sacrifice from those serving outside the military. And it needs to develop and nurture a culture of service -- where service becomes the norm rather than the exception.
Back in May I did a public conversation with New York Times correspondent David Sanger at the United States Institute of Peace where I serve as Board Chair. I noted at that time that I have spent most of my career brokering peace from the top town, from the vantage points of governments, and often involving the U.S. military. In today's world with shifts in the nature of conflict, however, there is an enormous opportunity to help construct peace from the bottom up. Such efforts require the contribution of civilian resources often working side by side with our military. As a country, we have spent billions of dollars on our military making sure it is and remains the best in the world.
This has been a very good investment indeed in ensuring the security of our nation. But we have not made anything like a comparable investment in the civilian capabilities that are needed to address current challenges around the globe.
The solutions to the national security challenges our nation faces today -- and the unforeseen challenges of the future -- will often have a military element. But we will not be able to solve them by military means alone. Whether it be facing the Islamic State in Iraq and Syria or strengthening failing states or dealing with rising powers like China or confronting diseases like Ebola, American power and leadership is going to require the support of civilian capabilities. For example, if we are able successfully to roll back and make gains against the Islamic State, we are then going to need to help the Iraqis and the Syrians (as well as the Libyans and the Tunisians) to build secure, peaceful societies that provide jobs, economic growth, and a better life for their people. It is in our interest to provide this assistance. If we do not do so, the Middle East will be a recruiting and training ground for terrorists for decades to come.
When our nation has faced such challenges in the past, we have looked to the civilian departments and agencies of the federal government. Because of our national underinvestment in these civilian skills, often our federal governmental efforts have been inadequate for the task. We have also failed to mobilize the resources of our state and local governments. But government is not the only -- and in many cases is not the best source -- of these skills. And unfortunately we have not in the past mobilized the various non-governmental sources of these civilian skills such as our business, non-government organizations, civil society, universities, charitable foundations, and the voluntary sector. People drawn from these sources could contribute mightily to the bottom-up efforts of the people in the Middle East to construct societies that can provide security, peace, and prosperity for their people. Expanding national service opportunities in these areas could be a way to help identify, develop, and train this pool of social talent that we will need to meet many of the global challenges we face.
Just as we need civilian men and women to serve overseas to help the people of the Middle East build secure, peaceful, and prosperous societies, we need these same civilian capabilities to address the challenges we face here at home -- serving our country in the U.S.A. and investing in America's future. We need an America where all of us are seized with the problems are country faces and are seeking paths of service from which to help generate solutions.
Fortunately, there is an enormous desire on the part of a vast number of Americans to serve our country in this way. At present, however, there simply are not enough full-time service opportunities to meet this demand particularly among the millennial generation. The demand for civilian service opportunities far outstrips the supply. AmeriCorps, for example, gets approximately 580,000 applications for only 80,000 slots. Hundreds of thousands of Americans who step up to serve are turned away. Teach for America receives ten applications for every one position available. Only one in three Peace Corps applicants have the opportunity to serve.
There is an initiative underway to create a culture of service here at home and expand the opportunities to serve. The mission of theFranklin Project at the Aspen Institute is to focus on the civilian side of the service equation by making the idea of a "service year" a cultural expectation and a common rite of passage for young people. General Stanley McChrystal and a group of leaders across a variety of fields have come together to support making national service a common expectation and opportunity for all 18-28 year olds. Many military leaders and others who have served our nation have shown support for this idea in various ways. There are a number of veterans on the Franklin Project Leadership Council and the Franklin Project at the Aspen Institute has also cosponsored a pledge entitled "Enlisting America: A Call to National Service from Those Who Have Served." The pledge was signed in partnership with The Air Force Association, The American Legion Auxiliary, The Association of the United States Army, The Code of Support Foundation, Got Your 6, The Military Child Education Coalition, Student Veterans of America, The Mission Continues, and Team Red, White & Blue. The pledge has also been signed by two hundred retired Flag and General Officers and sixty retired Sergeants Major who collectively have devoted more than 6,500 years of service to the country.
America continues to have the strongest military in the world. And our nation will continue to honor our men and women in uniform. But if we are really serious about honoring their sacrifice, we will expand the concept of national service. We will create the expectation and opportunity for all Americans to serve our country and help it meet our many challenges at home and abroad. Making American a nation of national service would be truly transformational indeed -- a fitting way to honor our veterans.
This post is produced by AmeriCorps Alums and The Franklin Project at the Aspen Institute in honor of Veterans Day. The Franklin Project envisions a future in which a year of full-time national service -- a service year -- is a cultural expectation, a common opportunity, and a civic rite of passage for every young American. The Franklin Project is chaired by General Stanley McChrystal. To learn more about The Franklin Project, watch this video.