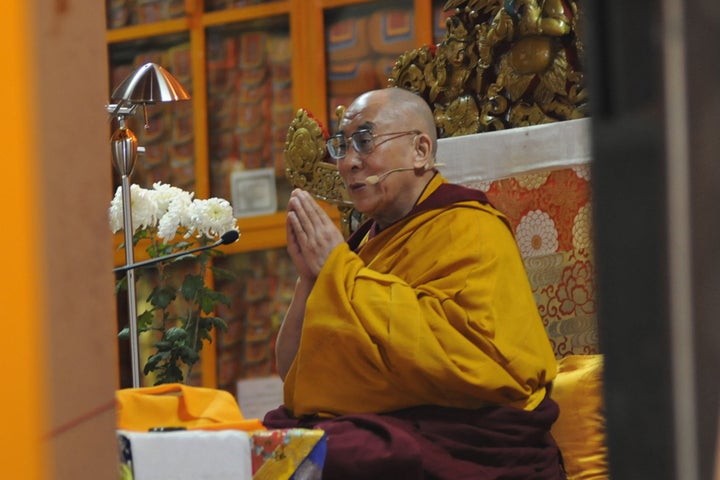 The entrance to the London Book Fair this week is dominated by large red Chinese flags and a picture of a Chinese child beaming happily as he holds a book.
The London Book Fair is one of the world's leading trade fairs of its kind, attracting 25,000 visitors from 110 countries. This year, its "market focus" is on the PRC. The Book Fair and the British Council had an opportunity to uphold cherished British values of free speech and send a strong message to the Chinese Communist Party that Beijing cannot export its censorship to a free western democracy. But they chose not to do so -- even though no one in the British Council is going to be tortured for saying what they wish, as a Chinese, Tibetan or Uyghur writer can be.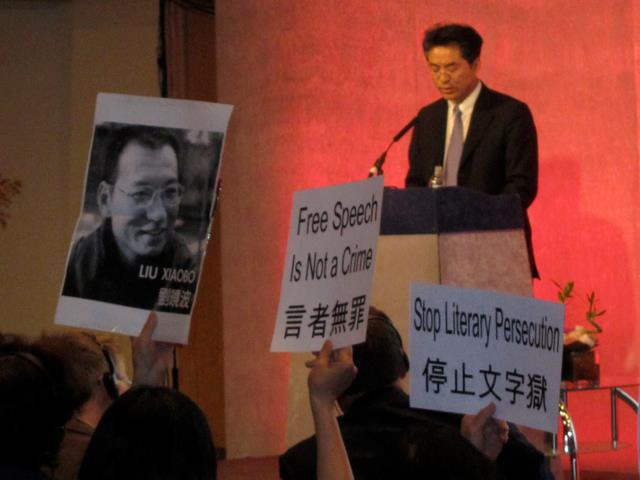 Used with permission, courtesy of the Tibet Society.
Thirty one state-approved authors were invited to the Book Fair, which closed Wednesday, and the honored guest is Minister Liu Binjie of the PRC's General Administration of Press and Publication -- whose Ministry is responsible for censorship and stifling of independent voices.
Ma Jian, one of China's leading novelists and author of the highly-acclaimed novel Beijing Coma, a powerful allegory of a rising China and definitive novel on the Tiananmen Square protests, said: "No Chinese writers enjoy freedom of speech. When you see 180 Chinese publishers here, it may appear that there is a great variety but in reality they all come from the mouthpiece of the Chinese Communist party. These big events give China's Communist Party the international face it craves and helps normalize its repression of free speech back home."
At the Book Fair on Monday, London-based China correspondent and scholar Dr. Jonathan Mirsky was given a soft toy panda by a Chinese official after Minister Liu's talk. "Where is Liu Xiaobo?" Jonathan asked her. He also asked about Gao Xinjian, the only Chinese to win the Nobel Prize for Literature, and who now lives in exile (like Mao Jian, Gao wasn't invited officially to the Book Fair). The senior Chinese official snatched back the panda and walked away.
One of the Chinese manning the official stand did tell Jonathan she had heard of Liu Xiaobo "in here" and laid her hand on her heart, but wouldn't say anything else.
Indefatigable Chinese scholar Shao Jiang, who was imprisoned for 18 months after Tiananmen, silently maintained a presence during Minister Liu's talk on Monday, holding a small banner stating in both English and Chinese 'Stop Literary Persecution'. Chinese officials erected screens around the open platform to block him from sight.
When Minister Liu left the podium, Ms. Qi, a Chinese lady in her early seventies who had been imprisoned for more than 10 years, tried to give him a copy of her book about her family's experiences. Ma Jian, too, attempted to give him a copy of Beijing Coma, which is banned in China, but was manhandled out of his path by British security personnel. "I am feeling very upset, very hurt," Ms. Qi told me.
In the afternoon, a number of us -- Uyghur, Tibetan and Chinese writers and NGOs -- attended a China-U.K. publishing forum to be addressed by U.K. Minister for Culture, Communications and Creative Industries Ed Vaisey and Minister Liu.
Minister Liu didn't turn up; perhaps he didn't want to face any more questions or anyone else seeking to give him a copy of a banned book. He sent another official to read his speech instead. As he started to speak, Shao Jiang quietly raised a small white banner with the words "Stop Literary Persecution." Security personnel arrived and tried to wrestle his arm down, saying they would throw him out. They succeeded in tearing the piece of paper, so Shao Jiang simply whipped out another, saying "Free Speech is not a Crime" from inside his sweater. In front of us, in the middle of a row, our friends held up other placards, one bearing an image of Liu Xiaobo, another bearing an image of the Tibetan imprisoned writer Buddha, and behind us, other banners popped up. See the protest:
When awarding the Nobel Peace Prize, in absentia due to Liu Xiaobo's 11 year jail sentence in China, Chair of the Nobel Committee Thorbjorn Jagland said that writers and thinkers like Nobel Laureate Liu, "Are not dissidents... [they are] representatives of the main lines of development in today's world."
It is a message that the London Book Fair and British Council would do well to heed.
Calling all HuffPost superfans!
Sign up for membership to become a founding member and help shape HuffPost's next chapter