A Facebook event page for a Nov. 7 Theta Xi party invited people to "World Star Hip Hop Presents: Hood Ratchet Thursday." Since removed from Facebook, the invitation was extended to: "rappers, twerkers, gangsters (no Bloods allowed), thugs, basketball players, bad bitches, ratchet pussy." It also promised a Kindle to the winner of a twerking contest.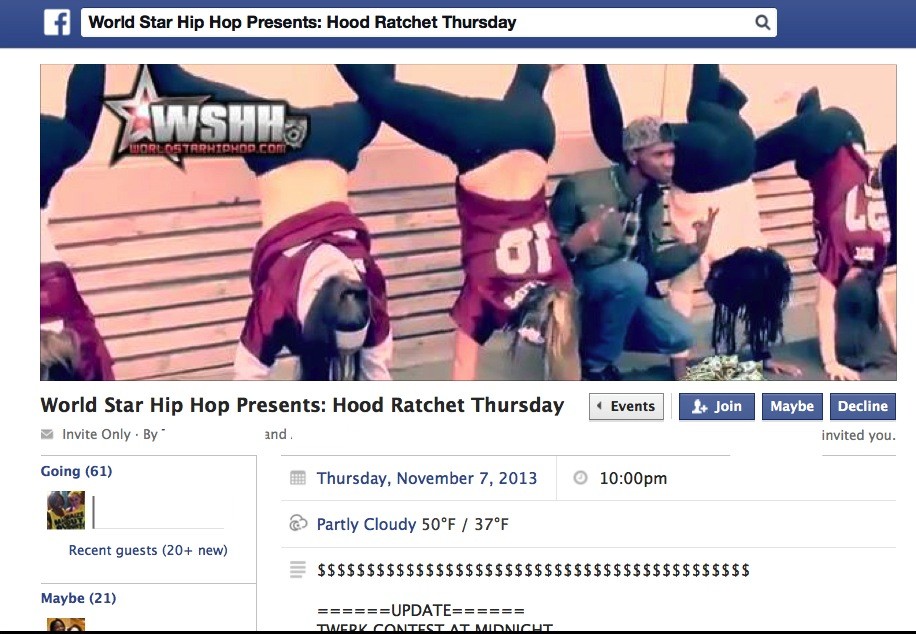 Screengrab courtesy Erica Nagy.
"Started from da bottom now we here but now we goin back to da hood again!!" the invitation continued.
While host and author of the event page Allen Wu said that the party was supposed to be focused on hip-hop and wasn't intended to be "cast under a racial lens," it immediately offended many students. Students Erica Nagy and Brian Thomas sent a letter to administration claiming the party violated U of M's policies and calling on them to act.
"This party is one of many incidents that are symptoms of our disheartening lack of diversity and lack of social justice education and awareness that persists at this predominantly white institution," they wrote.
"I love U of M and even today I'm fundamentally happy, but it's scary to think that I sit in class with people who think this way and people that agree with them, people who legitimately thought this party was a good idea and was okay," Gaines told the paper. "The invitation amplified stereotypes and used a level of disgusting language that it was evident they actively tried to offend us."
I wish that we lived in an age where we as people could collectively celebrate the music that we consume without aggravating racial sensitivities. It pains me to see that "hip-hop parties" are immediately cast under a racial lens, even if not so intended. Just because we celebrate and enjoy the music and terminology used by predominantly Black hip-hop artists, that does not mean we are attempting to appropriate Black culture. We take it for what it is, and that's hip hop as music, and thus, hip-hip culture. If current hip hop is dominated by terminology like "twerking," "ratchet," and "swag," then that's what its audience absorbs as hip hop: it doesn't have to be Black. But if people perceive it as so, then I agree that it's completely inappropriate.

"The language of the invitation and theme of the party denigrated all women and African American/black identified people through racial stereotypes and cultural appropriation," the letter said. "This behavior is offensive, disrespectful and unacceptable at the University of Michigan. It is unhealthy and harms everyone in the community. It is in direct contradiction to the values, policies and expectations of the University and will not be tolerated."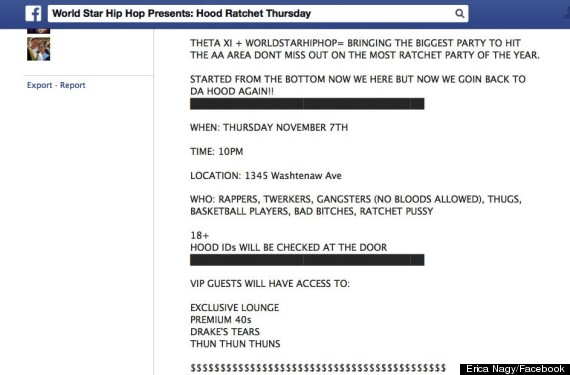 Screengrab courtesy Erica Nagy.
The email, signed by the vice president of student life, dean of students and director of Greek life, stated that administration met with Theta Xi chapter president Eric Quang after they were informed of the party. Beyond canceling the party, they are meeting with officials from the frat's national headquarters to consider disciplinary measures. The frat has had restrictions imposed on it while it is investigated, and U of M is planning educational forums.
"With this and other measures we expect to repair the harm that has occurred in this situation and prevent its reappearance in the future," U of M administrators wrote in the letter. "There is more work to do."
"I would like to apologize to all of the members of our student body, including those of all ethnicities, and to all women, for our extraordinary lack of consideration, and lapse in judgment," he wrote.
This is not the first (and likely not the last) time college party planners have shown "lapses in judgement." In August, a Dartmouth "Bloods and Crips" party drew criticism from students. After the party was held and news reports circulated, the fraternity and sorority soon apologized.
Some thought people reacted too strongly to the U of M party.
People are too sensitive: "WorldStarHipHop: Hood Ratchet Thursday" is a great party name. If you think ratchet means black, you're a dumbass

— Zach Oman (@ZachTheOman) October 31, 2013
I can't take the joke because of the obscene number of times I've been asked to "twerk" and "dance" for these white men, because my Black identity obviously tells them I possess the inherent talent and desire to do so. I can't take the joke because I don't have the luxury to remove the labels of "hood," "ratchet" or "bad bitch" after the party ends. The privileged students on this campus tie those labels to my identity because of my racial minority status. I can't take the joke because racism and oppression are alive and well on this campus; a campus where I'm often the only person of color in a classroom. And when I speak in that classroom, what I have to say is taken as the narrative of every other Black woman these privileged students come in contact with.

Support HuffPost
Every Voice Matters
Before You Go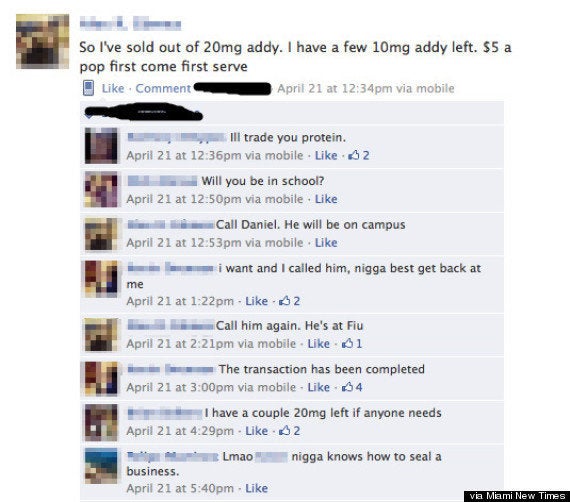 Frats Behaving Badly
Popular in the Community