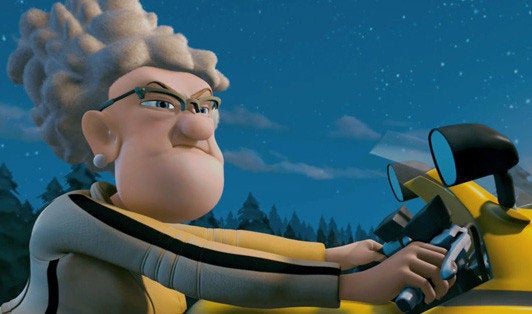 The biggest problem any young woman faces in life is getting the best looking (if slightly dumb) boy she can to marry her. Hey Sweetie, overcome the hurdles that stand between you and this guy slipping a ring on your finger and all your troubles are over. Forget what else is going on in the kingdom, your "happy ever after" starts when this guy carries you off into the sunset (and presumably bed).
At least that's what most animated films tell us.
I'm not just talking about the classics like Snow White or Sleeping Beauty, which one can excuse as products of their time. This archaic attitude about women still permeates animated film. Look at any recent animated movie. Despite sometimes clever plot devices, each of the main female characters' primary concerns are always love, marriage and family issues. Overused and limiting themes for a modern heroine.
And that's when the female characters are even focused upon at all. How many animated films have you seen where the female lead is little more than a cliché object for the hero to impress in the last reel? Face it, if you want to be a strong female character in animation you are better off as a mouse.
I have no idea what the vastly better character development of non-human females in animated films says about our culture. I'll leave that one for psychologists of the future:
"Doctor Electro, my research clearly proves that early 21st century man was afraid of human women, but felt strangely drawn to talking fish."
"Ah yes Doctor Atomicface, poor twisted insane 21st century man. Pity they were all destroyed by the toxic effects of mixing Viagra and Rogaine in 2013. They would have made good slaves for our cyber-monkey overlords."
I was at Disney Feature Animation for nearly 10 years and I never once got to work on a story about a human girl who didn't spend the entire film trying to get the right date. Aside from the obvious story limitations this presented, it always gave me a nagging sense of guilt. Was this the only kind of animated female characters I wanted my daughter, or my sons for that matter, exposed to?
That is why when The Weinstein Company offered me the chance to direct Hoodwinked Too: Hood vs. Evil, I jumped at it. Ten pages into the script I realized that this was not the typical romantic formula thrust upon animated films with female leads.
This was a story about a clever, capable, independent, brave, young woman learning to be a hero. Grappling with the legacy of another strong and powerful female character, her Granny. Hold it, not just one, but two -- two -- strong female leads in an animated movie, with themes about loyalty, bravery, friendship, and sisterhood? And it's funny? I swear I checked to see if my agent sent the right script. Someone really had the guts and vision to make this?
And miracle upon miracle, Granny and Red were going to be voiced by Glenn Close and Hayden Panettiere -- two of the strongest, most talented, mold-breaking, (and in the case of Glenn, legendary) actresses working today. Really? Did Disney put you up to this to watch me cry when it doesn't happen?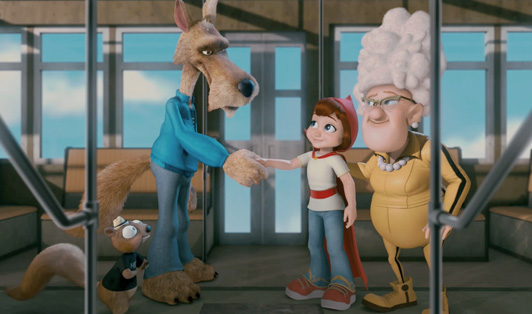 Sure, it was not going to be a studio film. There would be production and cost challenges. None of the film's producers had very much experience with animation or the unique issues it generates. I was being asked to leave the security of the big animation studio machines to make a very different kind of story, and as a family man that was no small decision. But for a chance to make a film about this Red Riding Hood, there was very little choice. How could I look my kids in the eye next time they watched a princess being kidnapped for just being too darn pretty if I didn't?
So here we are, years later and the film about to release. All the problems, disasters, triumphs, and hard work are behind us. It took an insane amount of effort, passion, and dedication from many many people, not the least from the film's extraordinary executive producers Harvey Weinstein and Bob Weinstein and producer Maurice Kanbar, but the film finally exists. And it will continue to exist. Whether it is embraced by the animation community as a new paradigm of not just producing animation on realistic budgets but of how to approach female characters, or is rejected by an industry that has always been terrified of change (and apparently women). It's out there.
Generations of children from now on will be able to watch Red walk out of the swirling morning mist to confront Moss the Troll, or Granny chasing down the Wicked Witch on her "Kill Bill" motorcycle, or the moment when the whole team comes together to defeat... ah, can't tell you that yet. Spoilers.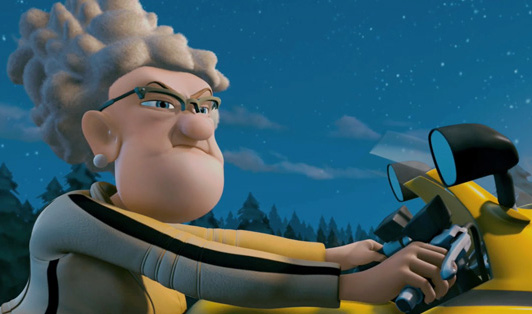 Anyway, Hoodwinked Too is about to become part of the popular culture. A funny, exciting, action film starring two powerful and well rounded female characters. Neither one a princess. Both of them heroes. I'm proud I was part of making this film.
And I think my daughter will be too.
Popular in the Community