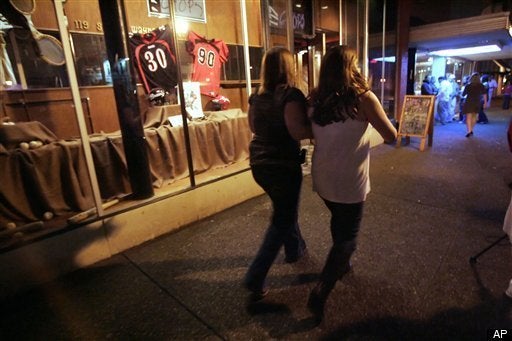 Produced by HuffPost's College Reporting team for the "Dating On Campus" series, which will zoom in on a different aspect of college dating daily.
Erin only had two flutes of champagne on New Year's Eve. That night, she was sexually assaulted by a student she knew.
The student Erin accused will not be prosecuted, and her story has been met with disbelief by friends.
"It almost feels like there are guys out there who specifically wait for women to get drunk and then prey on them. It's aggravating that, even with people out there like that, nothing will happen to them," said Erin, a Boston University student who asked that only her first name be used to protect her identity. "They won't get expelled, they won't even get a slap on the wrist. They get a notch in the bedpost while I -- and many other girls like me -- am stuck trying to pick up the pieces and keep it together."
"If alcohol is involved in a sexual assault case, people are less likely to believe the accuser," said Ella Cymerman, a BU junior. "There's this cultural belief that if a girl gets drunk or sloppy then she's asking for it and deserves the consequences of her actions."
In a voluntary survey of 54 girls (conducted by this reporter), all but one said she would tell someone if she was assaulted. About 58 percent said they expect people will believe them over their alleged attacker, but 22 percent said they expect their attacker will be believed if he denies the attack ever took place.
Many students said skepticism about assaults is rooted in campus alcohol culture.
"Drinking has become such a norm in the college sexual culture that when inappropriate or aggressive acts take place because of it, these transgressions are all too often dismissed as normal occurrences because of their safe place under the umbrella of collegiate sexual culture," said sophomore Meaghan Beatley.
"It seems like many people, especially on college campuses, think sexual assaults and drinking go hand-in-hand," said an anonymous male student who responded to the survey.
BU does not have a rape crisis center, but instead offers support through Student Health Services and the Women's Resource Center, which opened last year.
"Whenever a sexual assault is reported, it's taken very seriously. There is no skepticism," said BU spokesman Colin Riley. "The first thing we do is make sure the individual knows they're safe, let them know what resources are available, facilitate that, etc. and let them know that they're in control."
"At BU, as with a lot of other colleges in America, there's not really much of a dating culture. It's more of a hook-up culture," she said. "And there's an idea that just because you don't say no doesn't mean you're saying yes. . . . That's very ingrained in that culture here at BU."
She added that students who are underage and drunk when they are assaulted worry they may get in trouble for drinking if they report the attack. After a hard-fought student campaign, she said, BU quietly passed a revision to its medical amnesty policy last year. Merriman said the school now judges such incidents on a case-by-case basis, which gives more leeway to a female student who may have been assaulted while drinking. "What BU wants is the safety of its students, but people don't really see that," she said.
Riley said the school does all it can to publicize the realities of sexual assault and let students know how to address them.
"I don't think there's any shortage of opportunities to hear that message [that the school is there to help], and I don't think there's any shortage of opportunities to give that message either," he said.
But some students saw it differently.
"A victim of sexual assault has no opportunity to win in the end," said an anonymous girl in her survey response. "So much evidence is needed, and you need to fight so much because the school does everything in its power to hush the situation."
Others said the school could do more to encourage students to understand and report assaults as a first step toward justice.
"Traumatic events like these should not go unpunished," said an anonymous male student in his survey response. "Students are not made aware of how to report situations like this and without punishment, offenders are not deterred from committing similar crimes."
"The administration needs to develop a more coherent system to listen to the victim and approach a solution that does not put the victim in a position of guilt," said sophomore Gillian Mertens.
Erin said the thought of potentially being punished for drinking -- along with discouraging results for victims who report their cases -- makes for a poor situation at BU.
"BU in general needs to focus more on individual students instead of stats," she said.
Related
Popular in the Community